Ecommerce has altered the global retail landscape in the last decade.
Along with this rapid globalization and digitization, customer demands are also heightened.
With globalization IoT gets a chance to shine. IoT is the latest tech offering powering rapid development in every industry. eCommerce businesses are turning towards IoT and other technologies to improve supply chain and warehouse management.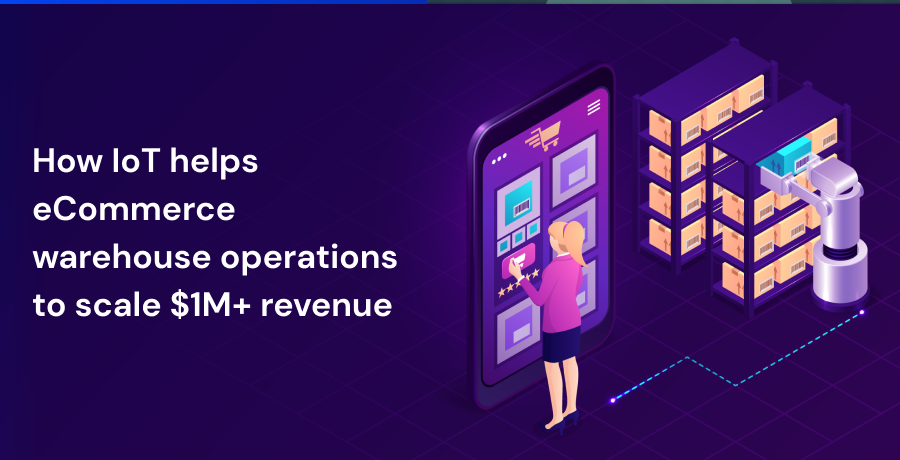 What is Warehouse Management?
A warehouse is a place where huge quantities of bulk goods or raw materials for commercial purposes are stored. The primary goal is to keep the product before moving them to a different location.
Warehouse management in eCommerce is about managing the inventory and maintaining safety standards. It also includes training employees to understand the need for time management and provide an effective customer experience.
It is fascinating to know how IoT can transform an ordinary warehouse into a streamlined hub of systems that allows the business to stay on top of the competition.
However, some lingering questions remain:
What role does IoT play in improving eCommerce warehouse management?
How can eCommerce benefit from IoT technology?
How can an eCommerce store earn a $ 1million revenue with IoT-enabled warehouse management?
How Important is warehouse management for the eCommerce industry?
Any eCommerce business has two major operational expenses to consider: operational costs and inventory expenses. You cannot rein in only the operating costs when reducing overall costs without slashing your inventory holding.
A good warehouse management system runs on limited resources and allows you to use the money to improve your business.
When your warehouse management system runs optimally, it will push the correct inventory information to carts and marketplaces. It is possible to analyze available stock, order management, and forecast accurately.
How IoT-enabled Warehouses are Leveraging Technology?
IoT or internet-enabled things is the network of devices – embedded with software and sensors for exchanging data through the internet. IoT is becoming increasingly popular in the eCommerce sector, especially for digitizing warehousing and inventory management.
The size of global IoT in the retail market is predicted to be $182.04 billion by the year 2028 - banking on a CAGR of 26%
IoT-enabled devices play a successful role in streamlining warehouse operations by leveraging the latest technology.
Sensors
Sensors built into the products help warehouse managers maintain control over the movement of goods and products by transmitting the gathered data to IoT-connected devices.
When sensor data is integrated into the supply chain, it helps managers precisely monitor the goods, their temperature, location, and humidity.
Wearable technology
Wearable devices such as glasses, tablets, head-mounted systems help warehouse employees receive immediate data about each product in the warehouse. IoT-enabled wearables are also used to track the performance of employees and monitor their health.
The wearable is used in other warehouse functions, such as inventory management, order management, picking, routing, shipping, and stock replenishment.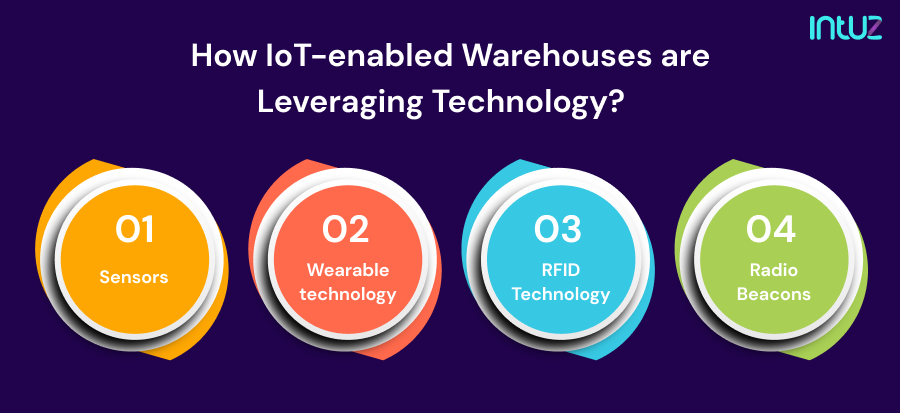 RFID Technology
Unlike barcodes, RFID tags are used to hold large quantities of data.
Each batch of the product contains a lot of information, such as the size of the product, manufacturing date, expiry date, production line, serial number, and price.
An RFID tag reader can read nearly 200 tags at once.
Radio Beacons
Radio beacons transmit signals to the connected IoT platform.
With these beacons, it is possible to track vulnerable goods for temperature and speed.
What role does IoT play in improving warehouse management?
Traditional warehouse management makes it challenging to boost operational efficiency.
However, with the help of IoT, it is possible to improve the performance of warehouse operations.
Tracking of Assets
IoT enabled warehouses to help real-time tracking goods, materials, and products accurately.
This ability to keep track of products helps eCommerce businesses handle perishable foods easier.
IoT helps avoid losses due to spoilage or spillage by continuously monitoring the condition of the products.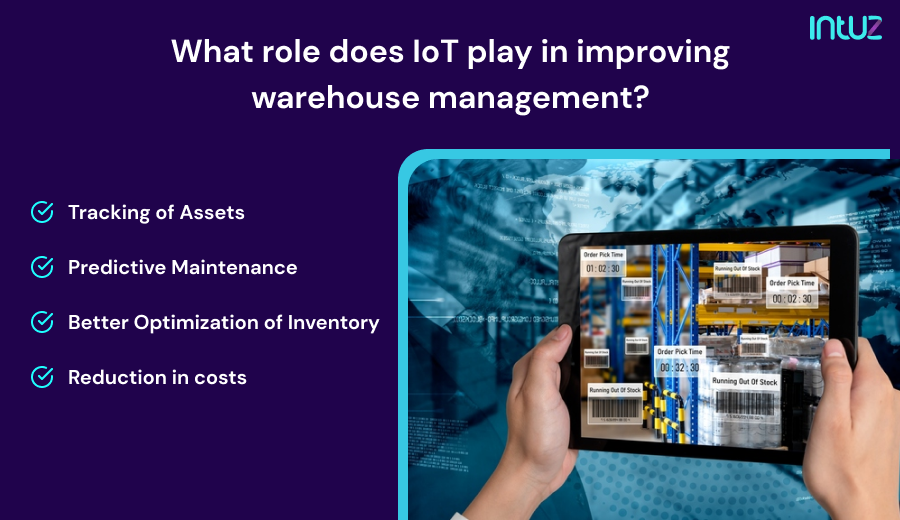 Predictive Maintenance
IoT smart warehouses help in tracking the condition of equipment and systems.
Since the embedded sensors provide data about the operational capabilities of machinery to connected IoT devices, predictive maintenance can be undertaken with the help of advanced algorithms.
Predictive maintenance helps managers minimize the downtime and costs of repairs.
Better Optimization of Inventory
IoT warehouse management helps in the intelligent optimization of inventory by tracking the stock and condition of goods at all times.
Tracking, monitoring, and notifying the management helps in planning restocking and inventory management.
Reduction in costs
One of the main benefits of IoT warehouse management is reducing costs, including handling fees.
Since all the aspects of warehouse management will be planned in advance, maintaining and managing inventory will be streamlined and cost-effective.
With the help of IoT, it is also possible to reduce the costs associated with management, labor, storage space, and utilities.
When you incorporate IoT technology in your warehouse system, you are better equipped to utilize all resources, increasing profits.
How to scale $1 million in revenue with IoT boosting warehouse management?
The success of eCommerce doesn't stop with product development and developing an easy-to-use marketplace. An effective eCommerce system can deliver the right products to the right customer on time and in excellent conditions.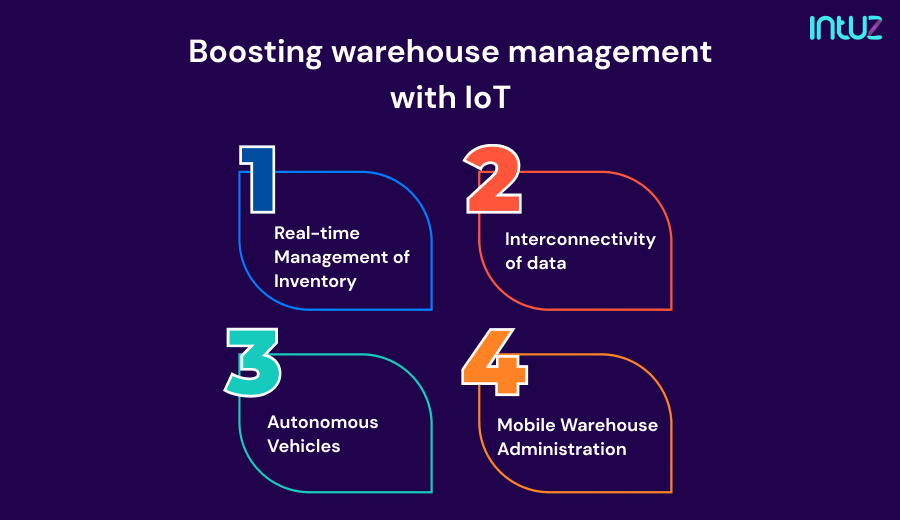 Real-time Management of Inventory
Efficient inventory management is a massive challenge for warehouse managers, especially in the eCommerce industry.
The very nature of the eCommerce industry makes it extremely difficult to ensure visibility and control over the movement of goods.
That's the reason why taking assistance from high-end technologies, such as sensors, GPS, beacons, and more, can provide operational visibility and intelligence for better decision making.
With small orders coming from various eCommerce marketplaces and omnichannel, real-time inventory management is crucial to the success of eCommerce stores.
Interconnectivity of data
IoT helps gather real-time data from various sources and systems. By distributing this crucial information to other systems, eCommerce warehouses become more transparent and efficient.
Sensory devices gather essential information about goods – their presence in the supply chain, their condition, product features, and stock – and transfer this data to concerned departments without the help of human effort.
IoT helps eCommerce offer greater visibility to goods and collaboration among several processes, resulting in a highly efficient, streamlined distribution model.
Autonomous Vehicles
Even though autonomous guided vehicles have not yet become the mainstream in warehouses, they are seen as a technology that can revolutionize orders' movement, distribution, and transportation.
Major technological giants such as Amazon use IoT technology to simplify their warehouse operations and maximize efficiency. It has helped them deliver the right products to the right subscribers without delays.
By using autonomous vehicles for moving goods, these major e-commerce players have successfully reduced costs associated with labor, time, money, and resources.
In addition to autonomous vehicles, guided drones are also slated to disrupt the warehousing industry. The drones are proving to help locate stock, track cargo movement, and conduct stocktaking.
Moreover, drones attached with sensors or scanners can reach even the innermost corners of a warehouse. The drones help reduce labor costs and conduct inventory checks manually.
Mobile Warehouse Administration
The entire business administration has transitioned from a fixed workstation concept to a mobile one, and this efficiency has also rubbed off on warehouse management.
Multiple apps contribute to the efficiency of workers and operation management – on the go.
Since the entire workflow of warehouse management depends on the system's computational capabilities, IoT offers warehouse management the mobility and control it requires. It also helps in reducing the efforts, eliminating errors, and tracking assets across the premises.
Ecommerce thrives on distribution, and IoT gives it the mobility it requires for greater and more efficient distribution.
Conclusion
There are several eCommerce marketplaces spread across the global retail spectrum. And, each eCommerce store needs to differentiate itself from the next with the help of technology.
The trends indicate that drop shipping is bound to increase in the next few years, and reverse logistics will also be entirely crucial to the success of eCommerce.
Timely and last-mile delivery is also going to be a differentiating factor.
IoT helps bring the benefits of improved warehouse efficiency, reducing costs, and eliminating errors.
Author Biography:
Patrick R, A techno-commercial leader heading Intuz as Director of Growth With over 12 years of experience in the field of Information Technology. His experience and expertise will entice developers and business entrepreneurs with rich content on the latest technology stack.