It is one thing to build traffic to your website, but you've got to convert these visitors into purchasers.
Improving those conversion rates can be challenging.
One way is to improve your cart experience, which can increase conversions by 35%!
But this isn't the only option, and sometimes not the most effective.
Instead, you can use persuasion techniques to increase conversions.
In this article, we look at what persuasion techniques are and how they can help you to convert more 'window shoppers' into customers.
What is the Average eCommerce Conversion Rate?
The average eCommerce conversion rate can vary depending on several aspects including:
Shopper's location
Referral path
Your business' niche
For example, in the UK, the average eCommerce conversion rate is between 4.01% to 4.6%.
In contrast, the US conversion rate is lower at 2.7% to 3.1%.
Additionally, those who visit an eCommerce website from a search engine are 3.0% to 3.3% and those from direct visits are lower at 2.8% to 3.1%.
Social media has one of the lowest rates of conversion as well. The conversion rate here is between 1.0% and 1.2%.
When you consider your marketing strategy, these factors need to be considered.
If you're getting the most of your traffic from social media, you can expect fewer conversions than if you were to get more traffic from Google and other search engines.
However, these averages don't mean that you can't improve upon them and convert more of the traffic.
There are ways that you can use persuasion techniques to increase your conversions!
What are Persuasion Techniques?
The Havas Media Group has found that more than half (58%) of the content created by leading brands worldwide is considered irrelevant.
In fact, according to the same research, about 77% of brands could disappear and consumers wouldn't notice.
One reason for this is the majority of brands push promotion over persuasion.
But what are persuasive techniques when it comes to marketing?
Persuasion techniques are six elements that combine to create a sense of reason for consumers to take certain actions.
These aspects include:
Social Currency – The pride consumers feel about their outward appearance to their peers.
Triggers – Things that make consumers constantly think about a specific product/brand.
Emotion – Consumers want to care about the brands they're buying from and want to feel emotionally attached.
Public – The sense that there is transparency from a company to build trust.
Practical Value – News or content that is highly valuable to the consumer.
Stories – Consumers love stories to help them understand concepts.
And an important factor to consider is that brands are losing some control over their own image.
With the higher usage of social media, it is vital to consider that branding is also what consumers say about a company to their peers.
The only way to get that control back is to use more persuasive techniques within writing and media to build a better narrative for the audience.
Examples of Persuasive Techniques in Marketing
There are numerous different persuasion techniques that you can use. Here are eight of the best examples of how these techniques work.
Provide Value
One of the most commonly used persuasive tactics is to provide value to the consumer.
There are several ways that you can provide value.
Interestingly, time is one of the best value propositions you can offer.
According to the latest research, two-thirds of consumers would prefer to save time rather than save money.
That doesn't mean that money isn't important, however.
It can still be a great persuasive technique. For instance, the Crave app did an excellent example of this.
In an Instagram video, they had someone who looked like an influencer or food blogger going to five different food outlets and showing how the app got them a discount.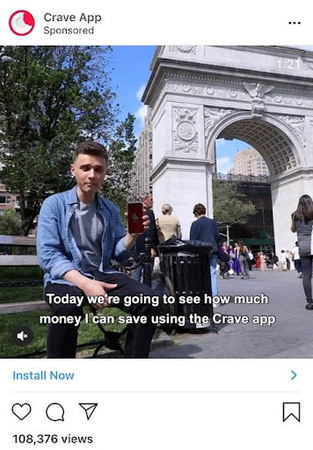 Image Source: Crave App via Instagram
This adds social proof and also shows the value of the product!
It can also create a story, something that is more engaging than a typical ad.
Research has shown that consumers are 58% more interested in adverts that contain a story element than those that don't.
You can easily replicate this strategy by demonstrating that you can save your consumers time or money.
This is easy to achieve with a simple Instagram video.
Decoy Pricing
Another technique is to add decoy pricing.
This strategy is perfect for those brands that sell a product(s) in large quantities.
For example, if you sell food items you can have three price points, one with a low, mid, and high price point option.
The mid option is priced close to the price of the higher-priced option.
For example, $1, $3 and $4.
In studies, this nudges consumers to choose the higher-priced product!
Example of decoy pricing
A real-life example of this is with the Economist.
The newspaper offered subscribers two options, print and digital.
The print edition cost $150 for the year while the digital version cost $50 for the year.
In the initial promotion, 80% of subscribers chose the digital version with 20% choosing the printed version.
Then they added a third option, the printed and digital bundle which they priced at the same price point as the print version ($150).
What happened was that 50% of the subscribers chose the bundle while 50% chose the digital version only.
No one chose the print-only version.
In terms of value for the Economist, this would increase revenues by 42.9%.
It is important to ensure that the mid-price point is sufficiently closer to the high-end price point to add a perceived perception to the audience.
Voicing Customer Complaints with Competitors
An alternative option is to position your brand as a solution to the frustrations and complaints that customers have about competitors.
If a customer complains that a rival no longer sells a product or has closed down a lot of stores recently, you can share that.
This was done exceedingly well when it came to Burger King.
When Burger King's rival, Wendy's, stopped selling spicy nuggets and a Twitter user made a post about it, they promoted that post.
They had to get permission from the content owner of the original post, but Twitter allows you to do this.
What this did was get more people talking about the negatives of a rival and pushed the positives of the Burger King brand.
It also made for a little humor directed at the rival!
In order to replicate this, you don't need to pay for promotion.
You can share, repost or link to the post in your social media feeds.
Therefore, the costs of the promotion can be smaller.
Social Proof
About 89% of consumers trust their peer's opinions on a product or item over a brand's own advertising.
That is why reviews are essential for marketing.
However, that doesn't mean you can't add reviews to your marketing or advertisements.
After all, posters for films, TV, books, and music often include the best lines of what critics have said about them.
One brand that showed social proof very well is Clorox.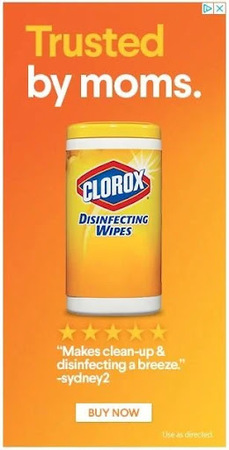 Image Source: Clorox
In this advertisement, they make the bold statement that they're trusted by mums, which in itself is supposed to add persuasive language.
If the brand is trusted by mums, then many will assume it is good.
Reviews as social proof
But at the same time, they include a review, possibly from a mum, within the advert.
Another example of this is when brands say how many people use their brand.
This technique is easily replicated by adding reviews to your advertisements, social media marketing, or product pages.
Or you can include how many brands/customers are currently using your services.
Relatable Content
One of the most important aspects of persuasive content is to relate to your audience; which means you need to know your audience.
A way to do this is by creating an emotional bond that showcases that you know your audience would rather be doing something else.
Parachute did this perfectly when they created a series of billboards placed around the city streets.
In it, they showed they understood that consumers probably didn't want to be shopping or going to work, but probably at home, in bed.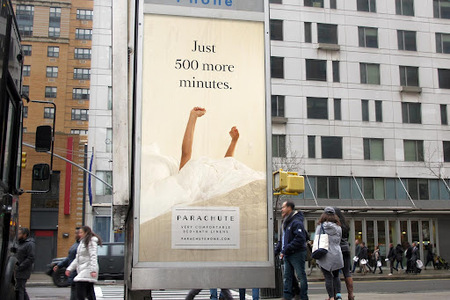 Image Source: Media Post
The advert tells people that hitting that snooze button in bed with one of their products is something that they all agree on.
Adding this to your campaigns isn't challenging!
Just think about what your audience might want to be doing more and how your brand or product can help them.
Then tie that into your brand's advertising.
Gamification
Gamification is one of the most popular ways to improve conversions and therefore a popular persuasion technique.
Some studies have shown that gamification allows for more engagement with audiences and improves conversions.
For instance, Texas bank Extraco used gamification to teach clients about its offers.
This improved their conversion rate from 2% to 14%. It also improved customer acquisitions by 700%.
Games applied to eCommerce brands can be very varied.
For instance, you can create spin-to-win games or lucky dips.
There are ways to create loyalty schemes where more purchases lead to higher prices.
Starbucks showed how this can be useful with their rewards systems.
They saw an increase in revenues of $2.65 billion and a 25% growth in customer retention.
The choices are seemingly unlimited and can be applied to purchasing and lead generation (email collection).
Scarcity
The fear of missing out is a big psychological driver of purchases, and there are many ways that you can implement this within campaigns.
For instance, you can:
Create a limited-time deal with a countdown timer
Showcase that there is a limited number of the stock
Tell audiences that a product is popular
One example of how scarcity has been used is Revolve.
They published an Instagram post with a dress. The text that went with the dress was, "if you love it, buy it <3 (before someone else does)."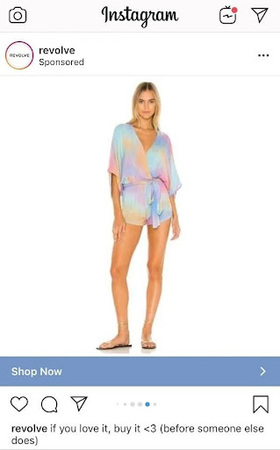 Image Revolve: Revolve via Instagram
The idea here is that it is saying that there is limited stock and, if you don't buy soon, someone else will get the item(s) before you.
This fear pushes more people into buying!
FOMO (Fear of Missing Out) and scarcity is very important.
About 60% of millennials have reported making an impulsive purchase after seeing a FOMO message.
Try to think about how you can add scarcity to your own brand's messages.
Try adding a sale with a countdown timer that tells consumers how long they've got to make a purchase.
Or perhaps on a product page, showcase how little in stock you've got.
Authority
Authority is one of the big persuasion techniques that can, at times, be hard to achieve.
This is because you've got to demonstrate to audiences why you're an expert.
There are several ways to do this; you will need to use varied techniques to make this more effective.
A great way to achieve this is to harness social proof by showcasing your brand with high-profile people like celebrities.
A classic example of this is when Ed Sheeran promoted Heinz Ketchup.
Another way to do this is to use badges from well-known/big named businesses that you have worked with.
Or you can showcase awards that you've won in the past.
These show that you're good enough for independent people to recognize your strengths.
Blogging builds authority
Blogging is another way to improve the authority on your website.
The more content you write, the better the ranking of your website on Google.
You will therefore have more success in showcasing your expertise.
Another option to show authority is to present your website well.
Your website creates authority
For instance, ensure that you're using the color palette that is associated with your brand. Your website should be cohesive across the board and across your social media platforms.
Uniforms convey authority
If your staff wears a uniform that is associated to your brand (i.e. UPS, Sephora, etc) try to add some pictures of staff working in uniforms.
Uniforms add a lot of authority to your brand and make you seem more legitimate.
The reason why authority works is that consumers like to trust brands, and authority makes consumers feel more comfortable in placing their trust in you.
The authority-based persuasive technique removes fear from the consumer.
When that fear is gone, they are more likely to convert.
Final Word
Increasing the conversion rate on your eCommerce along with lead generation is generally not challenging when you use one or two of several persuasion techniques.
Above are several that you can utilize.
The trick is to use different approaches at different points in the consumer journey.
When you apply more than one technique you can often see that revenues and profits will grow.