Dropshipping is on the rise, and Shopify is one of the best eCommerce platforms to do it on!
However, before you start your business, there are a few Shopify Apps to install.
These apps will help you find high-converting products and automatically email you when items are added to your store. It takes a lot of time to find the right products.
This article will discuss the best Shopify apps to start your dropshipping business.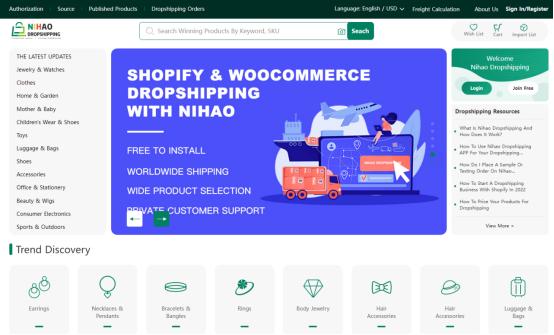 Nihao Dropshipping is a Shopify app that lets you quickly import dropshipping products from their platform, so you can start selling.
You can do this by installing the Nihao Dropshipping app and creating an account.
Once your account has been created, you can import products into it.
Find the products you want to sell and add them to the import list.
Then you can edit these products as much as necessary before importing them to your Shopify store. Once imported, your products will be listed on your Shopify store.
Why You Need Nihao Dropshipping
This dropshipping app gives Aliexpress dropshippers a chance to find more competitive products, as some of them are even less expensive than Aliexpress.
On top of that, they offer a free product sourcing service.
In other words, if you see winning products on Facebook, or Tiktok and want to sell them in your store, you can ask Nihao to source the products for you.
Features
The Nihao Dropshipping app is free to use.
Nihao Dropshipping provides a platform that allows you to import your products quickly and easily.
Create new products with just a few clicks, or edit existing ones. You can also import an Excel spreadsheet or CSV file directly into Nihao.
Free to source products.
Customized packaging and POD are available.

Pagefly is an effective page design app for dropshipping. It offers a wide range of templates, which can be customized to suit your needs. The app is free, but it also has premium features. This is the ideal app to use if you have a Shopify store and are just starting out.
Why Should You Use PageFly?
The Pagefly provides a code-free page-building experience for Shopify newbies.
You can quickly change the layout of your store by dragging and dropping the editor and other elements to shorten your time of opening a new store.
This app comes with several features that can help you create a successful website in no time. It also provides a lot of resources on how to optimize your eCommerce site as well as improve conversion rates.
In addition, many other useful features like Google Analytics integration and SEO tools will help you easily promote your store online.
Users say it's easy to use and understand what they're doing when using this app. They also say it's a good way for beginners to learn about dropshipping without spending too much money on courses or programs.
Many users also say it's one of the best Shopify apps available today because it's free, user-friendly, and simple to set up.
Features
You will acquire full access to the extensive element library.
It will hugely improve the overall performance of your website.
The 24/7 customer service is happy to answer any questions.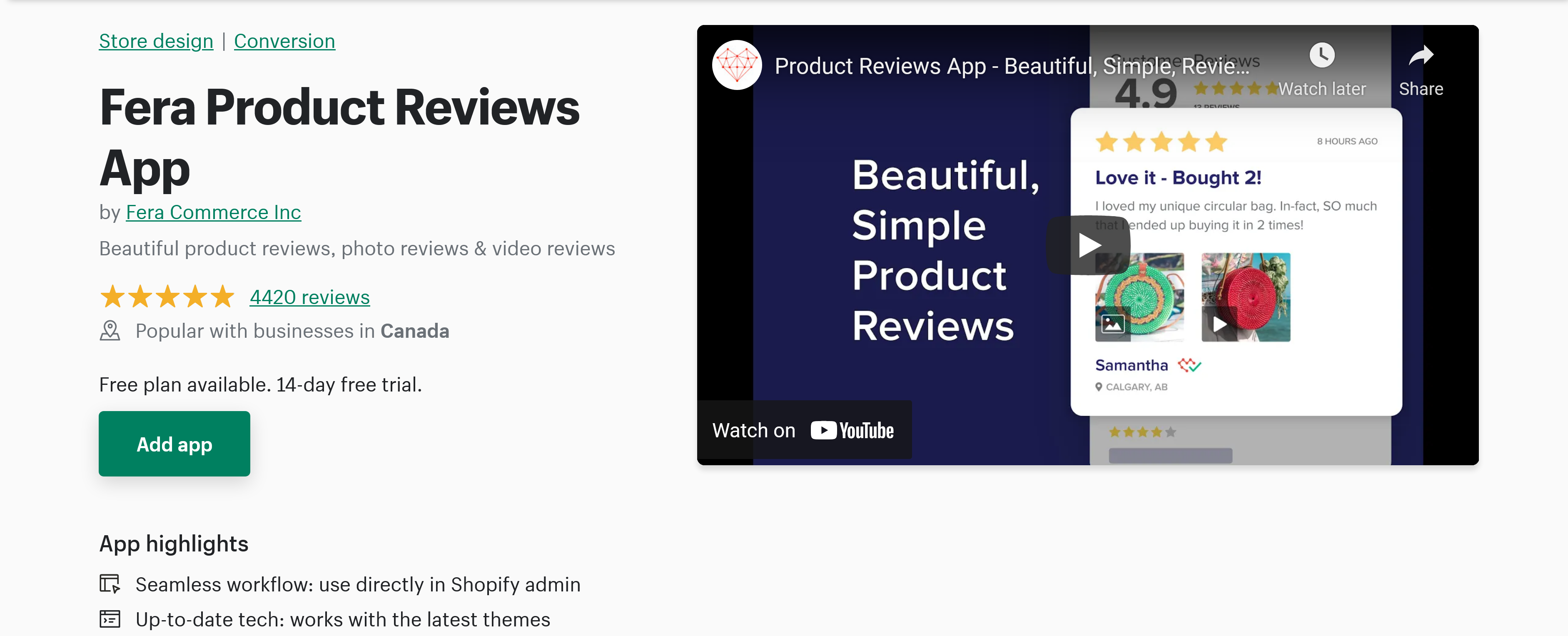 For Shopify dropshippers, you need an excellent review app to win the trust of your customers and increase your sales conversion rate. And Fera is the best Shopify review app for starting a dropshipping business.
Fera is intuitive, and it has a very simple interface that makes it easy to use. You'll be able to import reviews from Facebook, Google, Etsy, and more in seconds - no coding required.
Most excitingly, Fera Product Reviews offers a free plan for store owners.
Why Should You Use Fera?
Fera Product Reviews allows you to not only build trust by displaying your reviews beautifully, but also offer exclusive discounts to buyers that decide to leave a review and more!
Features
Here are some of Fera's top features:
Manage product reviews: import, moderate, reply to reviews
Display reviews: beautifully display text, image, and video reviews and ratings on your Shopify store to gain the trust of your customers.
Review Request Emails: Customize review request templates to get real reviews from your customers.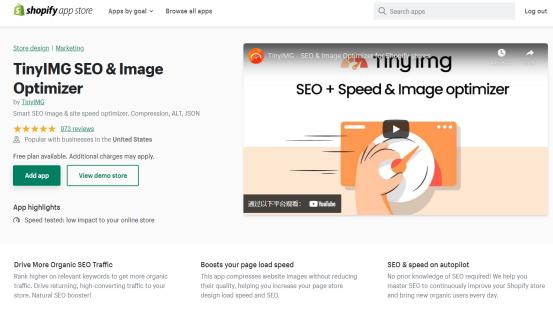 TinyIMG is a Shopify SEO app that makes your Shopify store design visually appealing and also boosts your page loading speed.
This is a great solution for those who don't know SEO and want to get more natural SEO traffic.
How Does TinyIMG Help You Succeed?
As you know, product images and page speed affect conversions. High-quality images and fast page load times will give your customers a great user experience.
TinyIMG automatically optimizes images and uploads the optimized version to your Shopify store. The app will speed up your page load time by compressing images without compromising their quality.
TinyIMG is compatible with any Shopify store and is free to install.
Features
The app has a lot of features for optimizing your dropshipping store, including:
Image optimization and image resizing
Provides reports for SEO
Fixes technical SEO and speed issues
Broken link detection and redirects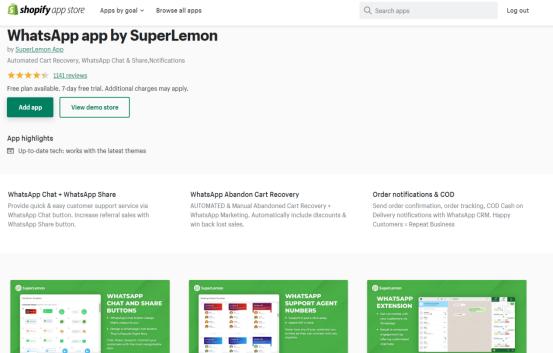 SuperLemon is a WhatsApp app that allows you to communicate with your customers via WhatsApp easily.
The app has been around for a while, but it's still one of the best Shopify apps for customer service.
Why Do You Need SuperLemon for Your Dropshipping Store?
A great eCommerce website cannot be built without great customer support. And if your Shopify store doesn't have a way to communicate in real-time, it will greatly reduce conversions. the SuperLemon app allows you to provide quick and easy customer support services through the WhatsApp chat button.
Features
Send automated order confirmations, order tracking, and cash on delivery notifications using WhatsApp CRM.
Display WhatsApp live chat button in your store to respond to customer messages in a timely manner.
Automated WhatsApp message templates to keep your customers in touch with your shipping times, delivery, and other information.
Wrapping Up
Shopify apps are very important for the success of your dropshipping business. They improve the overall performance by only handling complex tasks, so you don't have to.
Meanwhile, you don't have enough time to search through all those applications to find one that fits your selling strategy and needs.
A variety of apps are available in the Shopify app store.
As a newbie to dropshipping, it's best that you need other apps to optimize your eCommerce site and increase conversions besides sourcing apps. And if you have trouble on selecting the best Shopify apps, you should start with the above Shopify apps for your dropshipping business.