If you want to make your products stand out, then you need to be different than your average competitor.
But how do you do that?
A great tool to have in your eCommerce arsenal is social proof.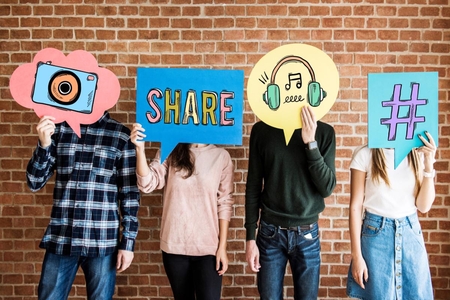 Like it or not, humans are very much influenced by what those around us do. From behavior to fashion, we're very social creatures. Social proof is a great way for shoppers to see what's popular and what everyone else is doing.
The more social proof, the easier it is for prospective customers to choose what to buy. 
This post will walk you through the 7 different ways to add social proof to your eCommerce site.
Adding these or making some of these changes should boost your conversions and lead to better sales for your eCommerce store.
That's a win-win!
What is Social Proof?
Social proof is essentially relying on the behavior of those around you to choose what purchase to make.
Highlighting the social proof of your products on your eCommerce site can help other buyers decide what to purchase. That's because of our social nature; we're likely to look for or rely on the opinions of others to make a purchase.
Find the App that Fits Your Store
While you could try to create and add your own social proof, it's always better to leave it to the experts and choose one of the many apps that Shopify, BigCommerce or WooCommerce has available to you.
Pick an app that fits your theme and that has good reviews.
Different apps will do different things, so it's a good idea to spend some time researching each of them.
See what people have to say about it (the good and bad!), and see what it is going to add to your store.
The best apps will have tracking metrics and data to show how much they help with conversions, or A/B testing to help test different versions against one another.
7 Ways to Add Social Proof to your Site
Recent Sales Notification
Customer Reviews
Use Actual Customer Data
Urgency Timers
Use Stock Data and Numbers
Trust Badges
Social Sharing Buttons
1. Recent Sales Notification
Use the real-time data from your store to show how many visitors an item currently has, or even better-how many customers are currently purchasing!
A tool like this will display your most recent activity on your site in a pop-up, or embedded into the site.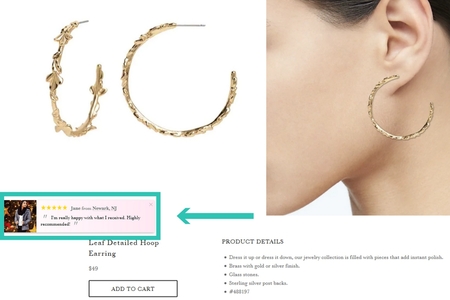 You can use this to display recent sales, signups, or even registrations to an event.
Increase your conversions by creating FOMO with visitors to your store. You can show them how popular your products are with other people, and that stock of those items is limited.
2. Customer Reviews
Build trust with your visitors and add credibility with curated and personalized testimonials.
Because what better way to show new customers how great your products are then by having current customers rave about them.
Now it's hard to get reviews (especially positive ones), but that's because oftentimes people don't ask.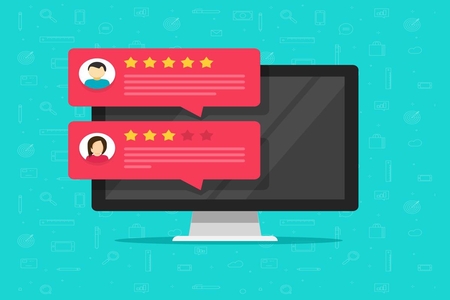 Simply ask a customer if they can leave a review and make it super quick and easy to do so.
Maybe in the follow-up email have a link directly to the review section of the item they purchased so they can leave a comment.
Worst case scenario, they ignore your email, but the best case is that you get a glowing review left for the next shoppers to see!
3. Use Actual Customer Data
Don't fake your data!
Customers are smart and they know when things are fishy or seem a bit too good to be true.
You don't want to fake data as this can cause many issues; you can lose your credibility, as well as any trust your customers had in your brand and your products.
Using real data is great and will highlight that others are wanting and purchasing your product(s). 
If you're worried that you don't have enough or that the data is slightly off there are things you can do.
Don't include a time or date stamp.

Show only the 10 most recent purchases (even if they happened yesterday or the day before) or use add to cart data and purchase data.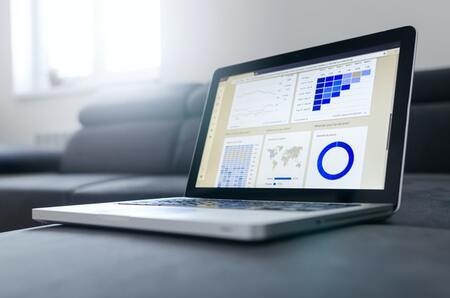 This will show customers who bought and also those that added to cart and will buy later.
We suggest that you try different methods until you find what works for you, rather than trying to trick customers.
4. Urgency Timers
Combing urgency with your social proof is another great trick to use.
Amazon has timers in their sales toolbelt, so why not use it too?
Basically, you want to add a timer that counts down on your products. But not just arbitrarily.
You want a dynamic timer that remembers the visitor and continues the same time even if they refresh, leave the tab or anything like that.
Amazon uses a timer to let customers know that if they buy in the next 'x' time, they can get their product(s) by 'y' date.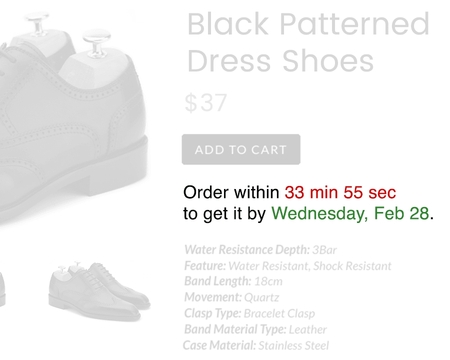 You can also have a timer that lets customers know how long they have the product(s) in their cart for.
This works really well for any special sales you might have. It adds urgency for customers to checkout faster to ensure that they don't lose the item that is in their cart. 
You could even use a countdown timer for sale.
This kind of timer lets them know either the time/day the sale is going to start or when it will end.
This also adds urgency because the less time there is until the sale is done, the more pressure there is to make a fast purchase.
If the timer is counting down to the start of a sale, it will encourage customers to browse around for other items or make special note to come back and make purchases when the sale begins.
5. Use Real Stock Data and Numbers
Show customers how much of an item you have.
This may not work if you dropship because your supply will be very large. If you have lower stock quantities it's great to show them as it lets the customer know there's only a limited supply of the product(s) they may want.
As shown in the previous tip, if you also show the number of recent purchases and/or the number of shoppers, then it's more likely a customer will convert and make a purchase.
That's because of the idea that they may miss out, or that there's only a limited number of the product and they want to be the person to have it.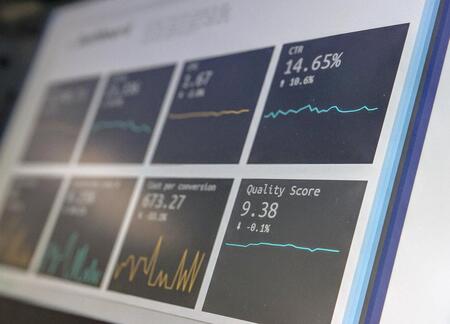 This makes the customer feel like they're part of a special small club of people who have that same item, and it gives a sense of uniqueness that we all enjoy.
6. Trust Badges
Show customers your credentials. It's like the web version of a resume.
You want your visitors to know they can trust you and what they're getting from you. You can have badges that let customers know you comply with GDPR regulations, or that you're an accredited business as per the Better Business Bureau guidelines.

Checkout badges are also great to increase trust. They let customers know the process is secure and that their information is safe and is not being stolen or used for anything besides verifying the transaction and shipping details.
Even checkout badges that let customers know what types of payment your store accepts are great. 
The more you show and offer and the more ways a buyer has to buy, the more likely they are to make the purchase. Especially if you have options like credit and PayPal where the transaction can be more secure, or where they can buy now and pay off their card later.
7. Social Sharing Buttons
Today's era loves social media. It's a giant marketing tool and there are so many different ways to share information now.
Everyone has a favorite social media platform, so why not make it easy to share content from one form of social media to another?
Simply add social proof by allowing the linkage of media sites like
Facebook
Twitter
Youtube
Reddit
and so on to your eCommerce store. 

This will allow shoppers to quickly send items to friends for Christmas lists, or potential ideas for gifts. Most eCommerce sites now have these features built-in, or you can edit and your theme and add them manually. But to make life even easier there are a few apps out there that will do it automatically for you.
5 Innovative Ways Shopify Stores Are Adding Social Proof
That wraps up our list of 5 ways you can add social proof to your eCommerce site. Making it easier to buy means your store will have higher conversions and hopefully more sales!
Do this by adding:
1. Recent Sales notifications
Get out there and add social proof to your store-everyone else is doing it, so what are you waiting for?