Email marketing is becoming significantly less effective each day.
Your customer's mail inboxes are flooded with a ton of different messages. So, trying to stand out from the whole crowd can feel impossible.
But, wait!
Over the years, businesses have focused on another popular eCommerce communication strategy - SMS (Short Message Service) marketing.
Recent studies have shown that over 97% of the individuals in the USA own a phone.
Most people prefer texting over talking, making SMS an effective solution for your online business.
With an SMS strategy for your eCommerce store, you can cut through the noise and connect with your customers on a more personal level.
Believe it or not - SMS messages have a quicker open rate than emails!
Over 90% of messages are opened in the first several minutes.
And what's more interesting is that creating an SMS campaign is easier than before. A whole bunch of Shopify apps will help you get started in just a couple of short clicks.
However, here's the challenge.
Since there are so many different apps, finding the most suitable option for your business demands can seem incredibly challenging (even time-consuming).
That's why we decided to do all the legwork for you and find out some of the best SMS marketing apps for your Shopify store.
All you truly need to do is just scroll through all the options and select the one that mostly fits your preferences.
Without wasting anymore time, let's take a look at the highest-rated SMS apps on Shopify
---
Best SMS Marketing Apps For Shopify Users
Table Of Contents
Beautiful, simple reviews for your site
Easily collect, show & grow customer reviews, photos & videos for your business.
---
Postscript SMS Marketing
Postscript SMS marketing allows you to create, launch and manage your SMS campaigns in just a few clicks. It comes with valuable resources for a more efficient workflow and smoothly blends in with your store for a better user experience.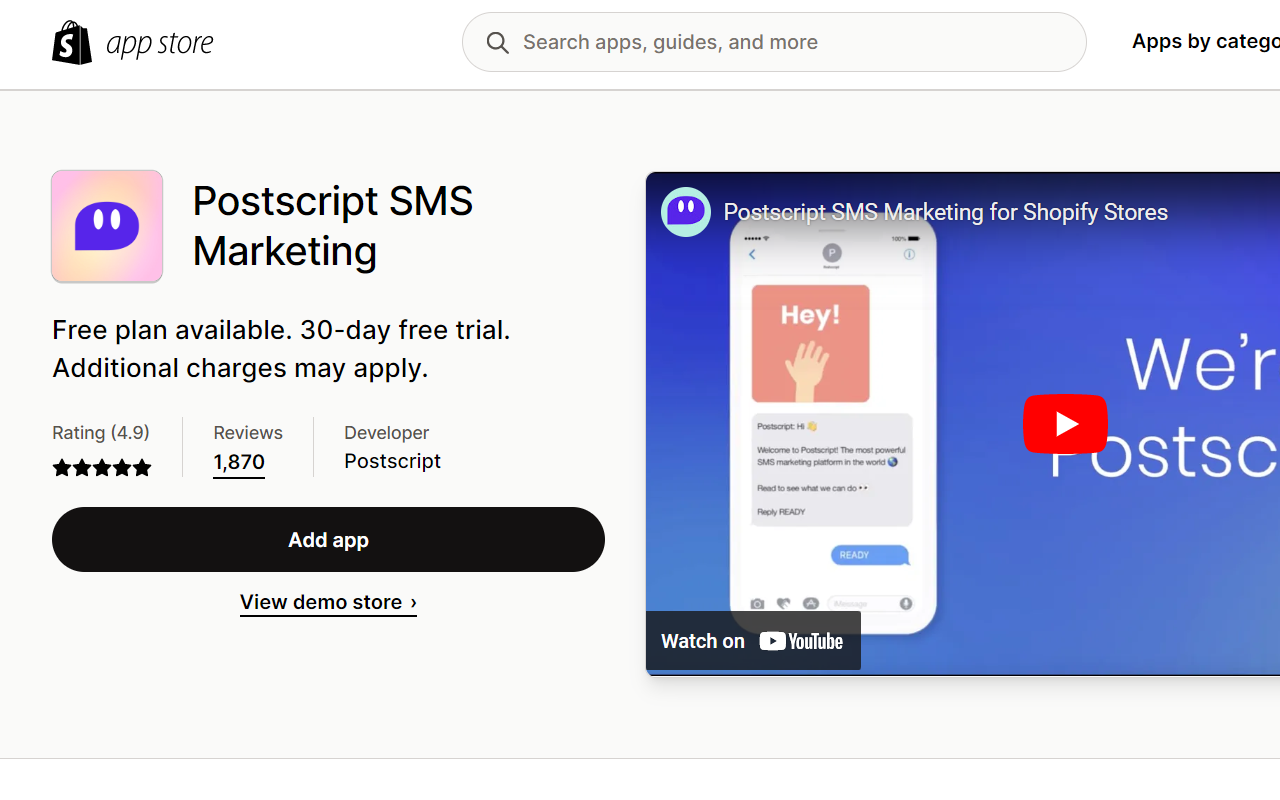 Why You Need Postscript SMS Marketing:
Follow up on new purchases and order statues with automation templates
Employ the "Safe Send" feature to prevent any kind of spam
Carefully review the performance of your SMS campaigns in the dashboard
Postscript SMS Marketing Pricing:
Free ($0/month) - Campaigns, unlimited segments, subscriber acquisition tools, help centers, and a unique toll-free number.
Growth ($100/month) - All the "Free" features + unlimited keywords, live chat support, and unlimited integrations.
Professional ($500/month) - All the "Growth" features + onboarding specialist, committed CSM, priority chat support, custom integration, opt-in tools, and branded links.
Type Of Shopify Stores Postscript SMS Marketing Is Best For:
Shopify owners that want to grow their store through the power of SMS marketing.
SMSBump Marketing
SMSBump Marketing is undoubtedly one of the most popular SMS tools you can find on Shopify. It has all the necessary tools to grow your contact list and comes with several different integrations.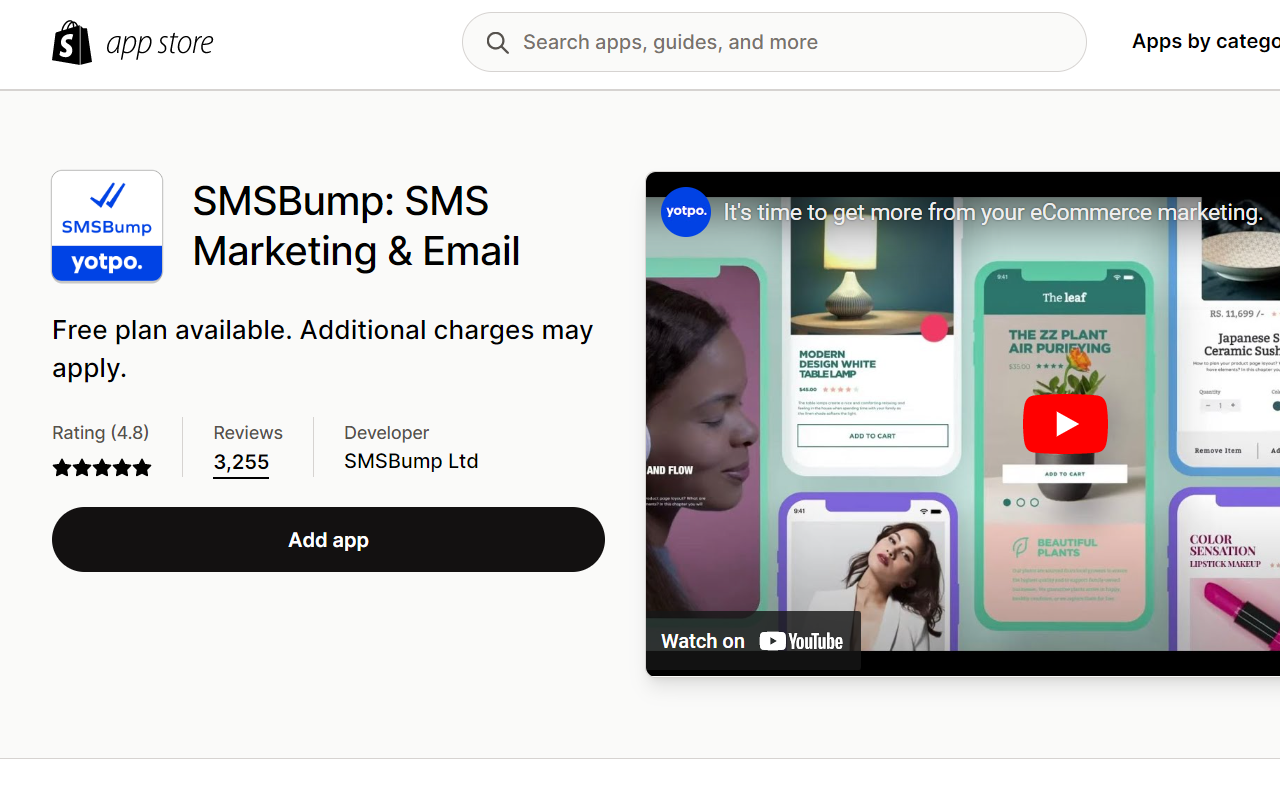 Why You Need SMSBump Marketing:
Reach more consumers and increase your final business revenue
Select from several different SMS templates for higher conversion rates
Use triggered messages for each action and tailor them to match your brand
SMSBump Marketing Pricing:
Free Plan (Free) – Campaign builder, full SMS automation, special tools, audience segmentation, 24/7 user support.
Growth Plan ($19/month) - Everything in "Free Plan" + personal SMS conversations, in-depth analytics, and tech stack integrations.
Prime Plan ($59/month) - Everything in "Growth Plan" + timezone messages, analytics export, and branded URLs.
Powerhouse Plan ($199/month) - Everything in "Prime Plan" +conversational SMS, A/B testing, POS integration, and onboarding specialist.
Type Of Shopify Stores SMSBump Marketing Is Best For:
It's completely suitable for both mid-range and high-end businesses.
Automizely SMS Marketing
This tool can do wonders for your business - it can assist you in recording abandoned carts, converting site visitors, and even promoting your brand.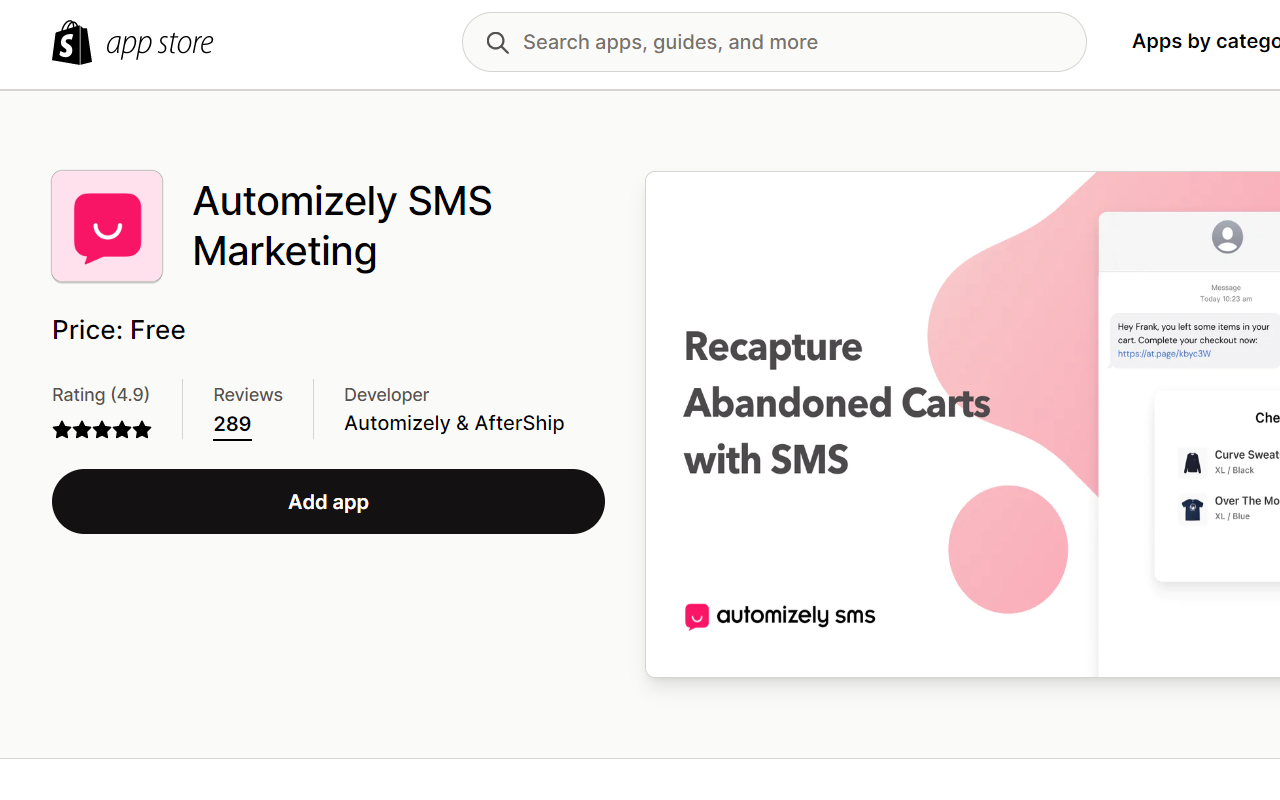 Why You Need Automizely SMS Marketing:
Recover lost sales and abandoned carts with unique SMS notifications
Set up campaigns in a few minutes with the help of their one-click setup
Secure your communications between your customers with GDPR and TCPA
Automizely SMS Marketing Pricing:
Free Package (Free) - Abandoned cart SMS, automated text, full sync, free abandoned cart, TCPA compliance, and campaign analytics.
Enterprise Package (Custom Price) - Enterprise SLA, dedicated manager, account review, and custom integrations.
Type Of Shopify Stores Automizely SMS Marketing Is Best For:
The app is primarily fitting for startup companies.
Firepush App
Firepush App 4.7 stars with 790+ reviews
Firepush deserves a spot on the list thanks to its super-versatile and heavy-optimized functionalities. It's an all-in-one marketing app that covers three channels: SMS, email, and web push.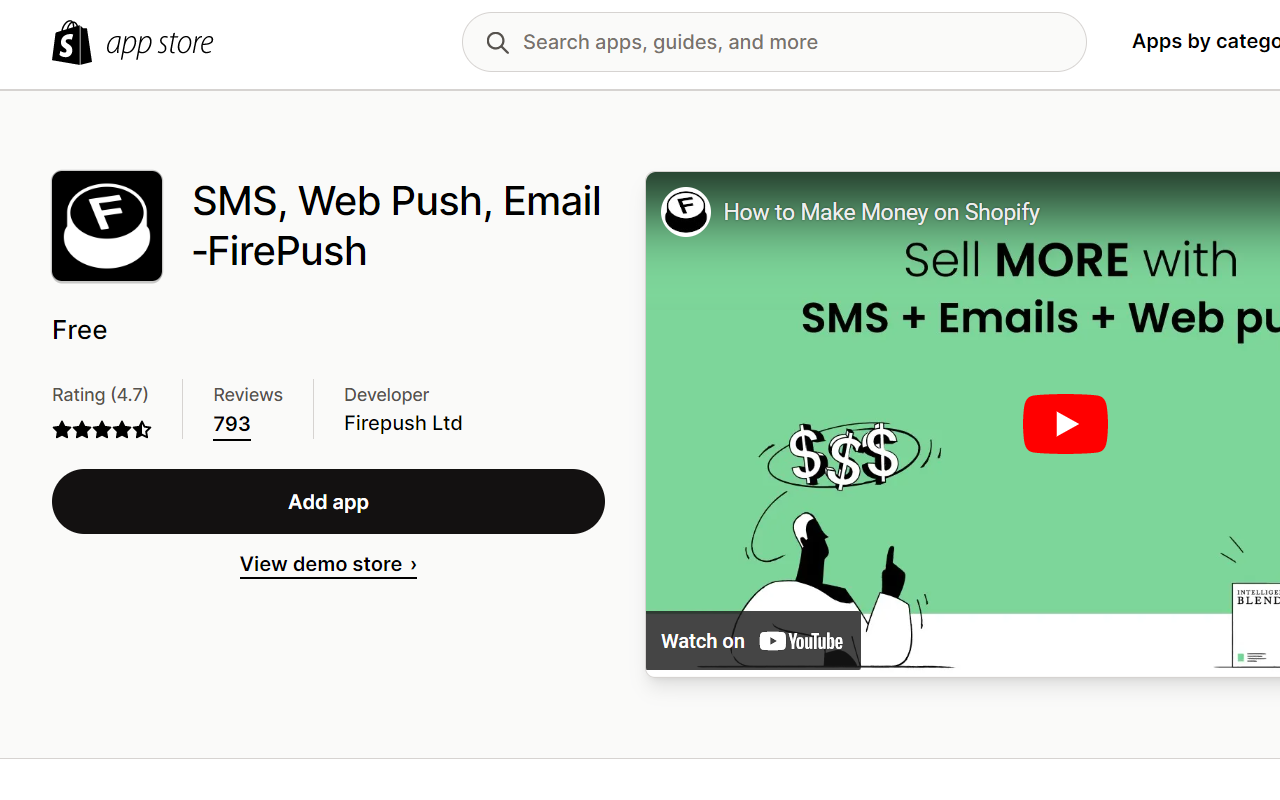 Why You Need Firepush App:
Re-engage your shoppers with the help of beautifully designed campaigns
Continually grow your sale conversions by targeting customers with SMS
Apply multiple filters to segment your SMS in several different ways
Firepush App Pricing:
Basic (Free) - With this package, you can send 500 emails, up to 60 SMS, and 500 web push.
Type Of Shopify Stores Firepush App Is Best For:
Mainly suitable for users that want to reach out to their current customers with SMS messaging.
Fera Product Reviews
With Fera's assistance, you can create a "Quick Review Link" and share it with any SMS contact you have. Not only will this help you build some serious brand awareness, but it will also help you establish better connections with current customers.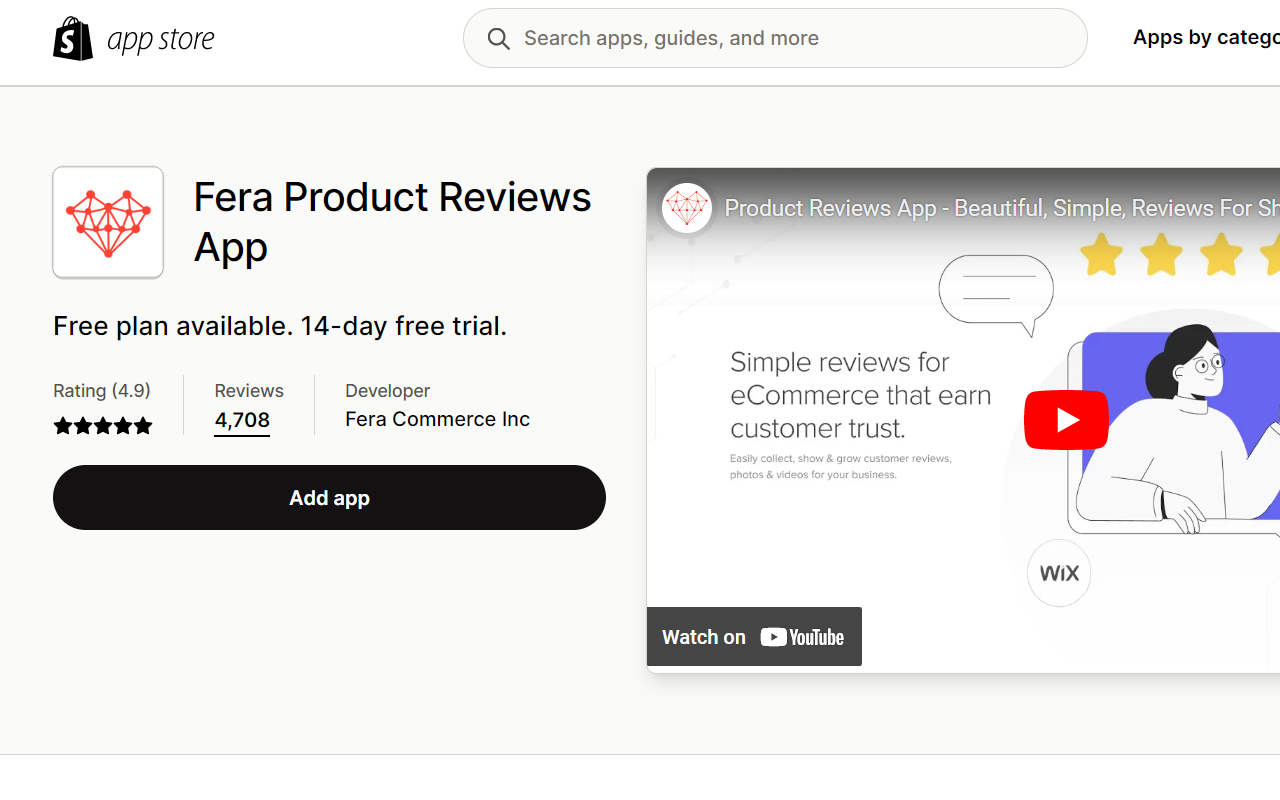 Why You Need Fera Product Reviews:
Collect and display product reviews in a few simple clicks
Easily personalize the review widgets to blend in with your site
Manage all the reviews through the convenient dashboard
Fera Product Reviews Pricing:
Free Pack (Free) - Up to 10 review appeals, 1 vital widget, and essential features.
Startup Pack ($9/month) - Up to 100 review appeals, 3 vital widgets, and all the essential features.
Small Pack ($29/month) - Up to 1,000 review appeals, 10 vital widgets, and premium features.
Medium Pack ($99/month) - Up to 10,000 review appeals, 20 vital widgets, and all the features.
Type Of Shopify Stores Fera Product Reviews Is Best For:
It is ideal for stores that want to collect product reviews in their SMS campaigns.
TobiBots SMS Marketing Automation
TobiBots will be able to drive more traffic to your online stores by sending customers promotional offers, order updates, and special reminders. Hundreds of users are currently using the app.
They have seen a massive increase in overall sales in just a short period.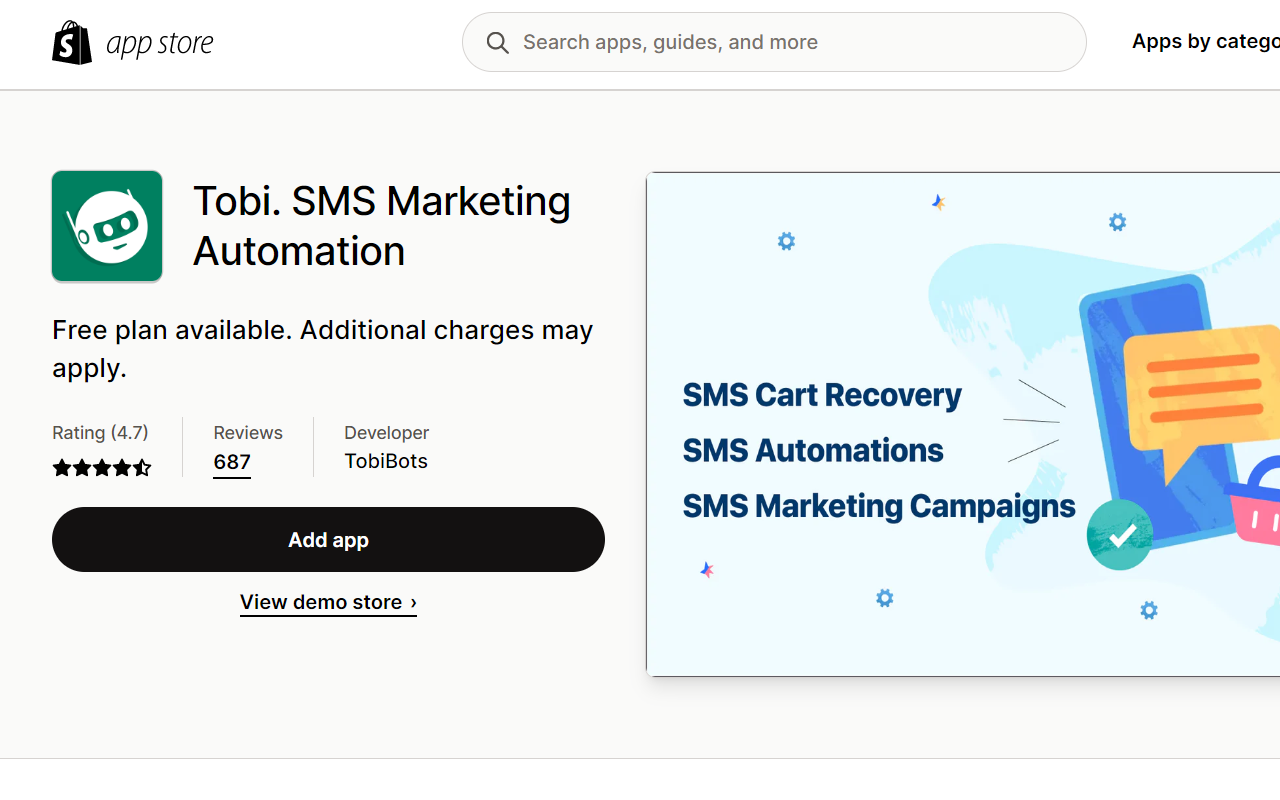 Why You Need TobiBots SMS Marketing Automation:
Cross-sell or upsell other products to your customers for a better AOV score
Create a range of automated SMS messages to make things more convenient
Take advantage of all the helpful resources on their main website
TobiBots SMS Marketing Automation Pricing:
Pro Go (Free) - 100 free SMS and access to some essential functionalities.
Pro Flex ($29/month) - 300 free SMS and access to all of the premium functionalities.
Type Of Shopify Stores TobiBots SMS Marketing Automation Is Best For:
Excellent for store owners that want to automate their entire SMS marketing campaign.
Shipway SMS & Whatsapp
We have the all-mighty Shipway SMS & Whatsapp in the very last position. With this app, you can send personalized SMS & Whatsapp messages to promote your new products or discounts and create a memorable experience for your customers.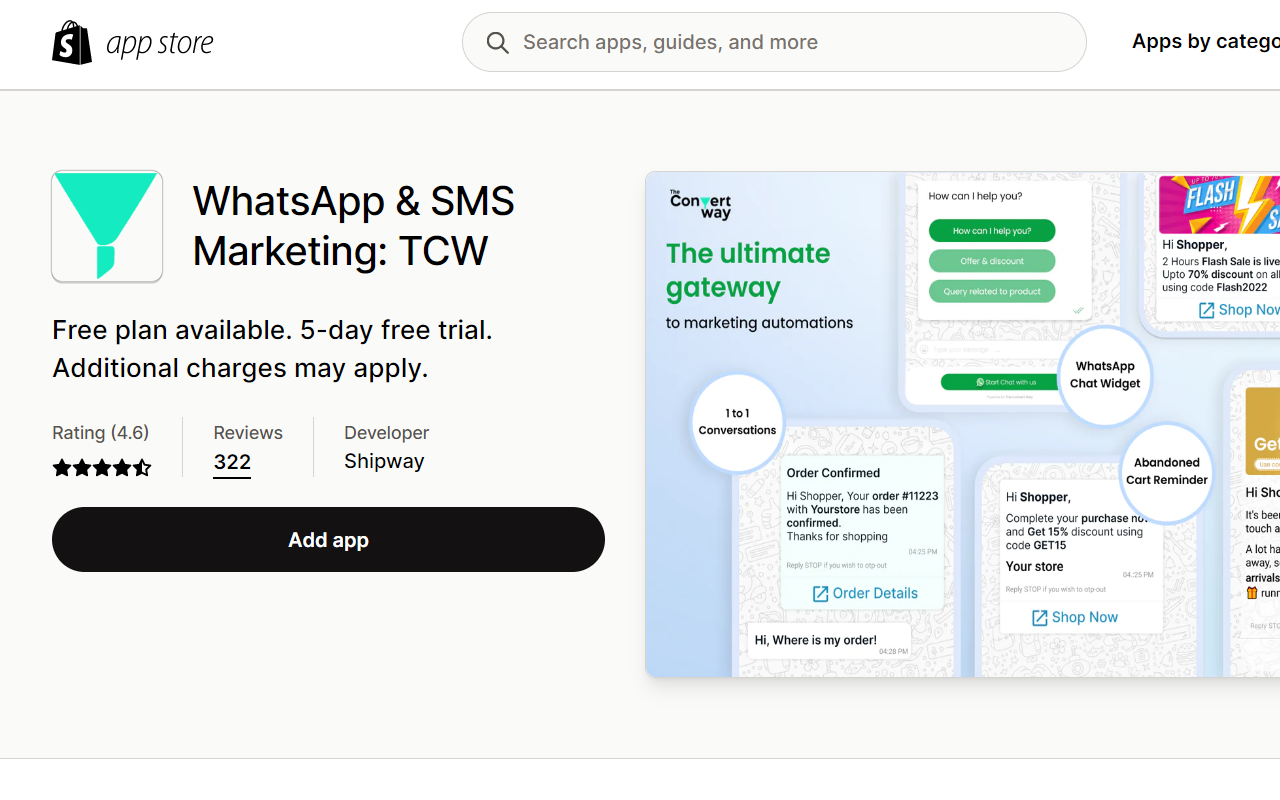 Why You Need Shipway SMS & Whatsapp:
Build long-lasting relationships with all of your current customers
Employ pre-made templates and gain more traction around your SMS
Use some of their integrations and import Shopify segments
Shipway SMS & Whatsapp Pricing:
Free Package (Free) - SMS order alerts, up to 2 flows, marketing campaigns, chat widget, and analytics.
Premium Package ($29/month) - SMS sender ID, up to 5 flows, conversations, custom templates, and many more.
Type Of Shopify Stores Shipway SMS & Whatsapp Is Best For:
It's mainly recommended for users of Whatsapp.
Conclusion
It's a fact - SMS is a powerful campaign strategy!
But, not too many business owners are taking advantage of this.
So, by downloading some of the above-mentioned apps, you can step up your marketing game and surpass your competitors.
*All information is based on the Shopify app store listings as of January 2023.