Have you ever thought about TikTok as a marketing channel?
If not, consider these stats: almost 50% of TikTok users have bought from brands they saw on the platform!
As TikTok grows in popularity, more and more eCommerce brands recognize its marketing potential. Presence on TikTok can help merchants put their online stores in front of millions of potential customers.
This article will explore the top TikTok marketing trends and strategies for eCommerce businesses in 2023.
The power of the TikTok platform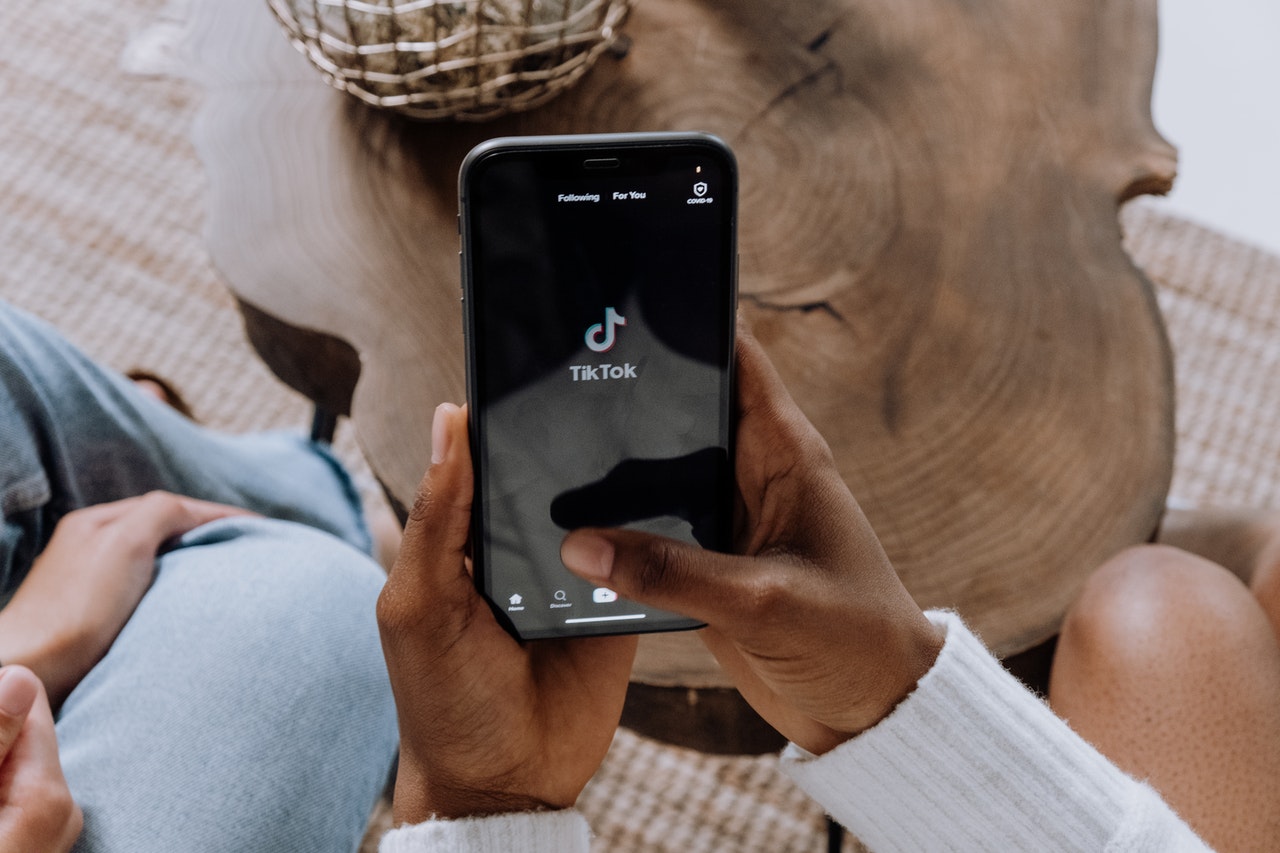 Before diving deeply into TikTok marketing specifics, let's see what makes this platform so powerful.
First, TikTok has over 1 billion monthly active users, and its app was the most downloaded in the world in 2021. The platform is available in 75 countries across the globe and has become especially popular in the US. Such a rich user base makes TikTok a powerful channel to help you get exposure for your brand.
Second, the TikTok discovery algorithm gives every piece of content equal chances to go viral, no matter how popular a creator is. What matters here is the engagement that content drives. So, eCommerce brands can get exposure without spending vast sums of money.
Third, users find TikTok much more authentic, entertaining and trustworthy than other platforms. For TikTokers, it is a better way of discovering new products.
So, the TikTok platform is so disruptive that you cannot afford to ignore it!
TikTok marketing tips and strategies for eCommerce business owners
Now, let's get into the top TikTok marketing trends and strategies for eCommerce stores in 2023.
Not sure if you can handle these strategies on your own? You can always reach out to a professional TikTok influencer agency.
#1 Identify your target audience
Before you implement TikTok marketing strategies, be sure to define your buyer persona. Identify such features as age, gender, income level, interests, and pain points of your target audience.
# 2 Evaluate your competitors' presence
Next, check whether your competitors are on the platform already. If so, be sure to study their content, and define which formats and topics resonate with the audience most. By doing so, you will get an idea of what your potential customers may like.
#3 Discover what's trending on the platform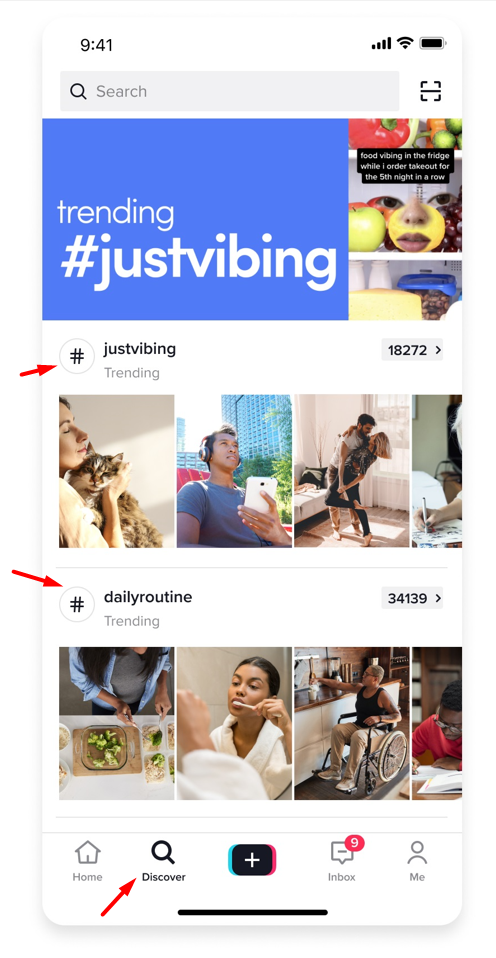 Source: https://newsroom.tiktok.com/en-us/discover
Following the latest trends is essential for creating engaging content that can go viral on TikTok. So, look through the trending topics on TikTok that apply to your niche. Check hashtags, groups, and trending posts to see what appeals to your audience.
Let's outline the common ways to discover the trends.
Perhaps the most obvious method is visiting the Discover tab to see what's trending right now. Here you can see the popular hashtags, effects, and sounds and how many times they appear in videos.
Next, check the trends and hashtags the top performing creators in your niche are using. When doing so, try to identify the common patterns in their content. Similarly, you can explore the hashtags your audience is using.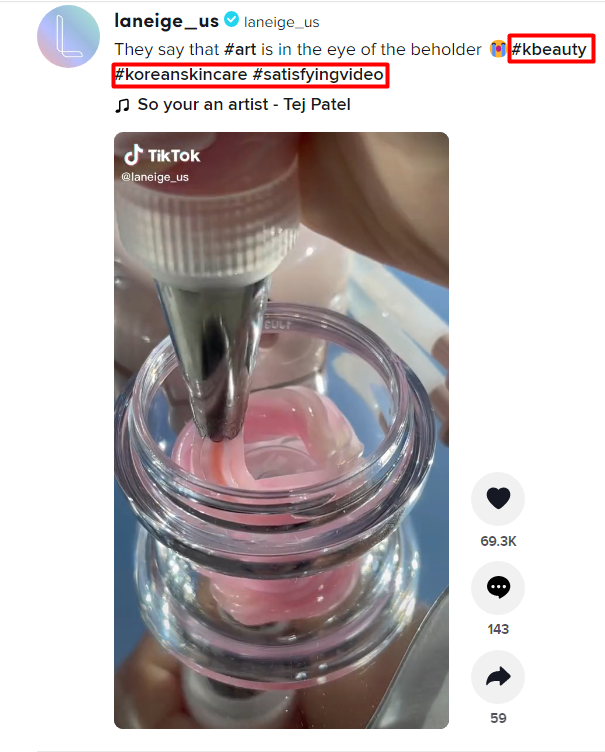 Source: https://www.tiktok.com/@laneige_us
After doing your research, think of how you can incorporate the trends you've discovered into your content.
To get the most out of TikTok hashtags, there are certain things to keep in mind. When using popular hashtags, you'll have to compete for your audience's attention with other creators. So, a good idea is to combine popular hashtags with niche-specific and branded ones.
#4 Set up a Pro account
It is worth creating a Pro account to get the most out of your TikTok presence. With a Pro account, you can unlock access to advanced analytical features.
This analytics will give you insights on a variety of metrics, such as:
Follower demographics;
Engagement data (likes, shares, and comments);
Traffic sources;
The content your followers also like;
And more.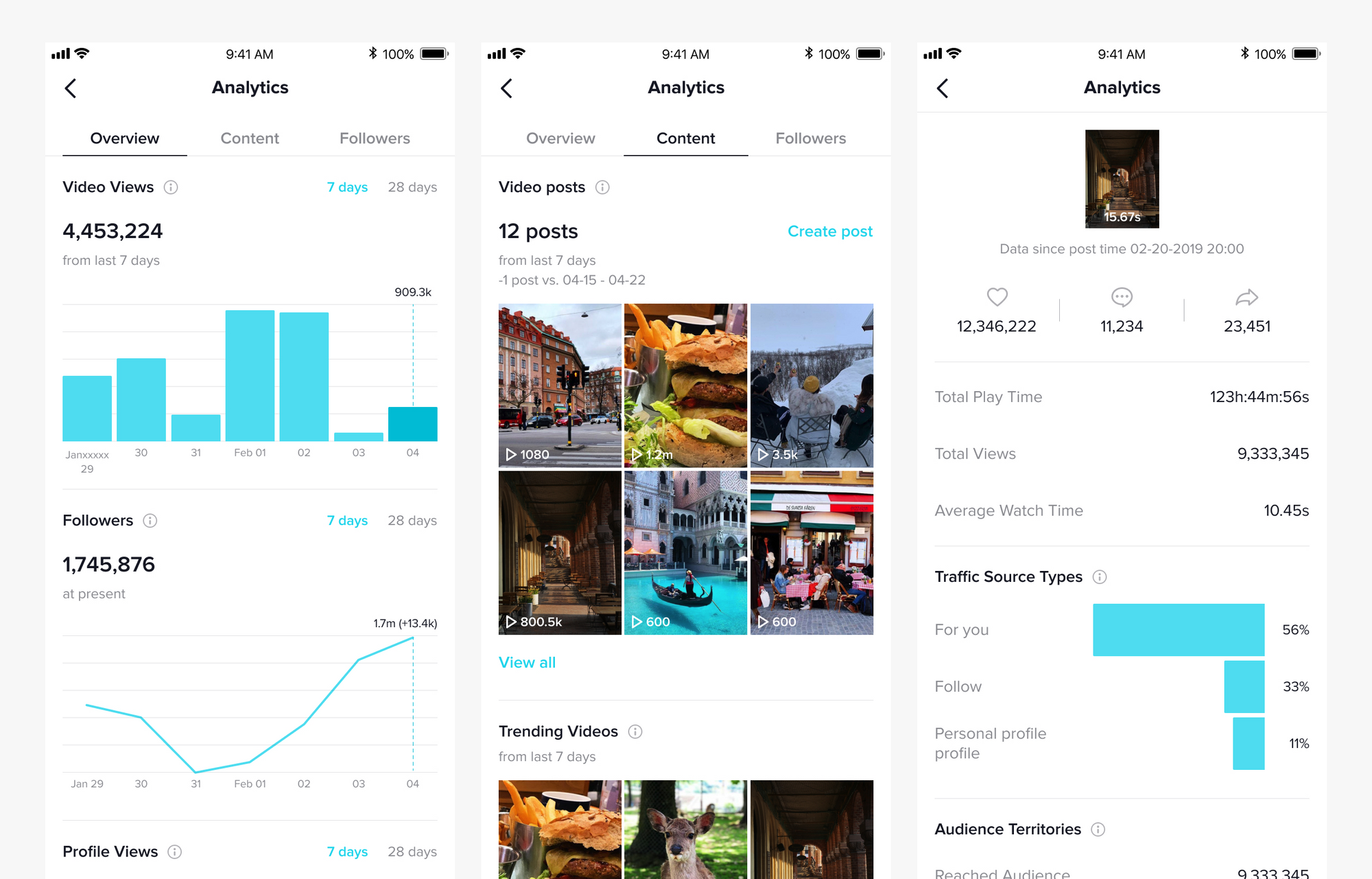 Source: https://newsroom.tiktok.com/en-us/pro-accounts-offer-new-insights-to-avid-creators
#5 Share your authentic content
So, you have identified your buyer persona, the content formats, and topics that resonate with your target audience. Now, it's time to create your content.
To succeed on the TikTok platform, avoid distributing salesy content. What TikTikers love is authentic, entertaining, and emotionally appealing content. Here are some proven ways to grab your audience's attention on TikTok:
Creating funny content making people laugh;
Showing how your product or service can solve a specific problem;
Telling an interesting story behind your brand.
#6 Connect to TikTok Shopping
The impact of TikTok on the shopping trends is enormous. The platform creators continuously implement new features to help eCommerce brands drive sales. One of the recent solutions in this area is TikTok Shopping.
With TikTok Shopping, you can create a digital storefront for your products as a merchant. Besides, it enables in-app shopping for your customers. This feature is available for eCommerce business owners with the stores built on Shopify, Square, Prestashop, and Ecwid.
Along with that, TikTok Shopping enables you to tag the specific products from your catalog in your videos. If a product grabs viewers' attention, they can explore it further and buy it without leaving an app.
Kylie Cosmetics was among the first brands to leverage the TikTok Shopping features.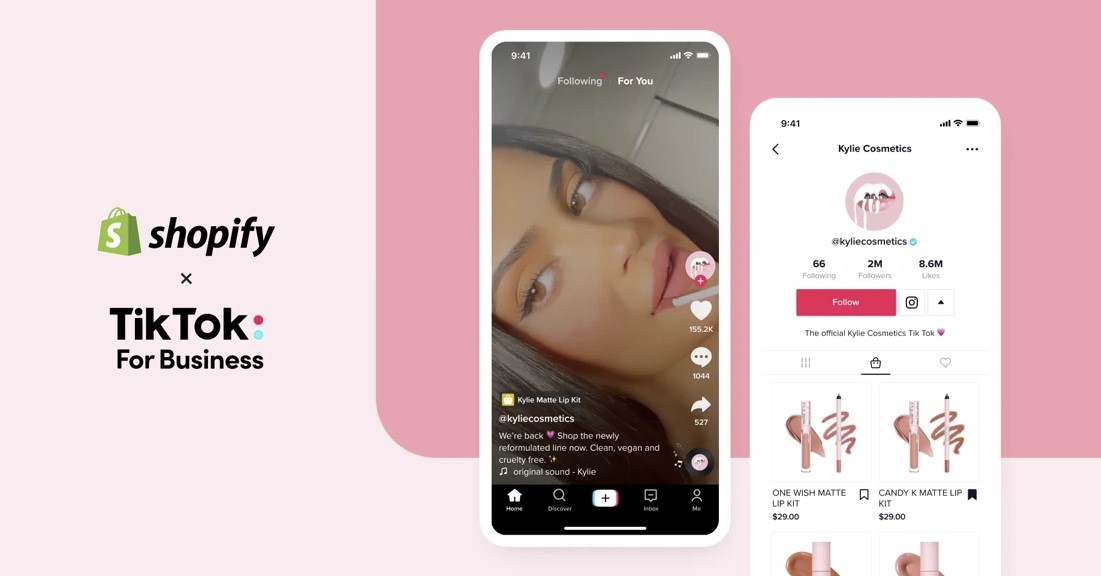 Source: https://news.shopify.com/scaling-social-commerce-shopify-introduces-new-in-app-shopping-experiences-on-tiktok
#7 Run TikTok Ads
Along with the organic ways to get exposure to your brand, TikTok offers paid advertising options.
You can choose from the following ad formats:
Top View Ads - attention-grabbing full-screen ads, either static or dynamic;
In-Feed Ads - video ads played in users' "For you" feed;
Brand Takeover - non-skippable full-screen 3-5 second video ads or 3-second images; 
Branded Hashtag Challenge - a proven way to spread the word about your brand or product;
Branded Effects - enabling users to create their unique content with your branded stickers, filters, and other effects.
Now, let's get into some inspirational examples of TikTok ads.
PUMA is famous for its #FlashofFuture branded hashtag challenge. To motivate TikTokers to participate in this challenge, PUMA offered an incentive to meet a football star in person.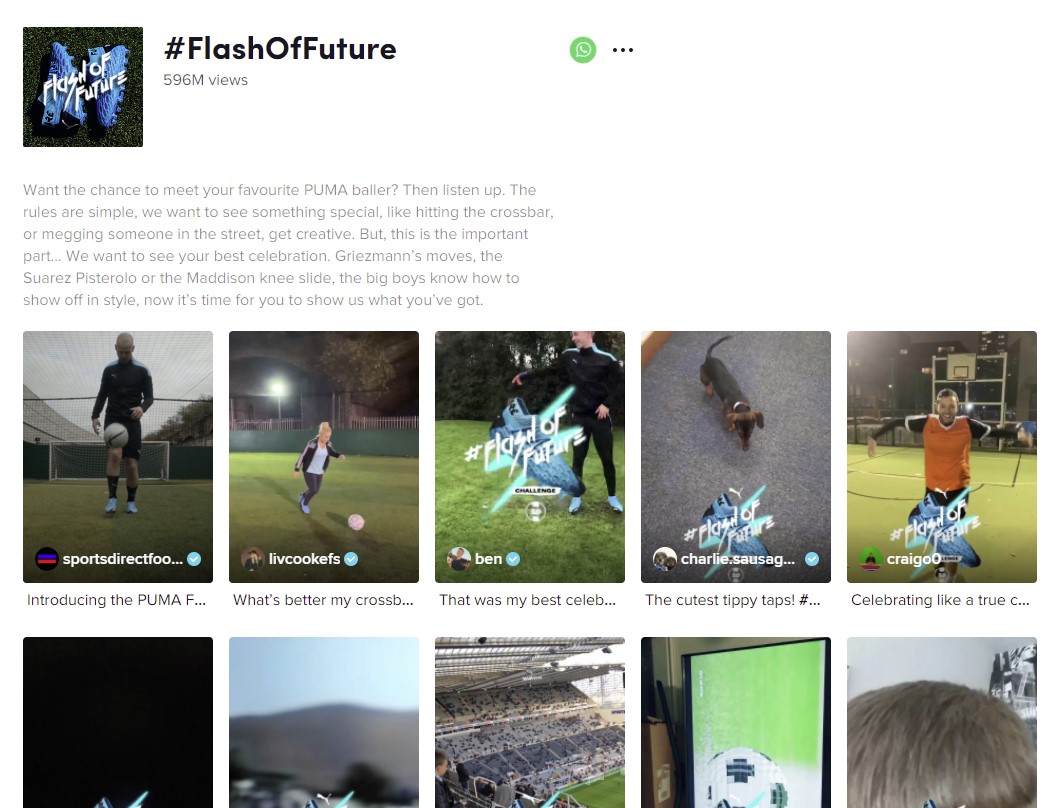 Source: https://www.tiktok.com/tag/FlashOfFuture
Colgate ran an effective TikTok campaign targeted at the Asian market. It combined the #Colgatekiss hashtag challenge and a "kissy face" branded effect.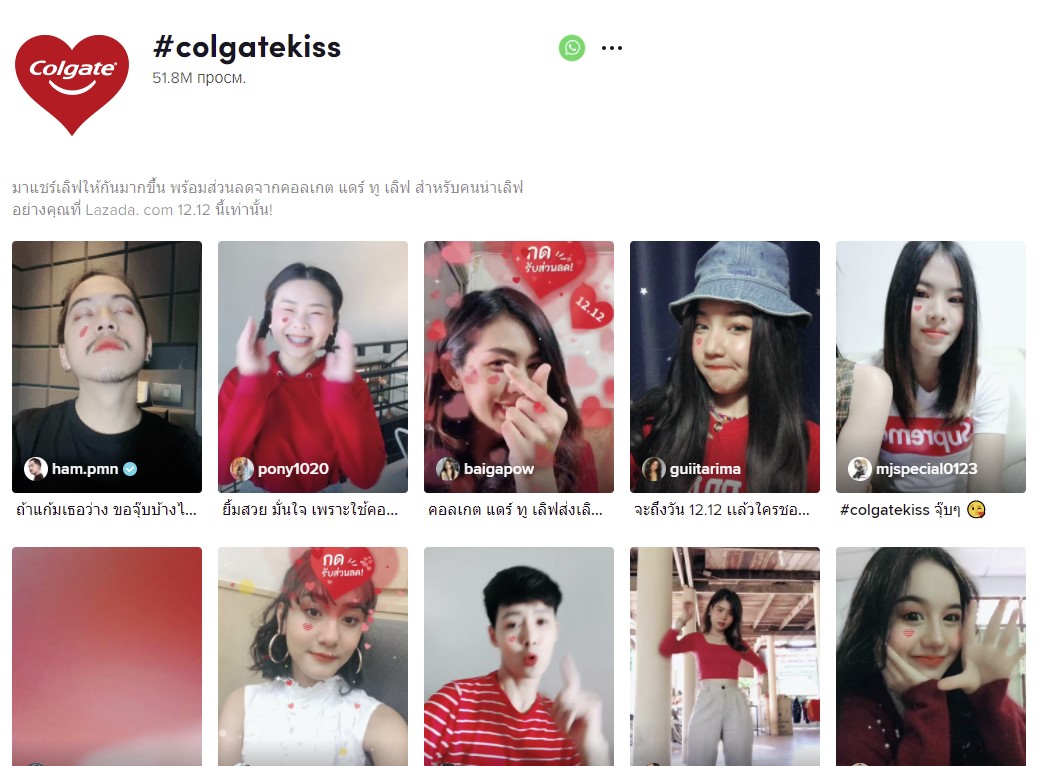 Source: https://www.tiktok.com/tag/colgatekiss
e.l.f. Cosmetics have cut acquisition costs through in-feed ads and dynamic showcase ads based on their product catalog.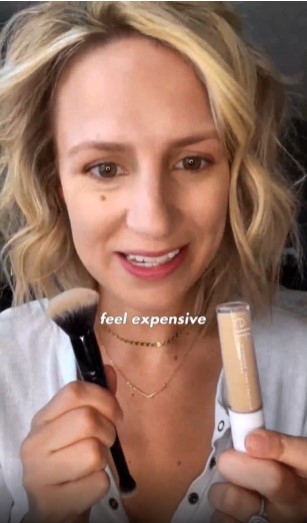 Source: https://www.tiktok.com/business/en-US/inspiration/e.l.f.-cosmetics-567
Blendjet applied a behavior- and interest-based targeting approach to their in-feed ads.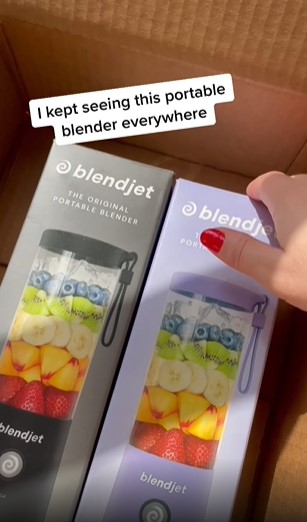 Source: https://www.tiktok.com/business/en-US/inspiration/blendjet-543
Mucinex launched a combination of branded hashtag challenge and branded effects on TikTok. These activations helped drive ad recall by 60.4% and boost their cold and flu medicine sales.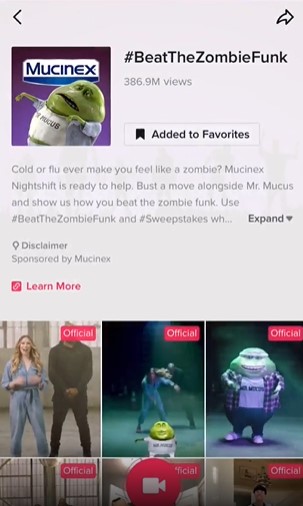 Source: https://www.tiktok.com/business/en-US/inspiration/mucinex-98
Link your TikTok and Instagram accounts
If you have both Instagram and TikTok, consider linking them. Connecting the two accounts can have a cumulative effect on driving your brand awareness on both platforms. Here is how:
Users can find an Instagram button on your profile page and check your Instagram right away, without leaving TikTok;
You can set up the automatic posting of your TikTok content to your Instagram account.
#8 Harness the power of the LIVE feature
Once you gain an army of 1,000 followers, you can leverage the power of the TikTok LIVE feature. This feature will not be available for you with a small follower count. One more condition is being 16 years old.
Here is how LIVE works: your followers will get a notification when you start live streaming. As long as TikTok actively promotes this feature, you can get additional exposure when holding live streams.
Moreover, there is an opportunity to integrate the TikTok shopping experience into your LIVE sessions. So, your audience can explore your products while watching your stream.
Walmart is a shining example of a company hosting online shopping events. Their pilot TikTok live stream has got 7 times more views than expected, and the follower count has grown by 25%.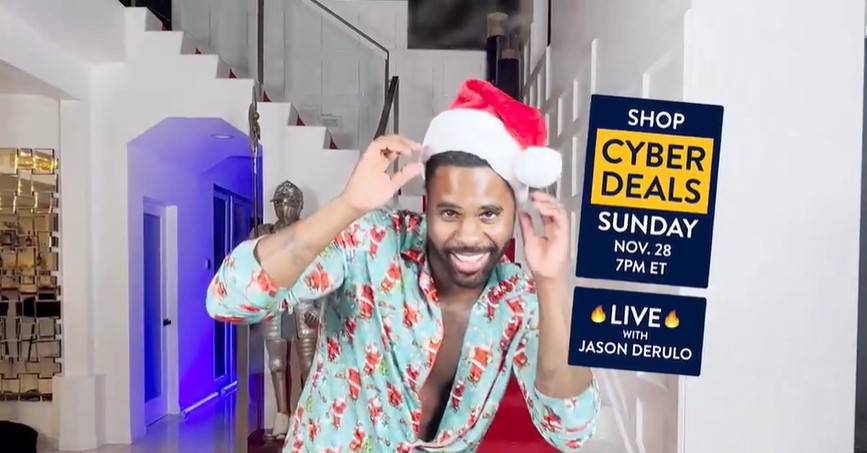 Source: https://corporate.walmart.com/newsroom/2021/11/22/walmart-celebrates-one-year-of-livestreams-with-first-shoppable-livestream-on-twitter
If your live streams are successful, you can go further and do it regularly by creating a live stream schedule. This way, you can even build a community around your brand.
#9 Encourage UGC
Many brands have already recognized the power of user-generated content or UGC. UGC stands for brand-specific content created by consumers rather than companies. According to research by Stackla, 79% of consumers admit that UGC has a significant impact on their buying decision.
There are various ways to incorporate UGC into your TikTok marketing strategies.
Leverage hashtags
Hashtags are great for driving your brand discoverability. Have you come up with a branded hashtag? If so, introduce it to your audience, and encourage them to use it when posting something about your brand.
Run contests and giveaways
Contest and giveaways work well for driving engagement and increasing brand awareness. TikTokers love entertainment, so, chances are, they will willingly take part in such activities.
Here are a few proven ways to motivate your audience to take part in your activities:
Offering an appealing prize;
Partnering with a trusted influencer.
To separate contest-related posts from other content, consider creating a specific hashtag.
Designer Shoe Warehouse held a giveaway of $500 gift cards and a full closet of footwear among TikTokers. To get one, users posted their dance videos with the hashtag #TooManyShoes. It may make sense to tell participants that they need to join your email list so that you can use an email marketing platform to send updates and (potentially) turn them into a paying customer.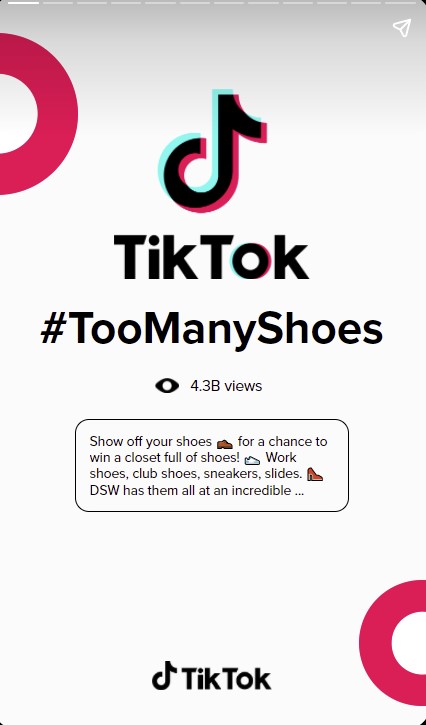 Source: Tiktok
Create challenges
Challenges are one more TikTok-specific promotional opportunity. Challenges can be both organic and paid (the latter is often a costly option).
A popular challenge format is asking your audience to share videos of using your products. The key to success is fun and engagement, so create your challenge starter video with this purpose in mind.
#10 Partner with influencers
TikTok is an excellent platform for influencer marketing activities. Thousands of influencers have already built trust with their audience. So, why not partner with experienced creators in your niche to get more exposure for your product?
A cosmetics brand TooFaced has partnered with a group of TikTok influencers:
Kristen Hancher;
Victoria Lyn;
Chloe Rose;
and others.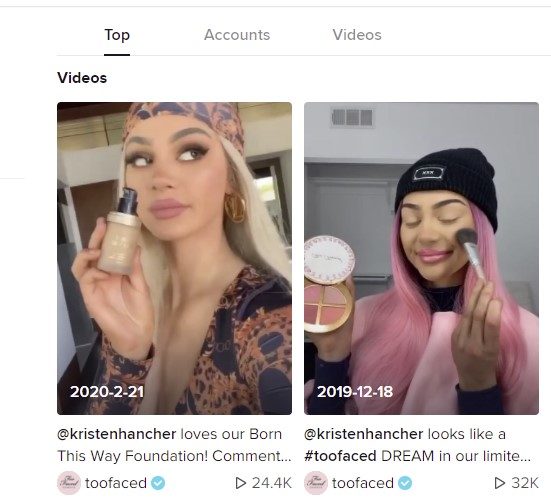 Source: Tiktok 
Final notes
The TikTok platform can open previously untapped opportunities for eCommerce business promotion. To succeed on TikTok, stay in line with the platform's landscape. Focus on creating authentic, engaging, and relevant content.
Ready to leap into TikTok marketing? Start implementing the strategies for eCommerce stores that we've shared, and watch your brand awareness and sales grow!
Author bio
David Morneau is the co-founder and CEO of inBeat, a hybrid micro-influencer marketing SAAS/agency that helps brands scale their marketing efforts. He has helped over 200 DTC brands to date.