C ustomer photo reviews, photo walls, and Shopify photo walls are the ultimate forms of social proof! 
Not only do they help you build trust with your customers , but by extension, they help you sell more. This post will go over
How to add customer photo reviews to your Shopify product page
All the things you need to know around user generated content

What is user generated content
Why you need user generated content
How to get user generated content
Let's dive in!
What is User Generated Content (UGC)?
In eCommerce, user generated content is any content that your customers have created for you. That can include
Written reviews
Photo reviews of your product
Video reviews
Social media posts
Read about the 7 Types of User-Generated Content here All this content is useful to demonstrate social proof and this social proof can help you make more sales on your Shopify store!
Benefits of user-generated content on your Shopify store
User Generated Content Builds Trust
When you display user generated content on your Shopify store, you begin to build trust with your customers. Having positive (and even negative feedback) on your Shopify store shows shoppers that your brand has been trusted by many other people.
Customer content = authentic marketing
This is a great way to build trust because displaying user generated content doesn't come off as self-serving - like promotional photos. User generated content makes your brand seem genuine and helps to deliver the message 'We're a great company' in an authentic way.
User Generated Content Sells More
When you display content from your users like customer photos, and videos on your product page, you are better able to sell more. 
Think of it like this: How many times have you looked at the user photo reviews on Amazon to see how the product functions in real life? Most of us have, and that is why Amazon displays user photos and reviews in every product listing. 
You can and should do the same on your Shopify store to sell more!
Examples of Customer Photo Reviews as User Generated Content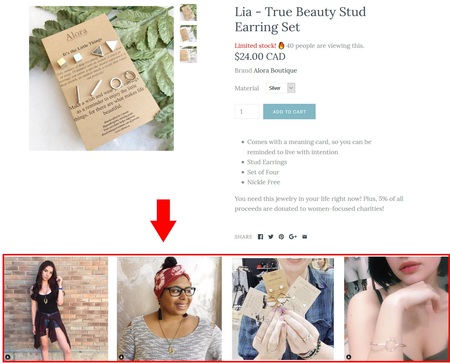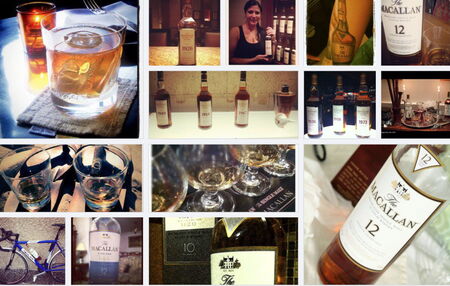 Customer Photo Reviews = Ultimate Social Proof
As mentioned before, user generated and social proof content builds trust and sells more. However, the type of user generated that is the most effective is a Shopify photo wall. 
 Think about it, customer photos displayed on your Shopify store not only showcase that your product and brand is great, but it helps you to sell! 
People look at photos to see how a product looks in real life. If you have a bunch of customer photos of your product in use, you are more likely to sell it!
How to get shopper photos for Shopify
First things first, you have to give customers the ability to upload photos to your website. The easiest way to do this is to create a campaign to collect reviews and photos (more on that below). 
If you use a social proof platform like Fera, you can easily create on-going and one time campaigns to collect reviews, photos, and videos!
How to set up a wall of customer photos on Shopify
Take a look at how easy it is to gather AND post customer content to your online store
User generated content and social media
Not all your social media followers are customers; if they were, all Shopify store owners would be making much more money than they are now! 
 However, you can convert social media fans into buyers if you use your social proof and user generated content correctly. Typically, social media users like photos that are natural-looking in their feed. Lower quality or candid photos tend to do well in advertisements and the feed. 
That is why posting user generated content on your social media platforms can use useful for converting followers into buyers. 
Additional Read: Social Selling For Your Shopify Store
Use Fera to post photo reviews to social media
There is nothing worse than creating extra work for yourself or your staff. While posting user reviews to social media sounds fantastic, it also sounds time-intensive. That is why Fera allows you to post your user-generated content to social media effortlessly. You can now post your Customer reviews
Facebook
Google My Business
Customer Photos
Facebook
Google My Business
Instagram (coming soon)
Customer Videos (coming soon)
Now let's say you have lots of social proof on social media (in the form of tags, influencer photos, and more), but none on your Shopify store? 
How do you leverage social media into online social proof?
Import Your Social Media Photos to Your Shopify Store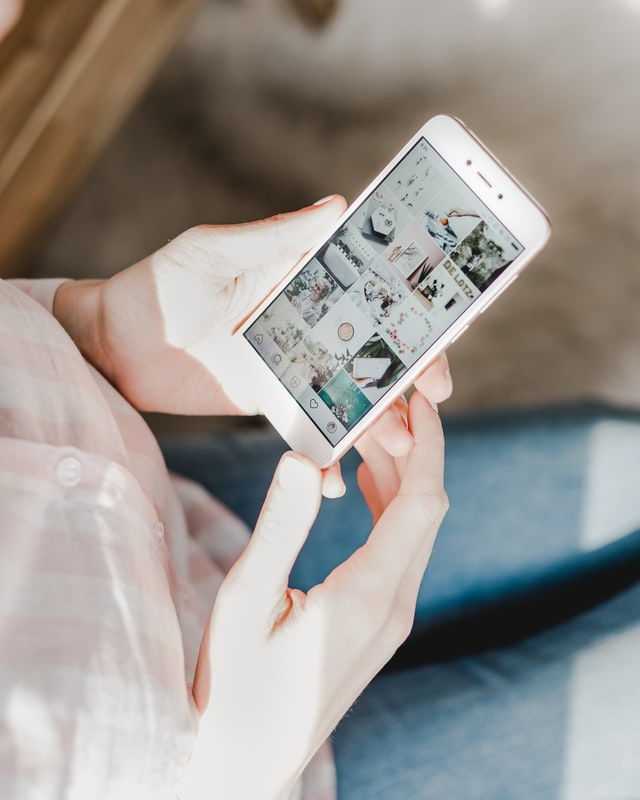 With Fera, you can import your Instagram photos and more to create a customer photos wall on your home page or product pages! This approach can be better than retroactively asking past customers for reviews and photos, and less time-intensive than setting up a new review/loyalty program.
User generated content management system
We have covered a lot, and it sounds a bit daunting, doesn't it? That is why you need to manage all your
Reviews
Photos
Social proof
And videos
In one place! Fera is the ultimate social proof platform and user generated content management system that you can use to
Request reviews and testimonials
Generate campaigns for customer photos
Create a Shopify photo wall/customer photo wall
Import photos from social media
Post reviews and photos TO social media
And Much Much more! (Take a look at everything that can be done here)
User generated content leads to sales for your Shopify store
There you have it. User generated content is essential to getting customers and making sales. However, a lot of work has to go into generating it, managing it, and showcasing it. 
That is why you need a platform like Fera that will be your all-in-one social proof platform.