Have you ever visited an online store and purchased something because you read great reviews about a product?
If you have, you can bet other people have too.
Product reviews are powerful forms of social proof that influence shoppers to take action!
Let's go through a few ways product reviews influence shoppers and why you should be adding beautiful product reviews to your store.
What are product reviews?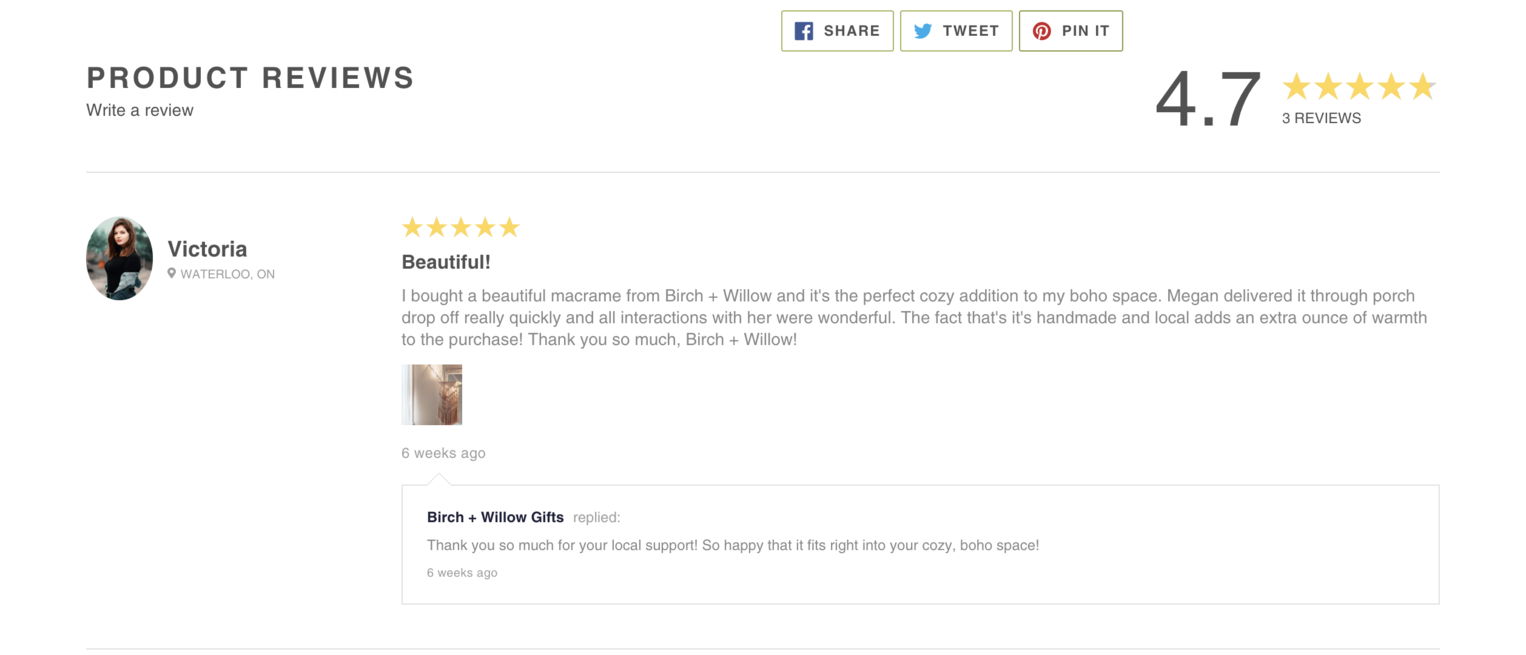 Product reviews are a powerful form of social proof.
When it comes to eCommerce, product reviews are the feedback customers give about a product they purchased from a brand.
This can be text, photo, or video reviews.
Typically, these product reviews are displayed on the brand's website or a third-party review site, like Google.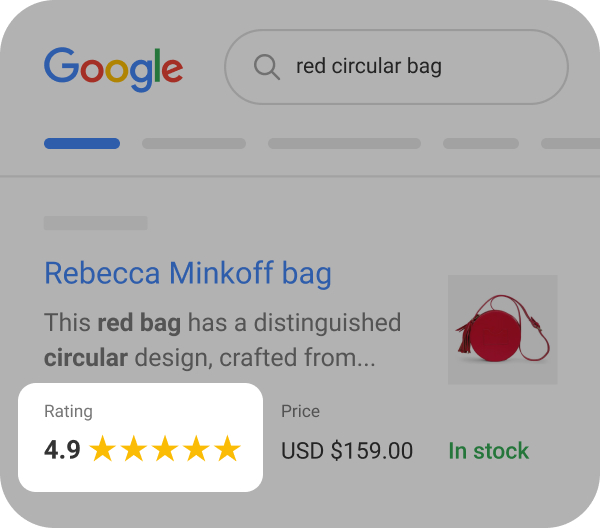 Most eCommerce stores will create an 'all reviews' page on their website or add review widgets to their product page so customers can rate the product they purchased.
A product review helps other users get a clear idea of the product before purchasing it.
In fact, 91% of those 18-34 years old trust online reviews as much as personal recommendations. Not only that, but 93% of consumers say that online reviews influenced their purchase decisions.
Product reviews give shoppers critical information
Product reviews provide your shoppers with important information about the product, making an informed buying decision.
Verified reviews from past customers like photos and videos provide your shoppers with visual evidence of your products being used and loved by other people.
This critical information helps shoppers feel confident in buying from you.
Stores with reviews make more sales
When feel more confident in buying from you, you'll make more sales!
Research from Broadly suggests that 31% more money is spent by customers with business that have positive reviews.
Not only that, but if you are selling expensive items, you can expect to see a 380% increase in sales when customer reviews were placed alongside your product.
Similarly, putting testimonials on sales pages increased conversions by 34%. Your high dollar items are often your biggest money makers, so any increase in conversions can lead to better profits.
How product reviews influence shoppers
Product reviews are more or less a form of advertising for the product, but unbiased like brand advertising.
The defining factor of product reviews are that they are are a form of peer-to-peer advertising.
This peer-to-peer advertising is infinitely more trustworthy than brand-to-consumer advertising for several reasons.
People follow the crowd
Shoppers trust people who are like them
Reviews spark desire
People follow the crowd
When a product has many reviews, it signals that the product is popular.
Most people believe that if something is popular, it must be good!
The simple fact is that most people don't want to work too hard to make a decision. It is much easier to follow the "wisdom of the crowd" than to research on your own.
Here's an example that isn't product review related
These days, there is a raging debate over the side-part v the middle-part. MANY millennial women are starting to use a middle part because the 'wisdom of the crowd' (Gen Z) has determined that only the middle part is cool and acceptable.
This is conventional social proof at work.
The same thing happens when shoppers see many positive reviews about a product; they are likely to buy it based on popularity.
Shoppers trust those who are like them
When people see product reviews from people who look like them, they are more likely to purchase it.
Here's a fun stat: 66% of consumers stated many online reviews make them trust a brand online.
Reviews spark desire
The more reviews a product gets, the more its value becomes known.
When people see reviews raving about a product, they are likely to buy it and try it!
The more people saying great things about a product, the more desirable it is to shoppers.
Human beings wants what others have
Human beings want what other people have. It is in our nature! Seeking what others have had is the core survival strategy of the human brain.
If it is good for them, it must be good for us.
And we want what is good for us!
Here's an example that isn't product review related
Have you noticed that people covet what influencers are wearing on social media?
Even if they don't need it...or it doesn't fit their lifestyle?
How many times have you seen a post by a popular online personality, and people will comment:
"Where did you get the umbrella" even though they live in the driest part of the country or
"Ooooh, I love that cellphone case. I want one" when it is for an iPhone, and they have an Android
You might have been guilty of this yourself. There is nothing wrong with it!
We are human, after all. We want when others have and enjoy.
Harnessing the power of reviews to influence shoppers
If you want to influence your shoppers to buy your products, you need to gather and display product reviews!
Display beautiful reviews
First, you want to start by displaying your reviews on your site in a visually stunning way. Use a product reviews app like Fera to get that done!
Fera allows you to display your reviews in a way that matches your brand.
Display photo & video reviews
The best way to do that is through product reviews, especially photo and video reviews.
According to Olapic, about 32% of online shoppers are more likely to buy clothing online if photos of real customers wearing the product are featured.
Reviews with photos of the received products increase the trust factor. So, asking customers to attach photos helps to increase sales.
Crowdtap found that 53% of millennials say user-generated content like photos and videos influences their product purchases.
Here's an example
When it comes to fashion stores, having customer product photos makes garments easier to sell!
Stores that display photo reviews of customers wearing their product give customers a chance to see what the product looks like on different body types.
When people see their body type represented in clothing, they are more likely to say, "Oh, that would look good on me too!" and buy!
You also want to display photo reviews because people want to see what your product looks like in real life.
Having amazing photo reviews will influence your shoppers to check out right because they know other people love your product, and it is amazing in real life.
Create a product review strategy
Finally, if you want to harness product reviews' power, you'll have to create a solid review strategy! You'll want to create a
memorable product experience
review request email that is actionable
amazing review incentives that improve response rates
Start using product reviews to influence shoppers
Now you know why product reviews influence shoppers should make plans to use them in your store today to make more sales!
You can try Fera for free by signing up today!