How to Import AliExpress Reviews
How Do I Import Reviews from AliExpress?
You've come to the right place!
In this guide, we'll walk you through the process of importing AliExpress reviews to boost your sales.
We'll highlight the time-saving benefits and emphasize the importance of social proof and how Fera can help you work smarter, not harder.
Beautiful, simple reviews for your site
Easily collect, show & grow customer reviews, photos & videos for your business.
Why Reviews Matter in eCommerce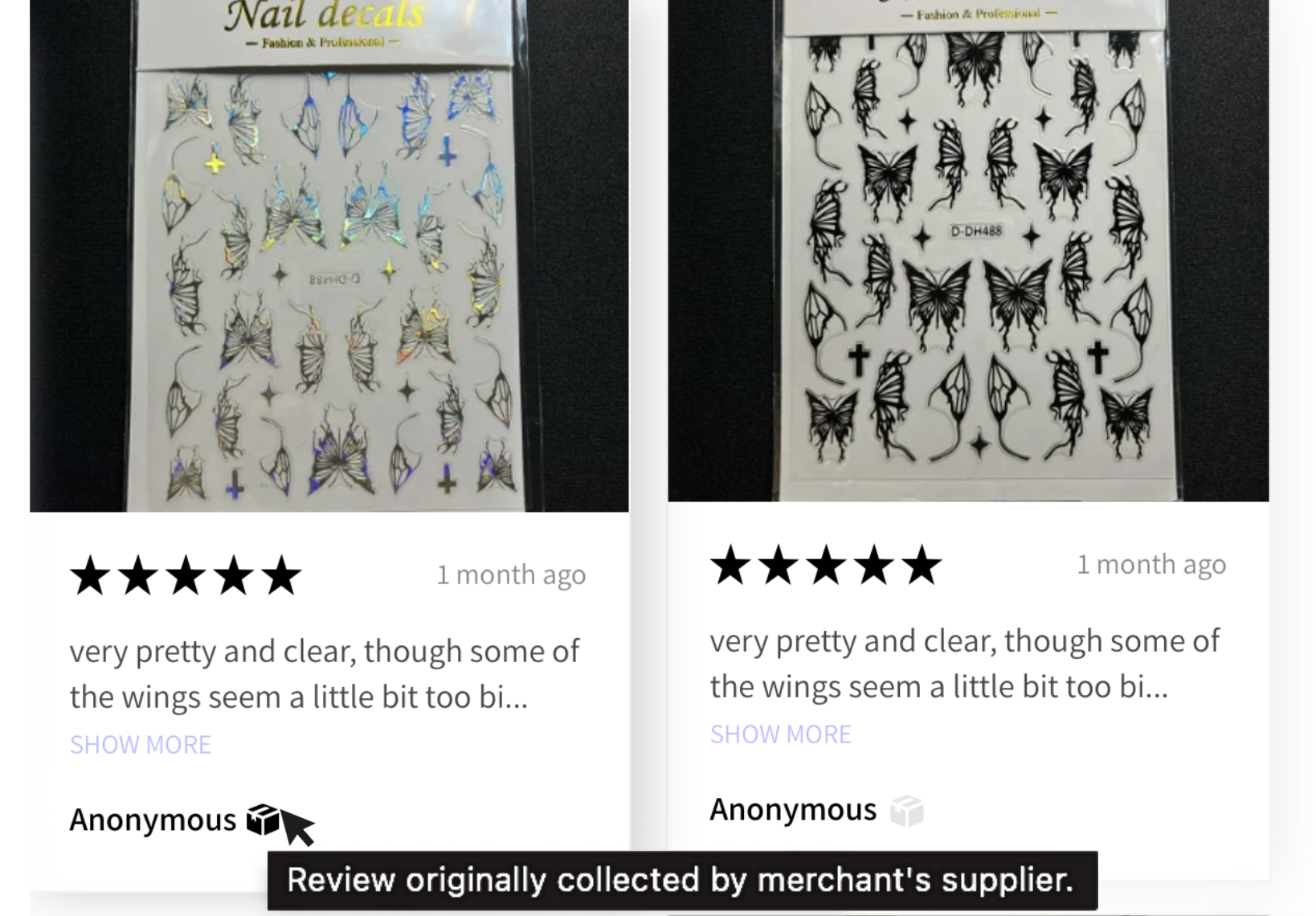 Before diving into the how let's take a moment to understand why transparent and honest reviews are crucial in the e-commerce landscape. For professionals like you, results matter.
And here are the results that matter when it comes to reviews:
Increased Sales: Genuine reviews build trust, which, in turn, leads to increased conversions and higher sales figures.
Customer Trust: In a world filled with options, customers are looking for trust. Reviews from fellow buyers instill confidence and trust in your brand and products.
How Do I Import Reviews From AliExpress For Free?
Now that we've established the significance of these reviews let's embark on the journey of importing them to your online store.
We're here to introduce you to a tool that can make this process possible and free of charge.
Say hello to Fera!
Fera is your trusted companion in the world of e-commerce, offering a seamless solution for importing and displaying AliExpress reviews on your online store.
Whether you're a Shopify, BigCommerce, or Wix store owner, this guide is tailor-made for you.
Import AliExpress Reviews with Fera
Here's how you can harness the power of Fera to boost your sales with authentic AliExpress reviews without breaking the bank.
Beautiful, simple reviews for your site
Easily collect, show & grow customer reviews, photos & videos for your business.
Step 1: Access Fera Dashboard
Go to your Fera Dashboard
Navigate to "Content" and then "Reviews" section
Step 2: Add Reviews
Click on the green "+Add Reviews" button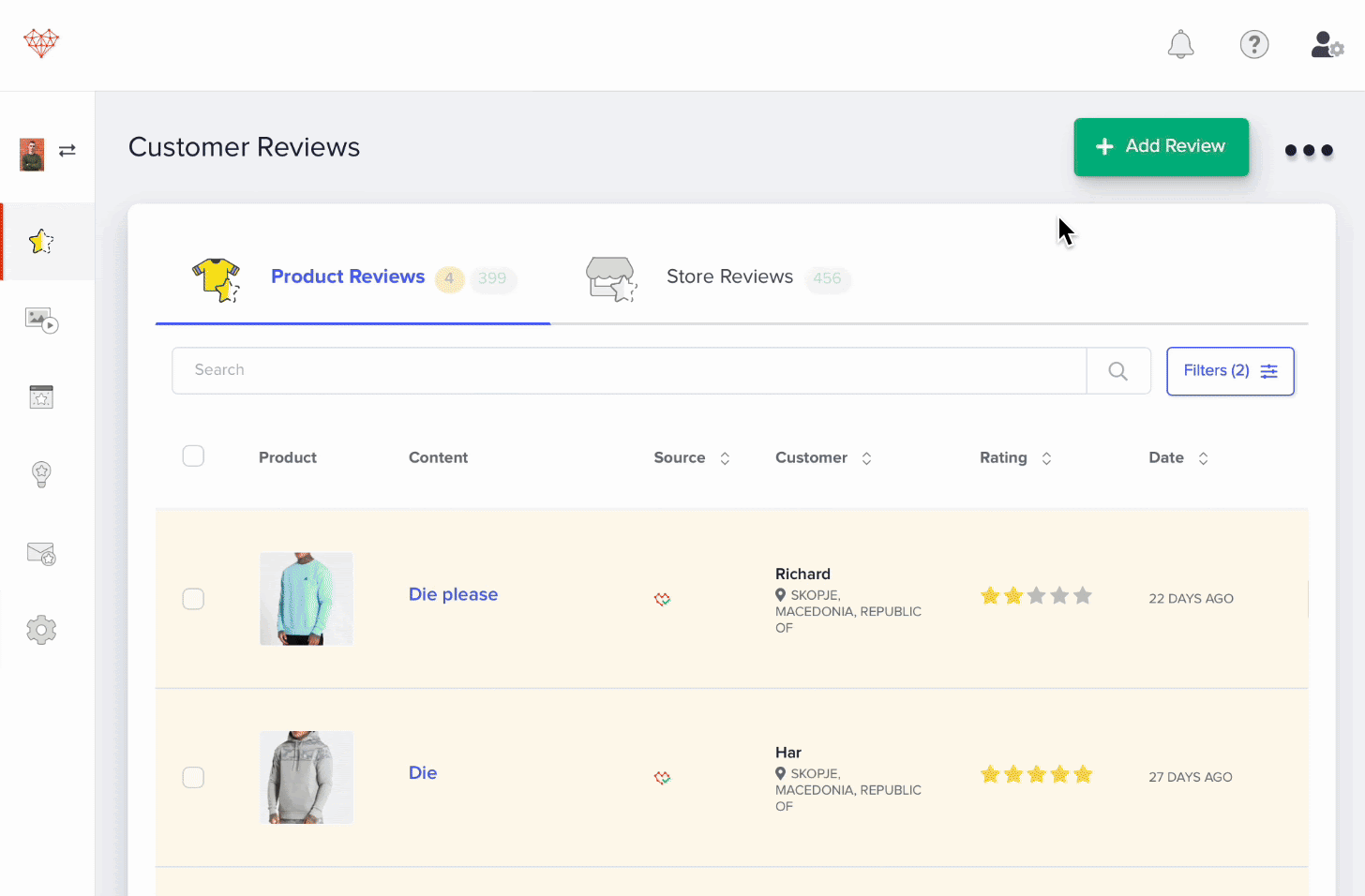 Step 3: Import Reviews from AliExpress
In the drop-down menu, select "Import or Sync"
Choose "AliExpress" as your Import Source
Specify a product (view product chooser)
Enter a URL to the AliExpress product URL
Click Start Import
Note📝: A checkmark pop-up will show when your import is successful!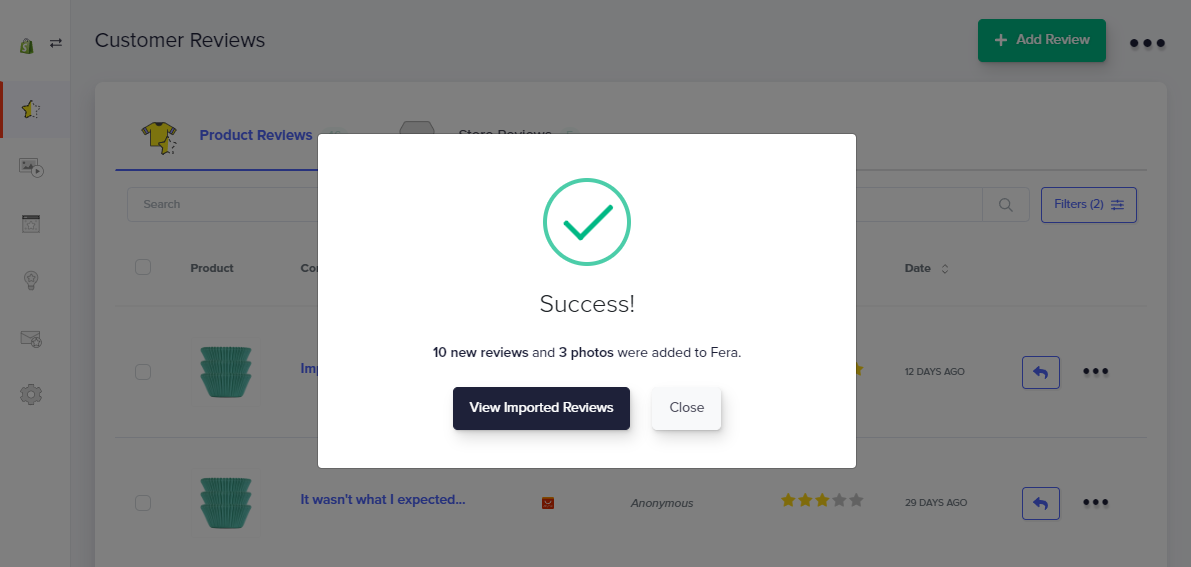 Step 4: Moderate reviews
You can choose to moderate reviews before posting them. Imported reviews are defaulted to 'Checked'
Why use Fera to Import Your AliExpress Reviews?
Start using Fera to import AlirExpress reviews to achieve:
Efficiency
Fera allows you to efficiently gather and manage AliExpress reviews, saving you valuable time to focus on perfecting your products and marketing strategies.
Stop sacrificing hours to gather reviews. Fera streamlines the process, ensuring your valuable time is spent where it truly matters.
Results
With Fera's features, you can see tangible results in the form of increased sales and improved customer trust.
Professionalism
Maintain a professional image by displaying reviews on your site, showcasing your dedication to quality and transparency.
Fera - Your Smarter, Not Harder Solution
In the world of e-commerce, success isn't just about having a great product; it's also about how effectively you can market it.
This rings especially true for eCommerce merchants like you—individuals who are professional, efficient, results-driven, and deeply committed to the pursuit of success.
Marketing isn't just a part of their job; it's a way of life.
Social proof is one key aspect of successful marketing. Transparent and honest reviews from satisfied customers can make or break a sale.
But here's the catch: Gathering and managing those reviews can be time-consuming and distracts from the real focus—your product.
That's where Fera comes in, offering a solution that aligns perfectly with your time constraints, values, and work ethic.
By following the steps above, you can harness the power of genuine customer feedback without sacrificing your professionalism, efficiency, or results-driven mindset.
Beautiful, simple reviews for your site
Easily collect, show & grow customer reviews, photos & videos for your business.