If you haven't heard of the Etsy Star Seller program and the issues surrounding it, you either live under a rock… or are not plugged into the eCommerce space.
The Etsy Star Seller program is designed to recognize top-performing sellers on the platform.
While it may have been well-intentioned and a good idea when launched, it has turned out to be more of a burden and challenge to sellers.
There are several reasons why the Star Seller program can be challenging for sellers to achieve and maintain Star Seller status.
Find out more about why the Etsy Star Seller program is unattainable and why you should start gathering your own reviews for your eCommerce business.
---
Beautiful, simple reviews for your site
Easily collect, show & grow customer reviews, photos & videos for your business.
---
Why The Etsy Star Seller Program is Unattainable
What is the Etsy Star Seller Program?
Introduced in July of 2021, the Etsy Star Seller was designed to reward sellers who have excellent customer service.
It was created to help build trust between buyers and sellers by showcasing which sellers often go above and beyond for their customers.
Which would help potential customers in their decisions to buy from certain sellers.
If you don't love reading, you can watch the video above! We'll be discussing why the Etsy Star Seller program may be unattainable for many Etsy sellers and offering a solution for those who want to collect their own reviews.
Star Seller Rewards
According to Etsy, there are three main ways that their Star Seller program benefits their sellers:
1. Stand Out From the Crowd
The Star Seller badge can draw attention when seen by potential customers; when you stand out, this can make your shop and its product listings more appealing when compared to your competitors.
2. More Chances to be Featured
Etsy sellers who receive the Star Seller badge are featured and highlighted more in Etsy's marketing.
The idea is that the more you are featured, the more you will be clicked on…which brings us to the next point.
3. More Traffic and Sales
The more you are featured as a Star Seller, the more traffic and, therefore sales come your way. According to Etsy, 'Star Sellers made more in sales and got more listing views, on average, than similar non-Star Sellers.'

How Do Sellers Qualify for The Star Seller Program?
To become an Etsy Star Seller, these are the criteria that Etsy considers:
Message Replies - Respond to messages quickly (within the first 24 hours)
Store Reviews - Store rating of 4.8 or higher
Order Dispatch - Orders must be sent out on time and with tracking/label from Etsy
Sales Minimum - Make sales of at least $300USD ($400CAD/450AUD/£240GBP/€280EUR)
Etsy will take all these criteria into account to determine which sellers qualify for their program.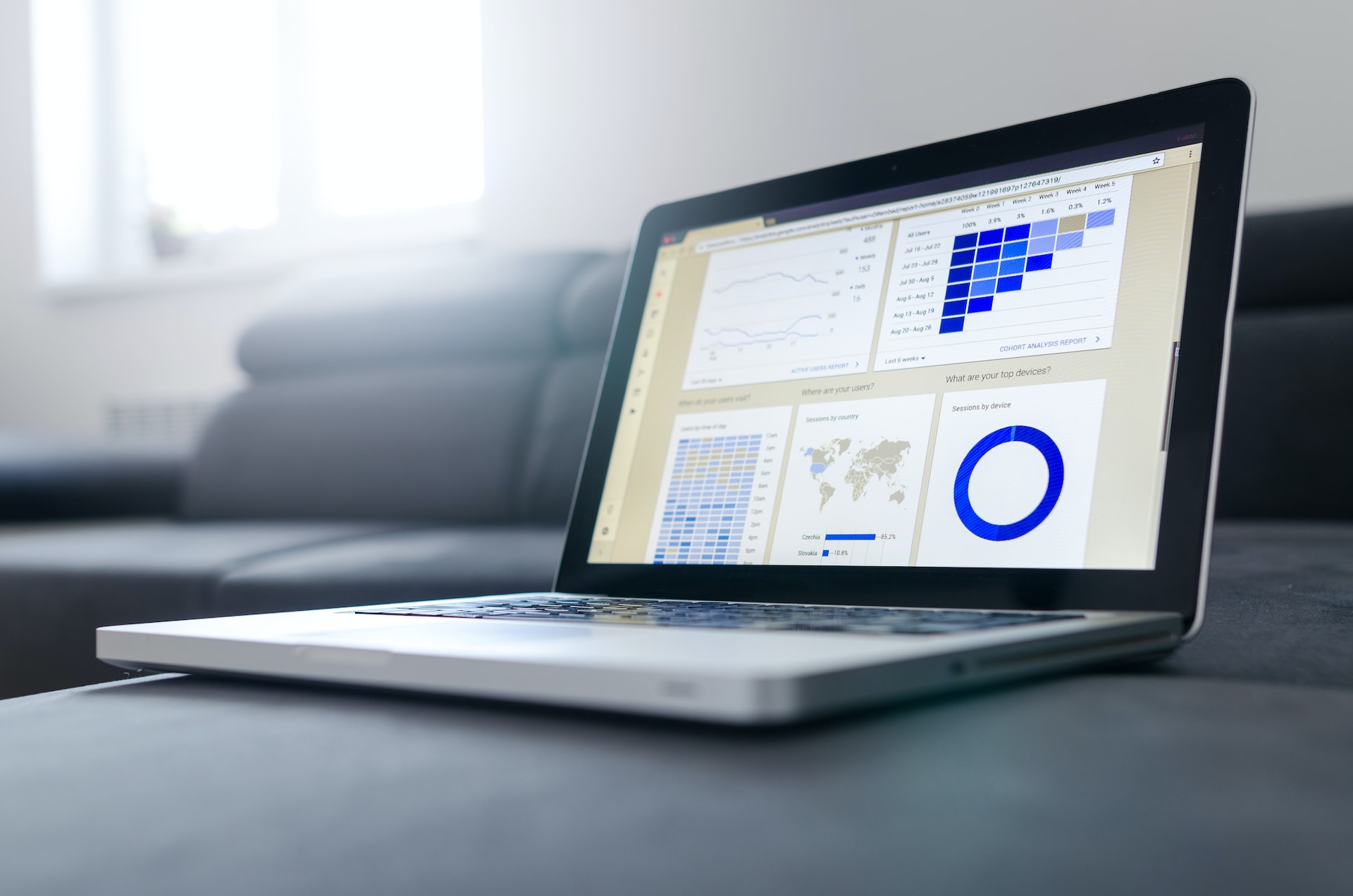 Why is Etsy's Star Seller Program Unattainable?
The Etsy Star Seller program is designed to recognize top-performing sellers on the platform, but there are several reasons why it can be challenging for sellers to achieve and maintain Star Seller status.
Here are three possible reasons:
1. High Performance Standards
To qualify for the Star Seller program, sellers must meet certain performance standards, such as:
Maintaining a high level of customer satisfaction,
Processing orders quickly,
Provide excellent customer service
These standards can be difficult to achieve and maintain, especially for small or new sellers who may not have as much experience or resources as larger sellers.
Some sellers have even written about the difficulties in maintaining their Star Seller badge.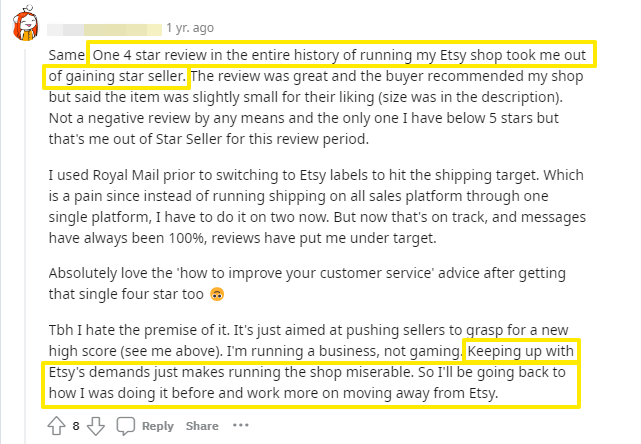 2. Intense Competition
Etsy is a highly competitive marketplace, with millions of sellers offering similar or identical products.
To stand out and achieve Star Seller status, sellers must not only meet the performance standards but also consistently outperform their competitors.
This can be especially challenging in popular categories such as jewelry, home decor, or clothing, where there are many established sellers with loyal customer bases.
Additionally, it can be difficult to stand out when there are sellers who may be drop-shippers or when there are items featured on your listing under 'You May also Like'.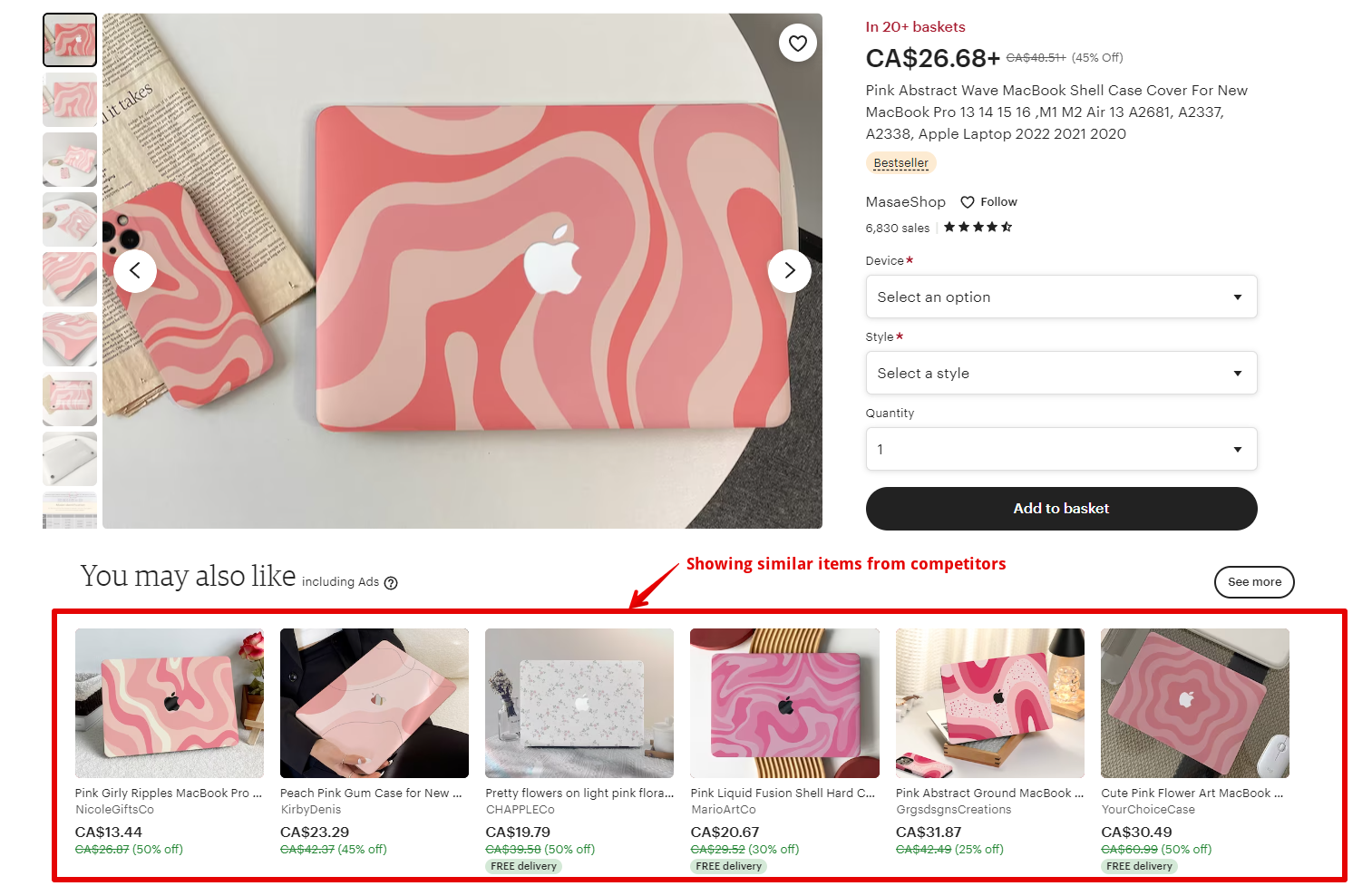 3. Changes to The Program
Etsy occasionally changes the criteria for the Star Seller program, which can make it more difficult for sellers to qualify or maintain their status.
For example, Etsy may raise the performance standards or introduce new requirements that sellers must meet.
This can be frustrating for sellers who have worked hard to achieve Star Seller status and then find that they need to make additional changes to maintain it.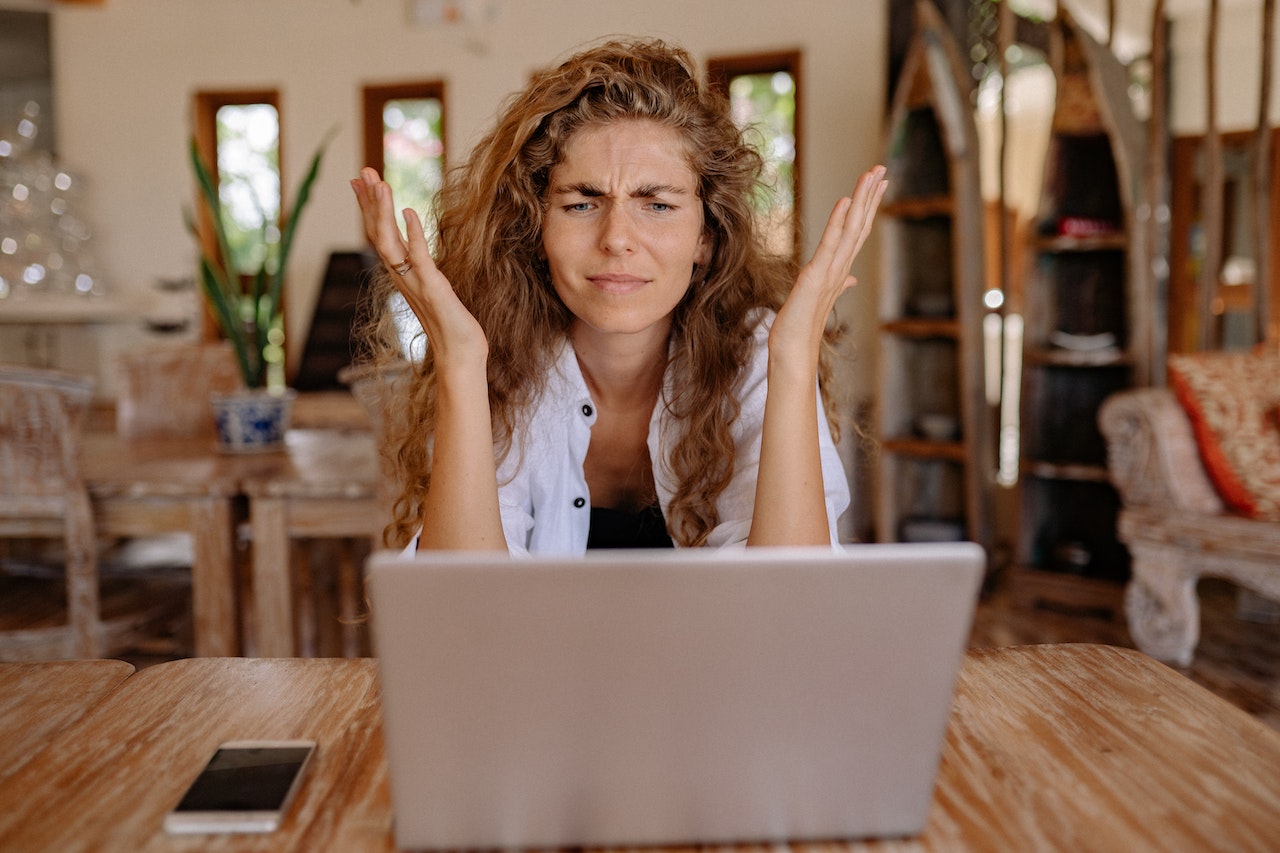 Why You Should Collect Your Own Reviews
As an online seller, you know the importance of reviews and how much they can help your sales.
When you start to collect your own reviews, there are 5 major ways this can help you:
1. Improving Customer Satisfaction
Collecting and analyzing customer reviews can provide valuable insights into the needs and preferences of your customers, allowing you to make improvements to your products or services that meet their expectations.
By addressing any negative feedback, you can demonstrate that you value your customer's opinions and are committed to providing a positive shopping experience.
When collecting reviews on your own website, customers are also more aware and cognisant of the fact that you are a small business and the nuances that come along with that.
Whereas on Etsy, customers can forget this fact because it is seen as a marketplace first, similar to Amazon.
2. Enhancing Brand Reputation
When you are gathering your own reviews, it can be a powerful tool in building your brand's reputation and increasing trust with potential customers!
By showcasing reviews on your website or social media channels, you can build social proof and establish your brand as a reliable and trustworthy source of products or services.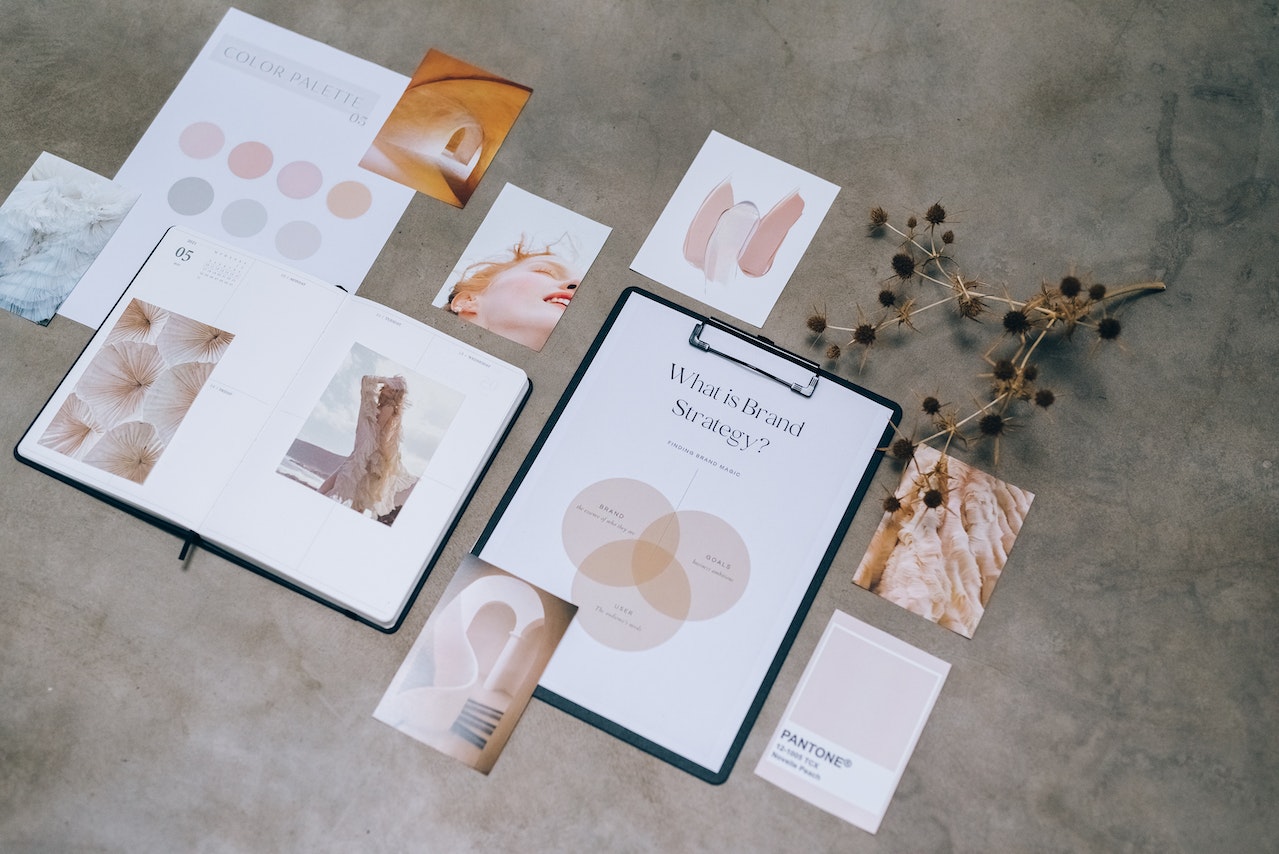 3. Social Proof
Reviews from previous customers serve as social proof that your products or services are of good quality and worth buying.
People are more likely to trust the opinions of others who have used the product or service before.
The reviews received from customers on your Etsy store can be imported into your own online store so that you don't have to start from scratch and can continue to utilize those reviews!
---
Beautiful, simple reviews for your site
Easily collect, show & grow customer reviews, photos & videos for your business.
---
4. Monitoring Your Stores Performance
Reviews can help you monitor the performance of your business over time.
By tracking trends in customer feedback, you can identify areas that need improvement and make data-driven decisions that can help you grow your business.
Additionally, tracking and responding to negative reviews can help you address customer complaints and prevent issues from recurring in the future.
By responding to negative reviews, you can address customer complaints and improve customer satisfaction.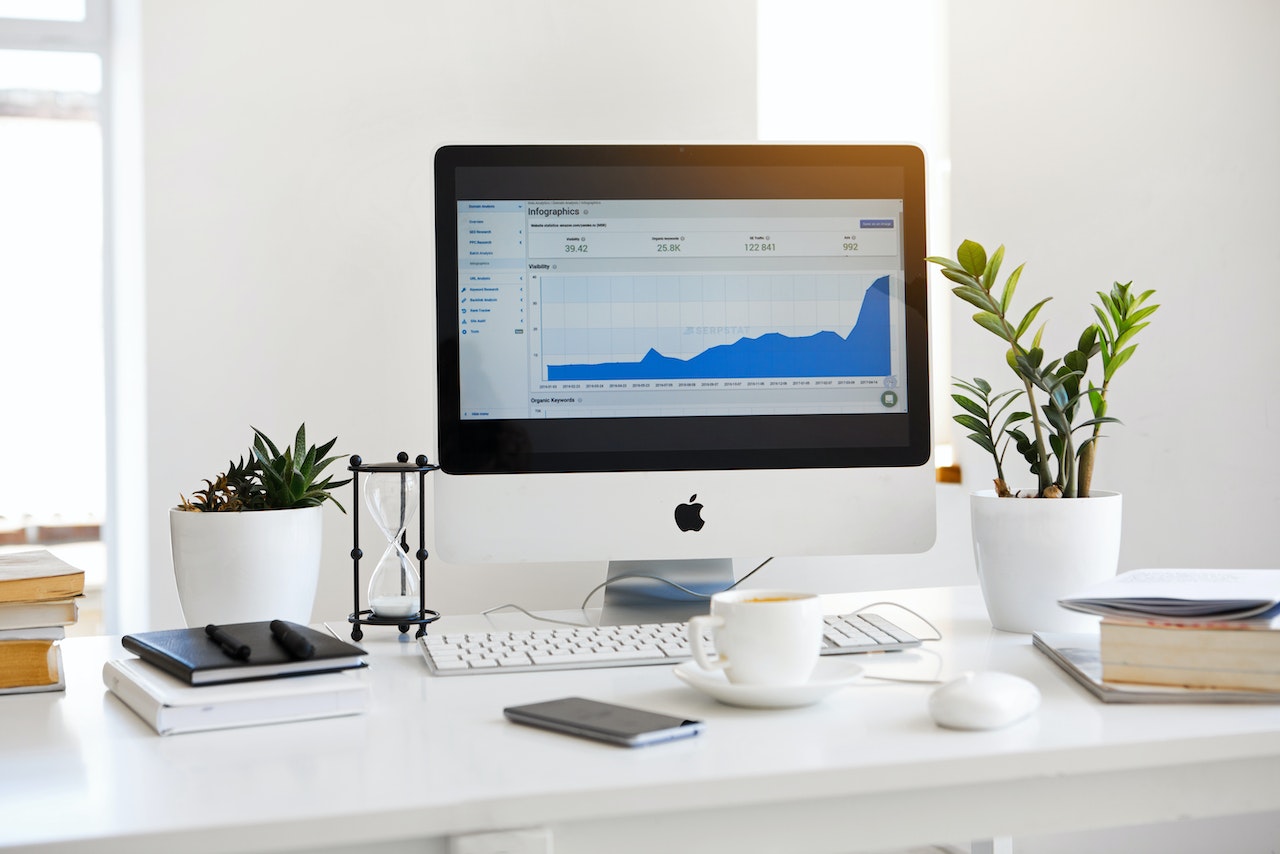 5. Improved SEO
Reviews can improve your search engine rankings by providing fresh and relevant content for search engines to crawl.
Search engines like Google often prioritize websites with user-generated content, such as reviews, which can help your website rank higher in search results.
Overall, collecting reviews is a critical component of any eCommerce store's success.
It can help to build trust with potential customers, improve search engine rankings, provide valuable insights, increase sales, and manage your online reputation.
Conclusion
One criticism that stood out when it came to the Etsy Star Seller program was that a review rating of anything below 5 stars impacted sellers negatively.
Even when the review itself wasn't negative!
A 4-star review is great, and it shouldn't be a reason for Etsy to give or take away a Star Seller badge.
There have also been negative reviews given for reasons beyond a seller's control or that aren't necessarily tied to customer service, and while there are reasons to have negative reviews for your shop, it seems to have an even worse impact on Etsy.
While Etsy can be a great place to start out, more and more, we are seeing that Etsy is becoming a headache for handmade sellers.
From increasing fees to a Star Seller Program that just doesn't seem to be worth it, moving your Etsy store to an eCommerce platform like Wix or Shopify seems like the way forward.