Whether your eCommerce store is just starting or you want to take your existing business further, it's time to create a successful product review strategy!
Doing so will improve your store's metrics and strengthen your relationship with your customers.
Why should your business have a product review strategy?
It's important to understand your ultimate goal for starting to collect reviews and what will work best for your Shopify store.
Once you have a full product review strategy in place, you'll be able to start collecting customer reviews and displaying them on your Shopify store seamlessly! Putting effort into creating this product review strategy will, in turn, help to
boost your search engine traffic
improve your conversion rate and
increase trust with your customers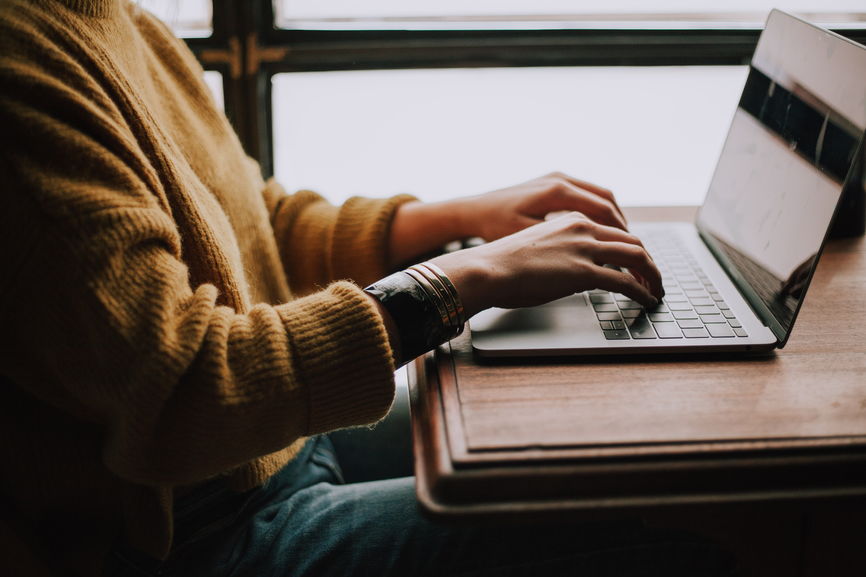 Product reviews boost search traffic
When you have product reviews, you are more likely to get search traffic! Research indicates almost 10% of your ranking factor, especially when it comes to product listings, is made up of reviews! Having product reviews will not only help you show up higher in rankings, but it will help with click-through rates! When a customer sees a 4.5 rating for a product, they are more likely to click through than if a product has no reviews.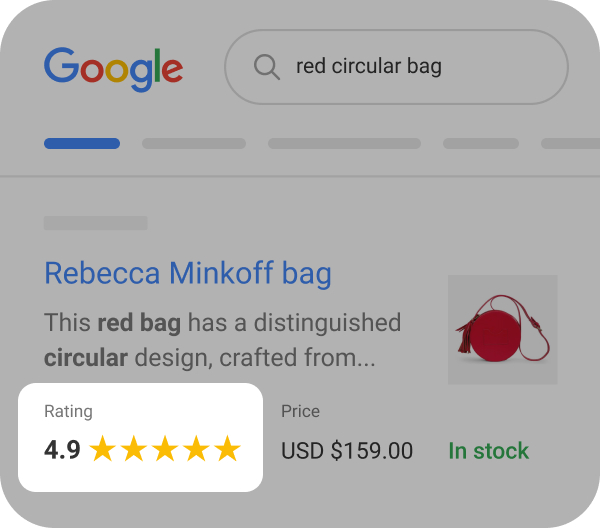 Product reviews improve conversion rates.
When your customers are looking to make a purchase decision, they are going to have questions. Reviews help them answer questions. When you have a high-end product, product reviews are even more important to your customers. For example, if they are looking to buy a 3D printer, you want to know
how easy the filament is to change
how expensive the refills are
how loud it is etc.
The answers to these questions are usually in product reviews. The more reviews you have, the easier it is for people to click that buy button!
Product reviews improve trust.
Having other customers rave about your product is 100% more trustworthy than you raving about your product. Shoppers trust reviews about as much as they
trust recommendations from family and friends
. You'll want to take advantage of that by showing product reviews and photos where possible. More trust = more sales. It's simple!
12 Steps to Creating a Product Review Strategy
Now that you know the importance of a product review strategy, we put together some steps to create a successful one!
1. Create a memorable product unboxing experience
First impressions are everything, especially if you are a business that is just starting.
From the moment your customer receives their package, you should be going above and beyond their expectations.
This starts with the unboxing of your product.
You can make this experience memorable by:
using a custom mailer/box in your brand's colors

packaging your product beautifully

writing a handwritten thank, you note to add a personal touch

including a business card or info card with all of your social media accounts and company hashtags to use
Ultimately you want your customers to be blown away by the unboxing experience that they would be willing to take a picture and share it on social media!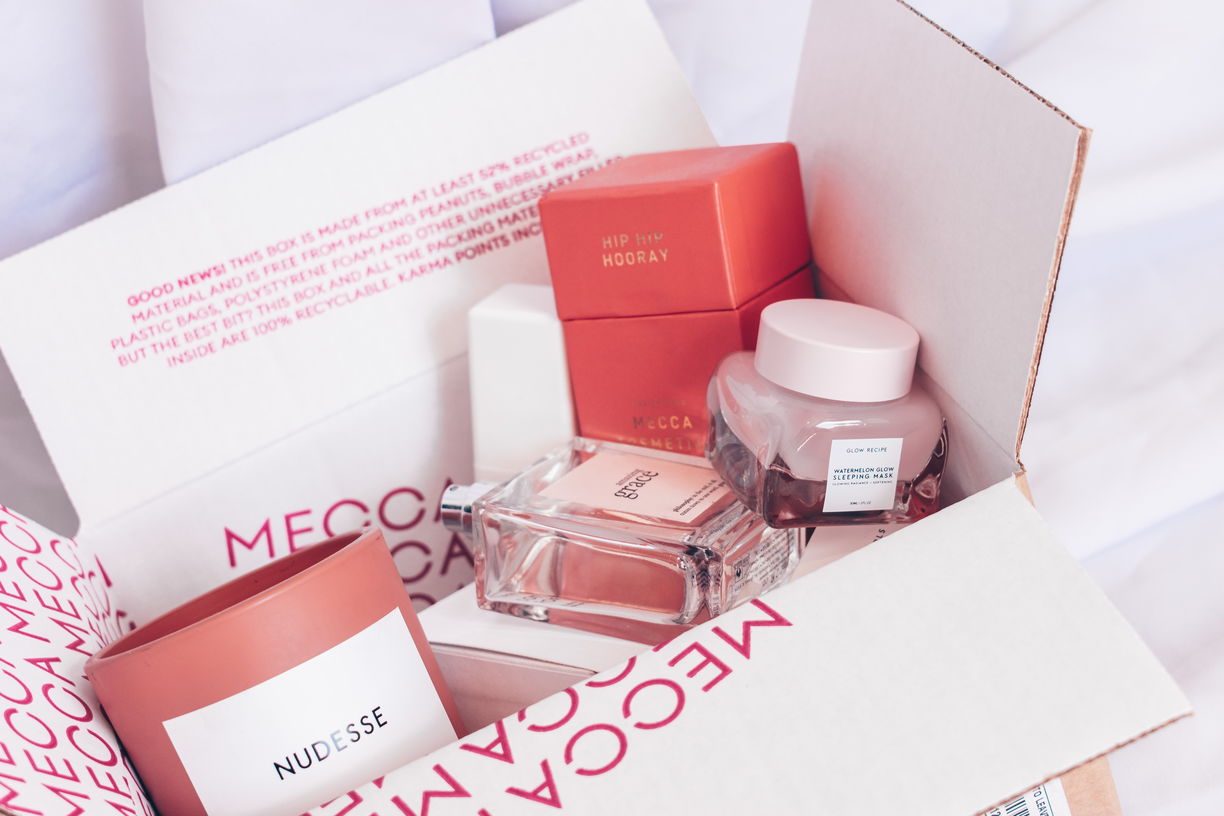 2. Choose an app to help collect your product reviews.
Once you have developed a strong product and unboxing experience, it's time to start collecting product reviews from your customers. The easy way of doing this is by finding a
product review app for your Shopify store
to automate this process for you. There are many product review apps to choose from in the Shopify App Store, but Fera is the best option! Further reading:
The best Shopify product review apps
Here are some of the pros and features of the Fera app:
Pros:
Collect & display product reviews, photos, and videos

Offer incentives to customers for reviews, photos, and videos




Send automated review request emails

Display reviews on your store with
Product reviews
Testimonial carousel
Average rating badge
Photo/video wall
Group products to simplify displaying reviews

Full customization

Mobile friendly
Features:
Collect and display reviews & testimonials
Automate review request emails
Display customer photos & videos
Show shopper counters for social proof content
Show social proof events
Optimize your conversion rates with A/B Tests and analyzing shopper journeys
3. Set up a review request campaign.
Start by downloading Fera from the Shopify App Store. Once complete, you can find it in the app section of your Shopify Store Dashboard, and it will bring you to your Fera dashboard.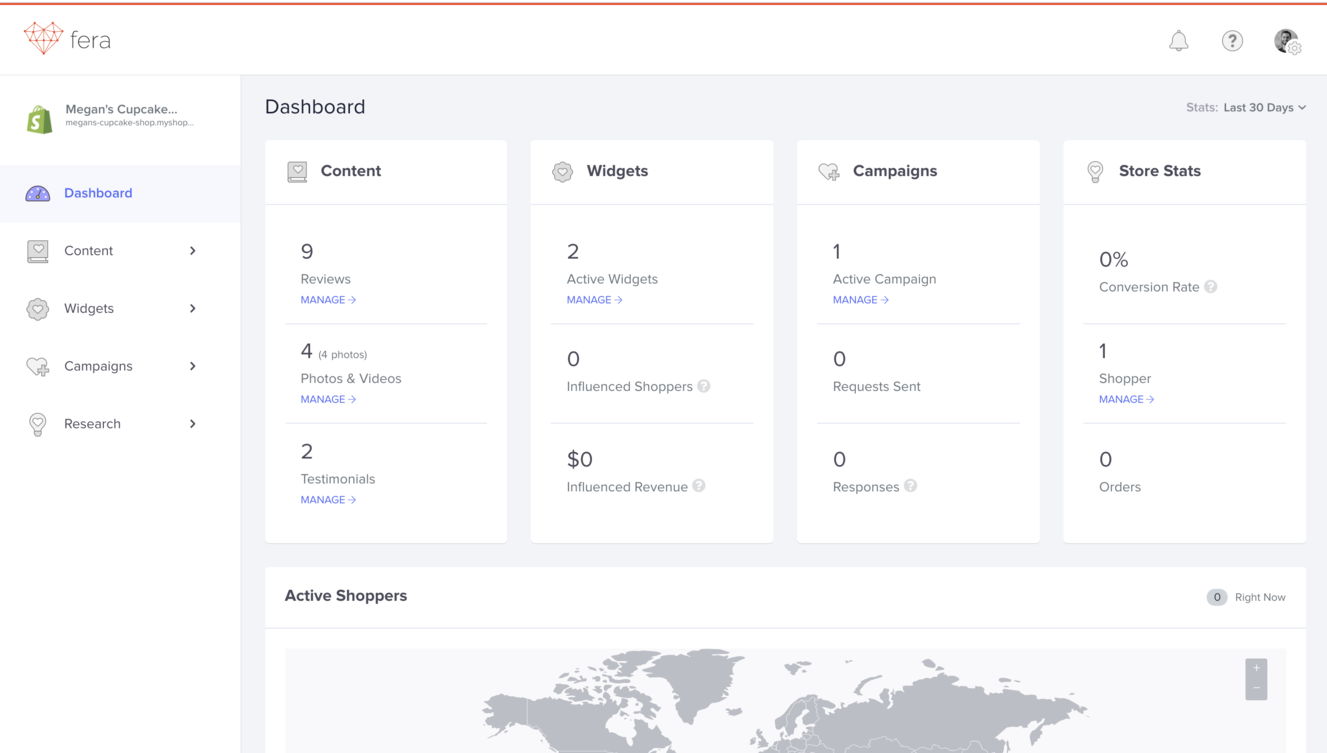 You will then want to click on the "Campaigns" tab > Content Campaigns > + New Campaign.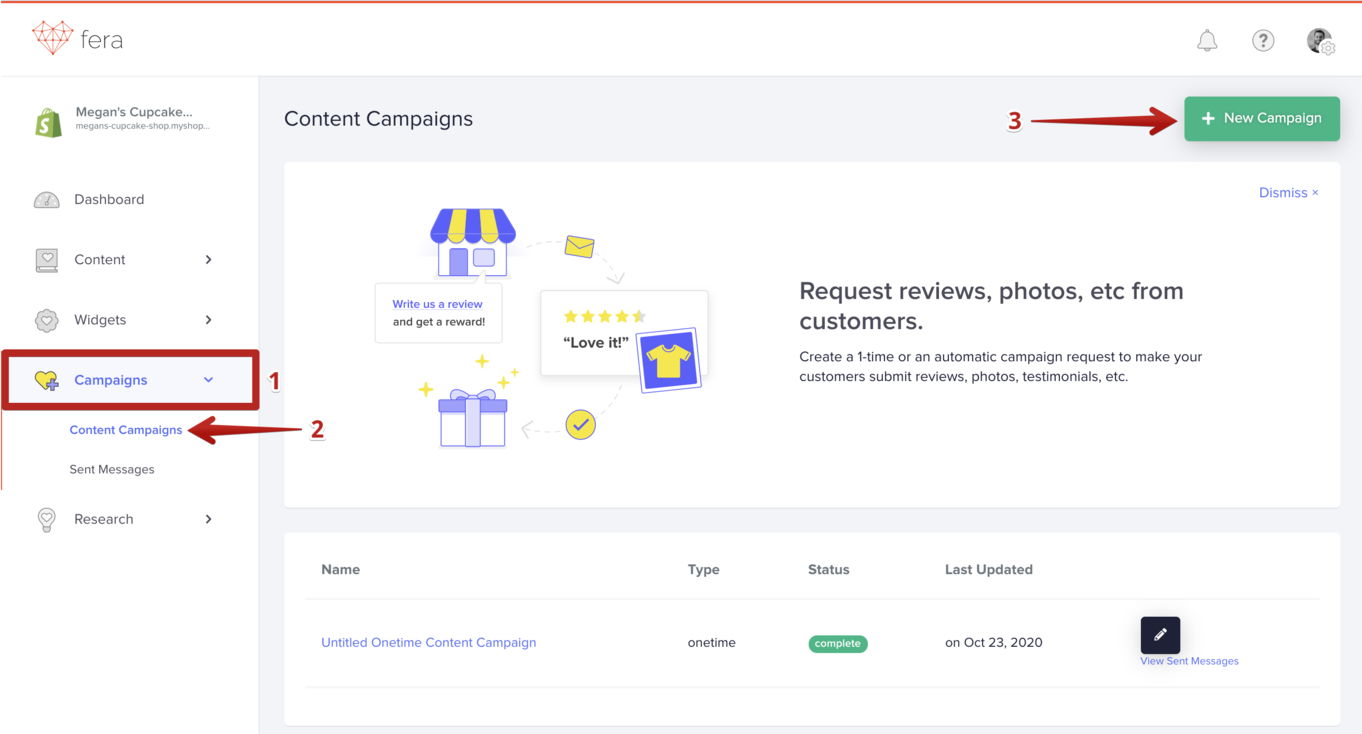 Once you have found where to create a new content campaign, the next step is choosing between an ongoing
or one-time campaign.
Create an ongoing campaign
Ongoing campaigns are fully automatic, so if you don't want to worry about manually sending a review request each time a customer makes a purchase choose this option.
Ask for reviews from past customers with a one-time campaign.
On the contrary, if you are looking to send review requests to certain customers, use a one-time campaign to select who to send to manually.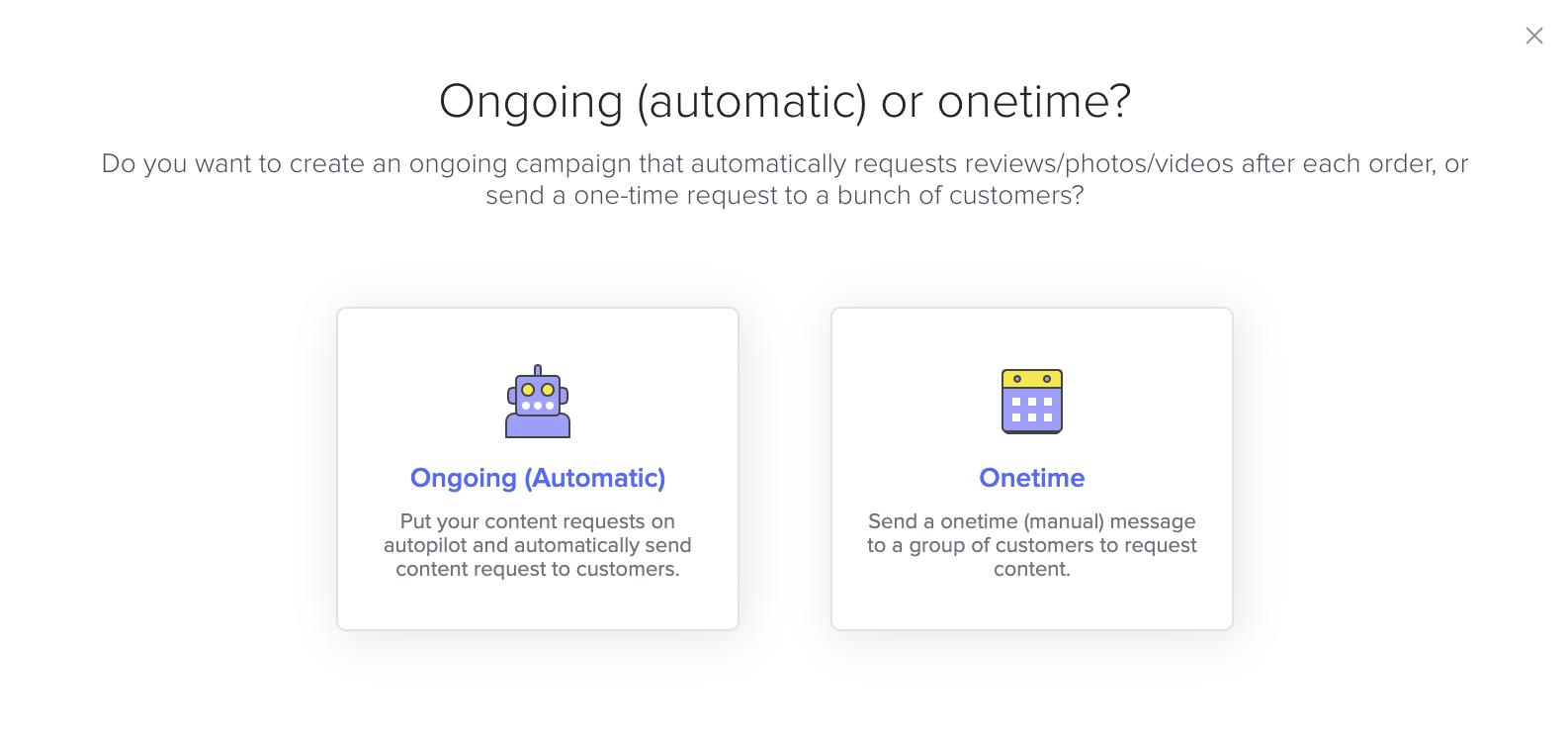 With Fera, you can also choose when to send the review requests to your customers (i.e., # of days after the order is fulfilled) and have a full range of customization for the email message that your customers will receive.
4. Ask for different types of reviews
While text reviews are the easiest to collect, you should be asking for photo and video reviews! Why? 72% of shoppers are more likely to buy a product when reviews include photos and videos. When you allow your customers to submit photos and videos as part of your review strategy, you'll increase customer conversion. Want more product review stats? Check out the
59 Product review stats every online store owner needs to know
!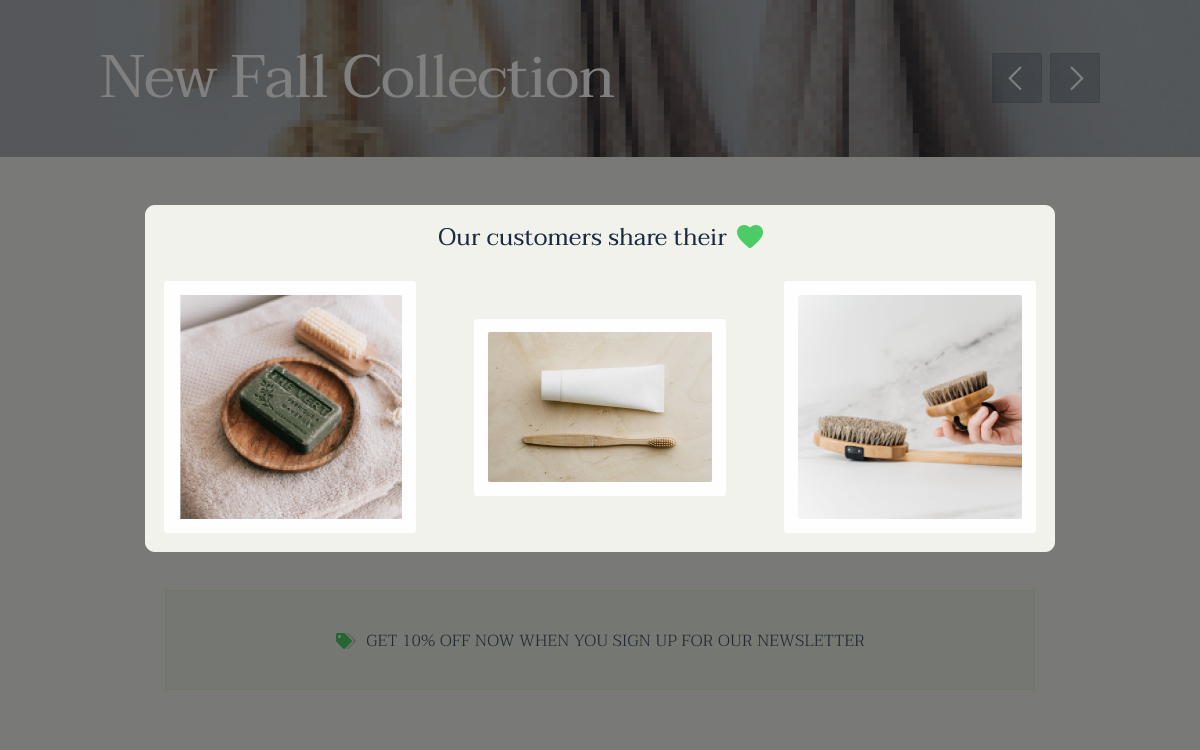 5.Offer compelling incentives
Your product review strategy should include offering incentives to reward your customers for taking the time to leave a review and motivate them to submit photos and videos. There are many different types of incentives you as a merchant can offer to your customers, so it's about choosing the one that is most fitting for you. With Fera, there are three types of incentives you can offer
Discounts
Loyalty points or
Cashback
Here's how to decide which one is right for your business:
Discounts
Discounts are the best incentive to offer when you want your customers to come back and purchase from you again. It will create a cycle of repeat customers, and they will become loyal to your brand as you continuously offer them incentives for reviews on each of their purchases. However, if the product you sell is one that your customers only need to buy once in a while, this incentive might not be the best for you as customers might not fill out your survey if they don't see value in the incentive type.
Loyalty Points
Loyalty points are best to offer as an incentive when looking to create a community of brand-loyal customers. Fera is integrated with
Smile.io
, so you can connect to your customers' Smile accounts and reward them with points. The drawback to this type of incentive is that if your customers don't already have a Smile account, they may not fully understand this incentive's benefits.
Cashback
Cashback is the best incentive to offer if you are looking for a high response rate to your review request. It is highly appealing to most customers, and they will also be more likely to submit photos and videos along with the written review. However, if cash flow is tight, you may want to reconsider using this type of incentive or incorporate it right into your products' pricing.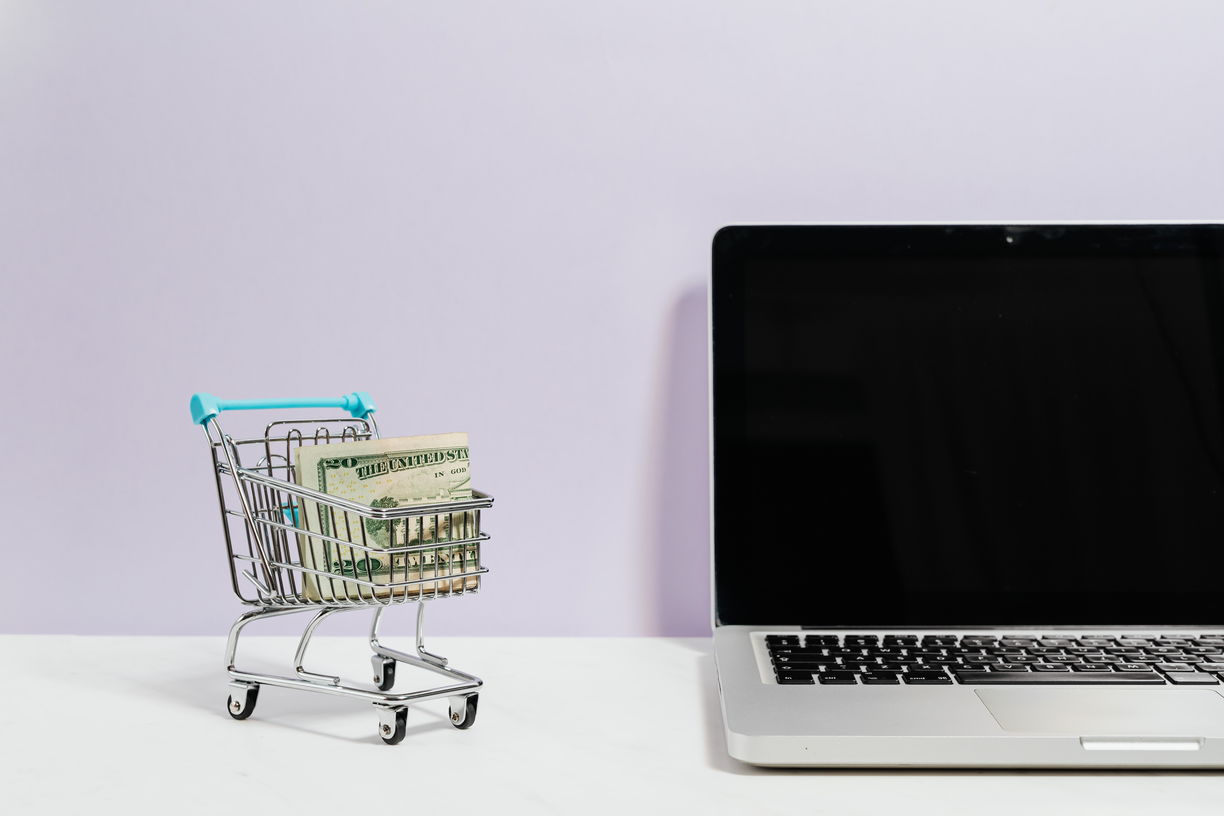 6. Start sending out the review requests.
Send a test
When you are finished customizing your review request and setting up an incentive, you should send a test review request to your email to ensure everything is to your liking.
Make sure your email is mobile-friendly
When you choose a trusted product reviews app like Fera, your review requests will show up mobile-friendly. However, you still have to make sure that your email's body is easy to read on the phone. Be sure to avoid
adding photos in your email
typing long blocks of text with no headers
Launch
Once everything is perfect, launch your campaign to start sending out requests to your customers!
7. Instruct staff to ask for reviews.
If you have online support staff or sales staff, be sure they know how important product reviews are! You should empower and incentivize your staff to ask for reviews. This is especially true after they have helped a customer!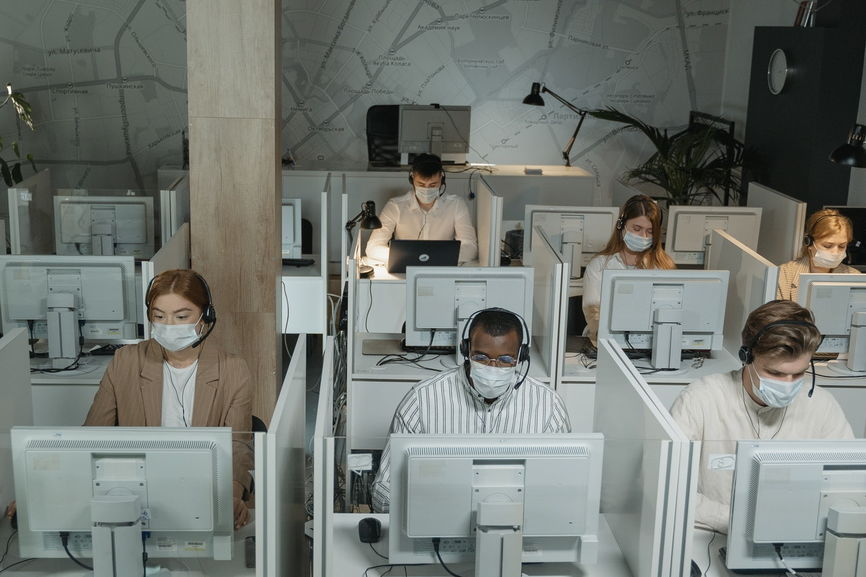 8. Make it easy for customers to leave a review anywhere.
While you want to control the review experience as much as possible, you have to give your customers flexibility. If you notice that your older customers are more likely to leave a text review through Facebook, give them that option! Are your millennial customers more into Yelp or Google reviews? Let them leave reviews there too! Remember, you still have to make leaving a review simple and easy for your customer, even if it isn't on the platform you want!
Screen reviews
If your support staff notices that you have a happy customer they helped via Facebook messenger, they can ask that customer to leave a review! Alternatively, if they are talking to a happy customer with a Gmail address, they can send them a Google review link! Finally, there are tons of reputation management companies that can automate this process for you.
9. Display collected product reviews on your Shopify store.
Now that you have a collection of product reviews in the Fera app, you can start displaying them on your Shopify store in various widgets. The most common Fera widget that merchants use is the Product Reviews widget. This one shows your store's average star rating and each review from your customers.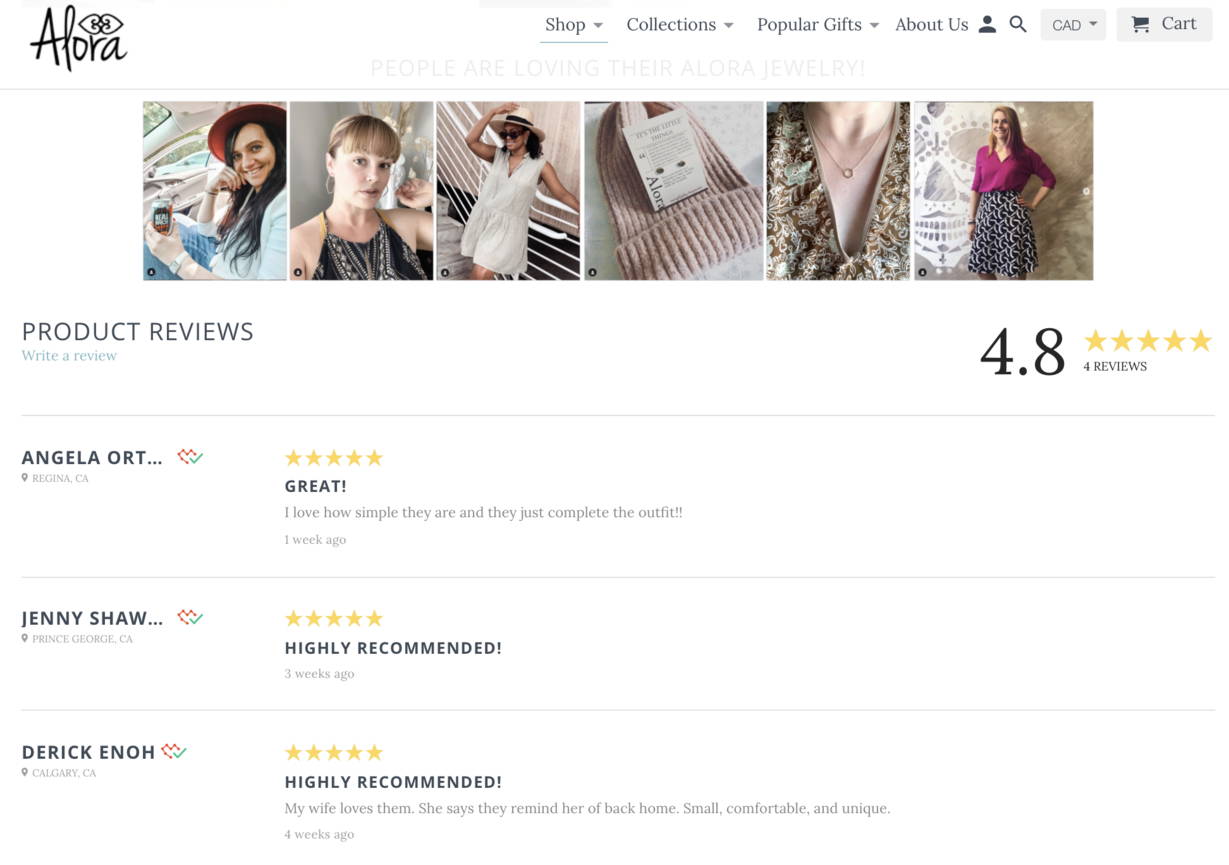 Since you have the ability to gather photos and videos within your review request submission, use Fera's Wall of Photos & Videos widget to showcase all of your company's user-generated content right on the product page.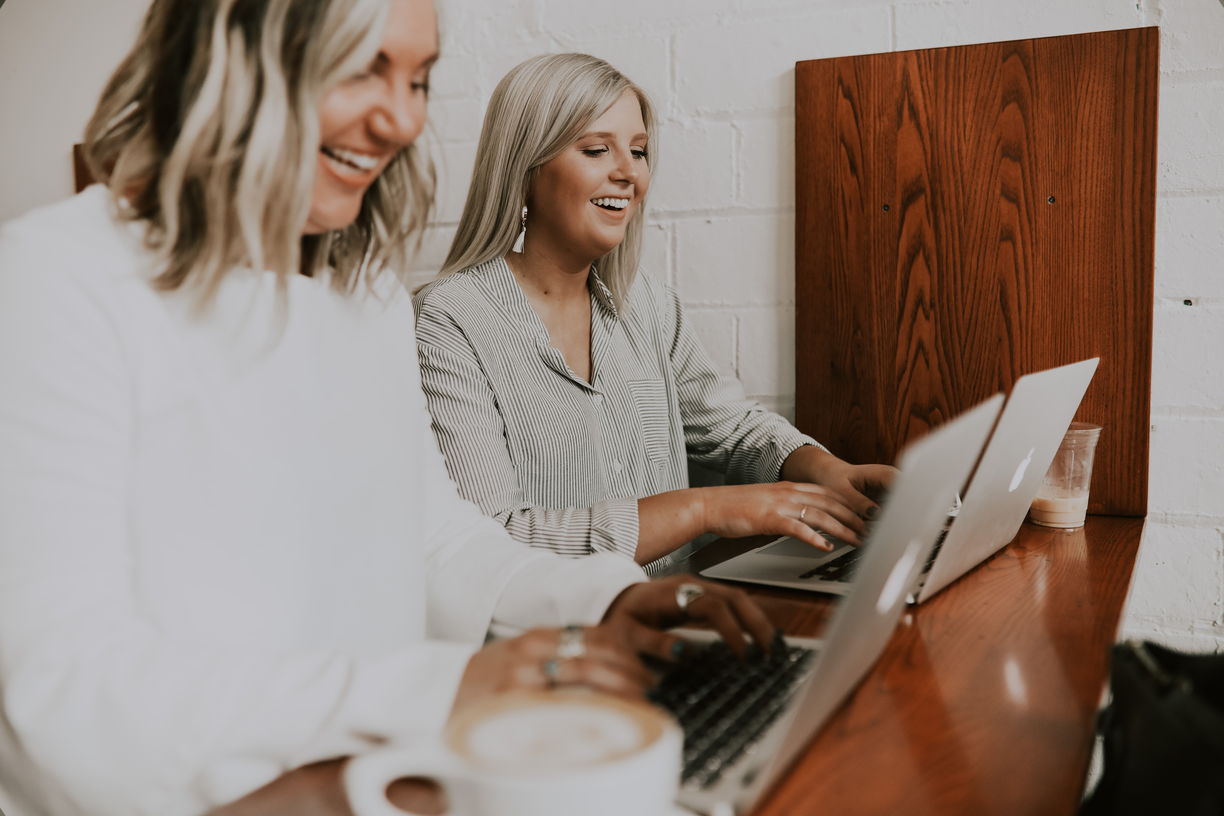 Moderate your reviews
Note that before reviews appear on your store with Fera's widgets, you will have to accept them. Keeping this in mind, you can also decline reviews and make suggestions to the customer on why it was declined. Many situations that reviews would get declined is
if the lighting was bad in their photo review,
they audio was poor in their video review
A photo was blurry
Adding this review with a bad photo to your store won't add any value to you or your customers.
Suggest edits for your customers
The great part about moderating your reviews is that you can make suggestions to
use natural lighting
speak into their mic
be still when taking the photo
Just a note, this is why it's important to leave photo & video instructions in the review request message!
Show your reviews are verified.
A great way to build trust is to show your reviews are verified! With Fera, you can add a "Verified by Fera" badge to your product reviews and social proof events. This is just like the "Verified Buyer" badge that Amazon uses in the reviews section.
What is a verified buyer?
A verified buyer is a customer that actually bought and owned the product they are reviewing. Fera tracks the purchase and review process for you and will clearly identify the buyer's review is legit! As you start to see reviews roll in from your customers, it is essential to start replying to all of your reviews, even your negative ones. When you reply to your reviews, your customers will feel valued and heard. Remember to address details that they mention and express your gratitude to the customer. Especially if you have received a negative review, replying to it and saying all the ways you will make the situation better will show others that you have customer satisfaction as a high priority. Further reading:
How to respond to positive and negative product reviews
Embrace negative reviews
It may be discouraging once you receive your first negative review, and you might even feel inclined to delete it. However, you want to leave them up! Any busy store that only has positive reviews and is rated five stars seems very artificial as no company is perfect. Customers will see right through it if you are only posting your positive ones live on your Shopify store.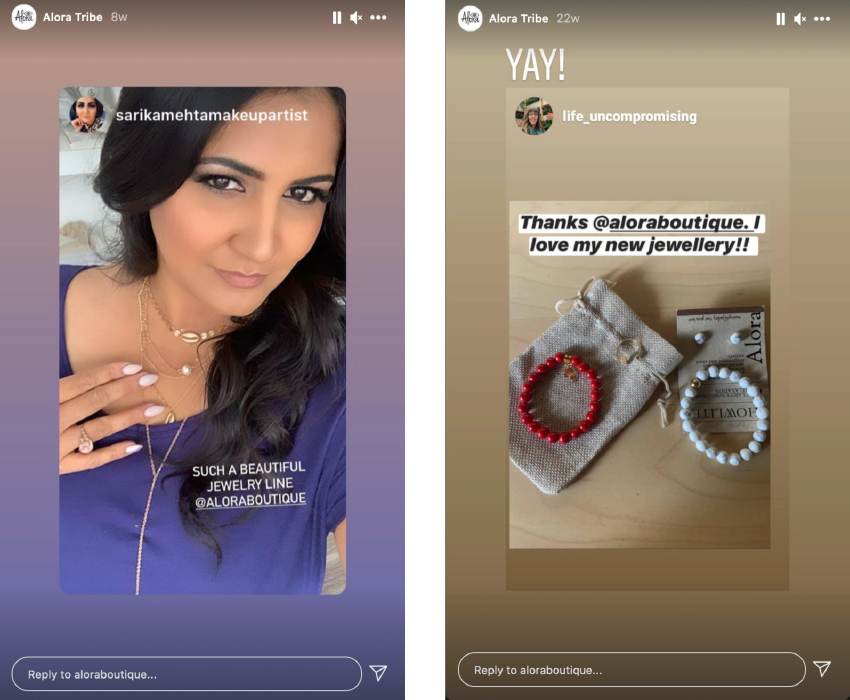 11. Use product reviews in your marketing.
As an eCommerce store owner, using product reviews and UGC (like photos or videos submitted with their review) in your marketing can do wonders for your brand. If you haven't already added using product reviews to your marketing strategy, start doing it ASAP!
Let your happy customers do the talking.
Let your happy customers do the talking! It's as simple as that. Post your gleaming reviews to your Facebook page or share a customer photo on your Instagram feed! So easy, and no content creation was needed. Also, on social media, people love sharing photos of what they are up to in their daily life, and I'm sure receiving their online order in beautiful packaging is worth a share to their followers!
Encourage social sharing
Help encourage your customers to share photos of your products by using a company hashtag or to tag you in them for a chance to be featured on your page. Take it a step further and run social media contests where customers can enter by leaving a review or sharing their product photos.
Use videos!
Another thing to remember is videos! If a picture says 1000 words, imagine was a video would do! If your product's features are best captured in a video, ask for videos in your review submissions and then post them.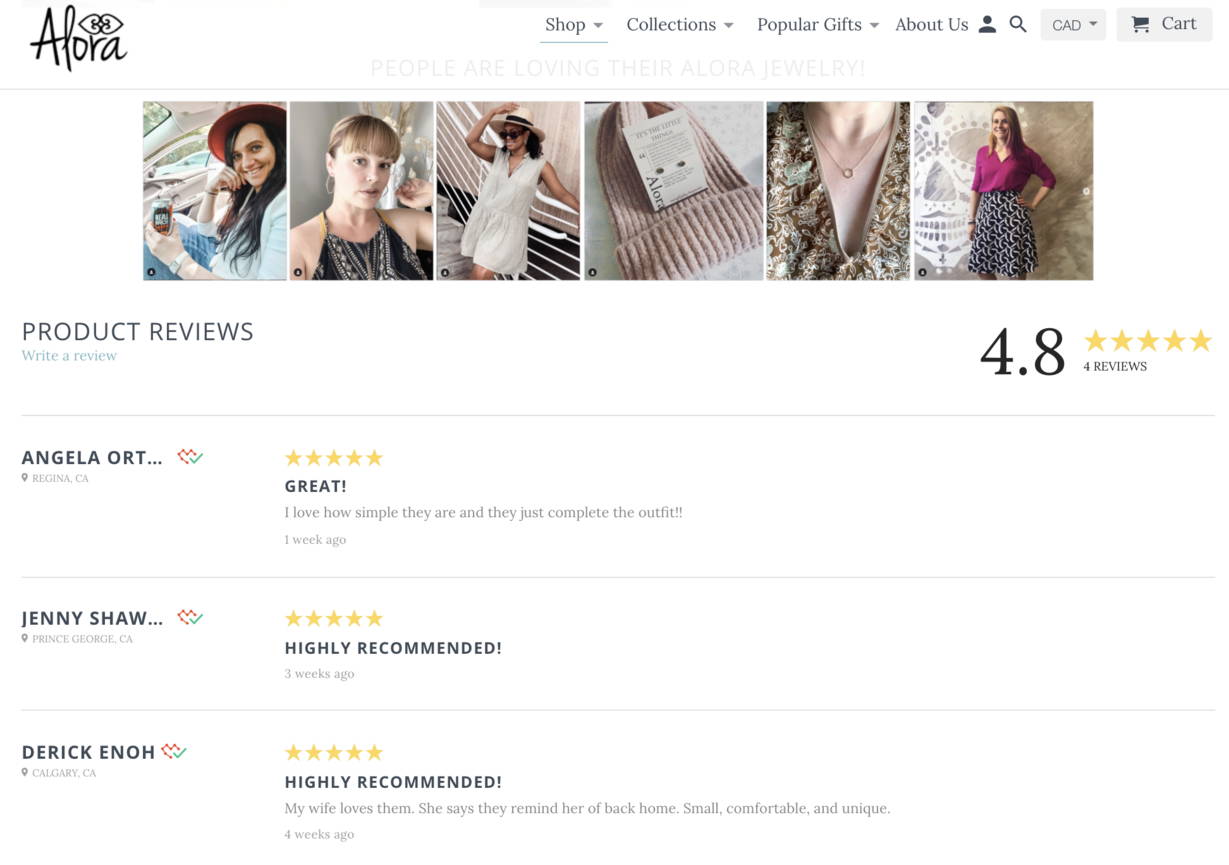 12. Jumpstart your product reviews with influencers
You might want to consider an influencer strategy if you
Don't have a lot of product reviews
Have lots of low-quality reviews
Using influencers
to get your product and leave reviews is an excellent thing to include in your product review strategy. This is a great strategy when you
are launching a new product line
need to improve your photo review count
Getting reviews from influencers will allow you to build hype around your product and enable you to sell more (since you have more reviews)
Evaluate
Setting Goals
You can't just set and forget a product review strategy! You'll need to come up with some goals like
Response rate
Average rating
Number of photo reviews
etc
The goal is really up to you, but you need to evaluate yourself to see if you reached the goal. Once you've reviewed and launched your product review strategy, you'll have to evaluate! There are a few courses of actions you'll have:
Change nothing
Refine/Focus
Back to the drawing board
Change nothing
This is kind of where you want to be! Your product review strategy is working so well that you are getting 4 and 5-star reviews and a high response rate!
Refine/Focus
You might notice that you are getting the most reviews when you ask for a photo review. However, you might be getting NO responses when you ask for video reviews. It's time to focus! Make the photo reviews the major part of your strategy and abandon videos. You might also notice that your emails are doing really well, but you think they can do better. You'll want to test your subject lines and wording to boost your response rates!
Back to the drawing board
You might notice that you are getting no review responses or a slew of negative reviews. This is the time to evaluate your product review strategy and answer these questions.
Are you trying to do too much?
Do you need to improve your product?
Are you asking your customers for too much with little incentive?
Asking these questions will help you get back on track!
Congratulations!
You just learned all of our recommended tips and tricks for creating a strong product review strategy for your Shopify store to improve your relationship with your customers and increase your sales! If you want to give Fera a try and see what it can do for your store, we offer a 14-day free trial! No strings attached!