Why should you include a gift with purchase? Well, as far as promotional events go, giving your customers a free gift with purchase is a great deal that offers benefits to both you and your customer.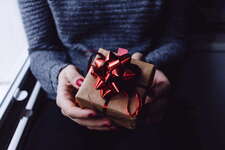 Gifts with purchase are a means to add more value to your products and boost your competitive advantage. The goal when using a gift with purchase is to ensure that you are using the promotion in an effective way that will get you the positive results you want and need. This post will explore why you should be including a gift with purchase, and how you can implement this promotion effectively.
Why Run a Gift With Purchase Promotion?
Add Brand Value
The purpose of a gift with purchase promotion is to provide more value to your customers. Discount promotions can have the adverse effect of lowering the worth of your brand while adding a gift can add perceived worth. It can also be less costly to add a gift with a purchase than to provide customers with discounts. Without boring you too much with the math, if someone buys a necklace for $57.50, it is cheaper for you as a merchant to give someone a bracelet the costs $3.33 as a gift than to discount your entire store by 30%.
Promo #1 - 30% Off:
My cost for a necklace: $5.00
Revenue for the necklace: $57.50
My cost to discount by 30%: $17.25
Total Revenue: $40.25
Total Cost: $22.50
Promo #2 - Gift with Purchase:
My cost for a necklace: $5.00
My cost for a bracelet: $3.33
Revenue for the necklace: $57.50
Total Revenue: $57.50
Total Cost: $8.33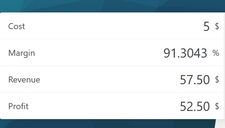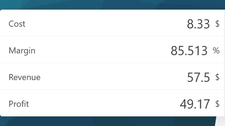 See how a gift with purchase wins? In the first example, not only do you LOSE more money with a discount, but the customer will think that your necklace was never worth $57.50 if you can afford to discount it by 30%! In the second example, your customer feels appreciated when you give them something for free, and the perceived value of your product doesn't decrease.
Boost Conversion Rates
When consumers feel there is more value in the purchase, they are more likely to convert. If they know they are getting an additional item at the same cost, they feel like they are getting more for their money, which creates a strong sense of purchasing power.
Upsell Your Customers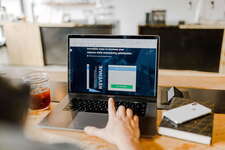 Many gifts with purchase promotions are offered when a customer buys a certain number of goods or spends a certain amount of money. This can cause a customer to order a little more to get that gift. For example, if you are offering a free gift with a $50 purchase, and the customer has reached $40, they are likely to up their purchase amount to meet that threshold and get that free gift.
Encourage Repeat Purchases
Depending on your business, your gift with purchase may be a small or slightly altered version of another product you carry or a new product you are testing. Gifting something like this enables you to get customers to try out, and love, another of your products. Once they love it, they will be more likely to then return to your site to purchase a full-size product, and hopefully more, after trying out the gift. Learn More About
Getting Repeat Sales
Build Customer Loyalty
Along with the repeat purchases, a gift with purchase can encourage
customer loyalty
. When you give a gift, you are providing your customers with extra value and creating good feelings between you and your customers. Customers that have good or excellent experiences with a business are much more likely to return to that business for further purchases and stay loyal.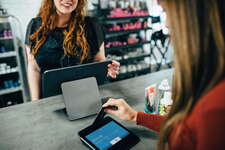 How to Run A Gift With Purchase Promotion
Now you know WHY running a gift with purchase promotion is a good idea, so here is how to do it.
Think About Utility
When deciding on your gift, remember that the gift should complement the purchased product in some way. For example, offering a sturdy travel case with a pair of luxury sunglasses is a useful and complimentary gift.
Avoid The Pitfalls of a Giveaway
There's a big difference between giving away a gift with a purchase and a giveaway. The goal is to provide value and not just to give more units to the customer. Consumers are savvy and can tell when your gift is adding no real value to their purchase. So think about the order total. The gift with purchase you choose should match in quality with what the customer has spent.
Choose The Gift Carefully
Think about what gift would actually entice your audience. The goal is not to simply give stuff away and clear our inventory but to
increase your conversion rates
and sales. Know your target audience and plan a gift that would entice and complement the product they are purchasing.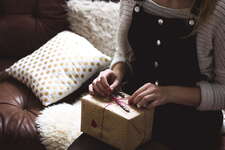 Make Sure to Promote
A marketing promotion only works if customers know about it. While it can be a nice surprise to happen upon a deal, it's not a very effective business strategy to assume that customers will find you. Promote your gift with purchase as you would any other discount. And ensure that your directions on how to receive the gift with purchase are clear and concise to avoid customer disappointment and frustration.
Stock Your Inventory
Another important consideration when planning your promotion is ensuring that you have an adequate amount of inventory for both the gift and the product(s) they need to purchase to get the gift. While it is okay to run out as it helps to create a sense of urgency, it does your company no good to have customers upset when the gift is out of stock after only an hour of a promotion starting.
Be Aware of the Frequency
As a note of caution, be mindful of how often you offer promotions. You don't want your customers to get used to you offering promotions all the time or they will wait and only purchase items during promotions. This erases any sense of urgency and creates conditional brand loyalty, which won't help your brand or your profit margins in the long run.
Download the Fera Social Proof App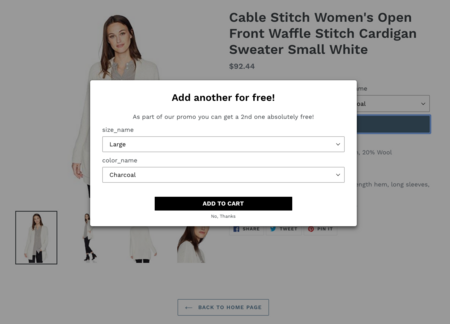 You can easily offer BOGO deals or gift with purchases in the cart or as a pop up with the Fera Social Proof App. Downloading and installing is as easy a 1, 2, 3! Plus, you get to try the app FREE for 30 Days.What are you waiting for?