We Released New Features!
As you may or may not have noticed we've been rolling out some amazing features to the Fera App! For a quick look at what's new check out the
Features page
. You can also see a few more technical additions if you check out our Changelog article. These resources give you a quick idea of some things that have been changed. Fera doesn't necessarily have versions or updates that you install. We run using what's called continuous deployment. This means we're constantly creating new features, making updates and fixing any bugs/issues that may occur. The biggest (and maybe most confusing change) was that we changed from having a
Campaigns
section to having a
Skills
section. We split the old Campaigns Header into
Social Proof Feeds
and
Product Detail Counters
and added
Product List Counters, Cart Timers
& a
Get it By Timer
to become the 5
Skills.
Within a Skill you can run 1 or more Campaigns, which means that Skill is running live with its features on your store! Skills are used to increase urgency and social validation to give your customers a new online shopping experience that makes them feel like they're in an actual store.
Social Proof Feed
Formerly part of the Campaign section
Used to be called "Social Proof Notifications" before the change
It shows recent purchases from customers
Shows when visitors start checking out with products
This is all accomplished without using annoying popups! Instead, we embed our social proof notifications so your customers won't be constantly bombarded with messages.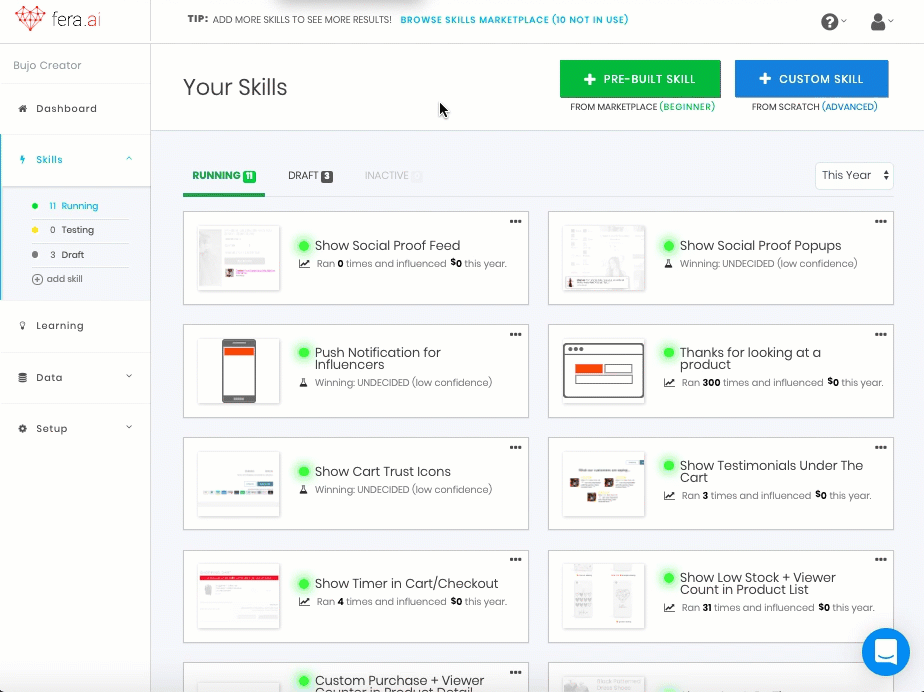 Cart Timers
Display timers in the checkout process to increase the likelihood that a customer completes their order.
Display timer(s) and messaging when a customer switches tabs during checkout
The Timer intelligently detects when customers have moved around the site to reset their timer only when it makes sense to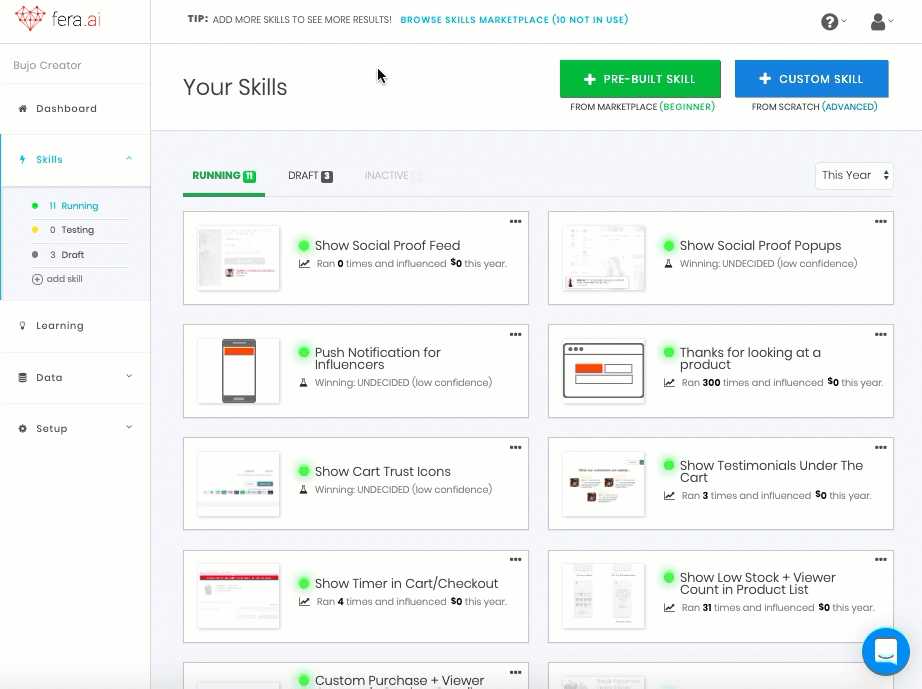 Product List Counters
Shows customers the number of other people currently viewing products
Displays the number of users about to checkout
Reports the number of customers that recently purchased the product
Displays low stock alerts when inventory is low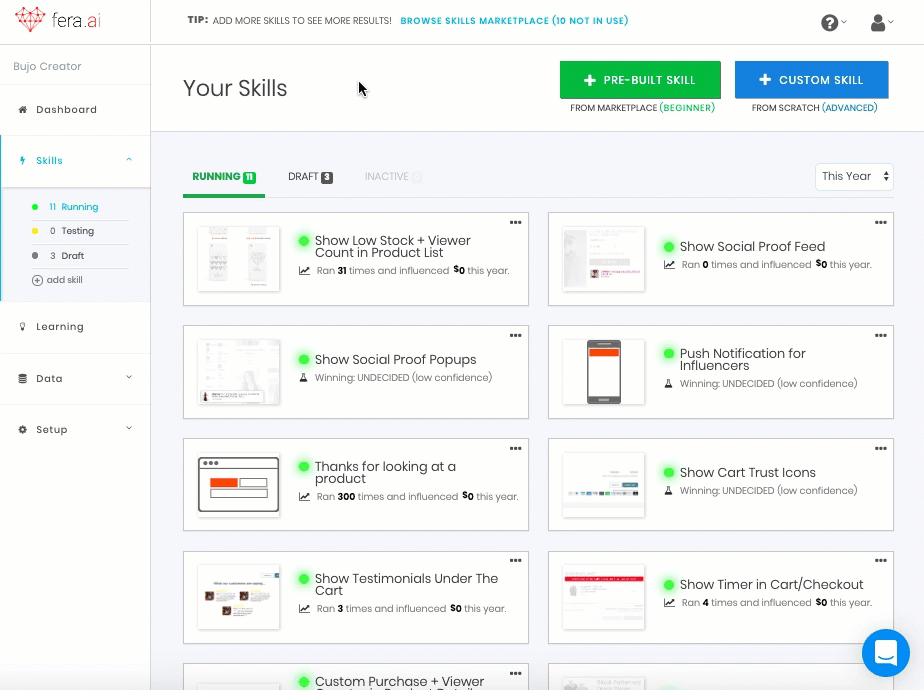 Product Detail Counters
Formerly this Skill was part of the Campaigns section
Used to be called "Static Urgency Text" before the change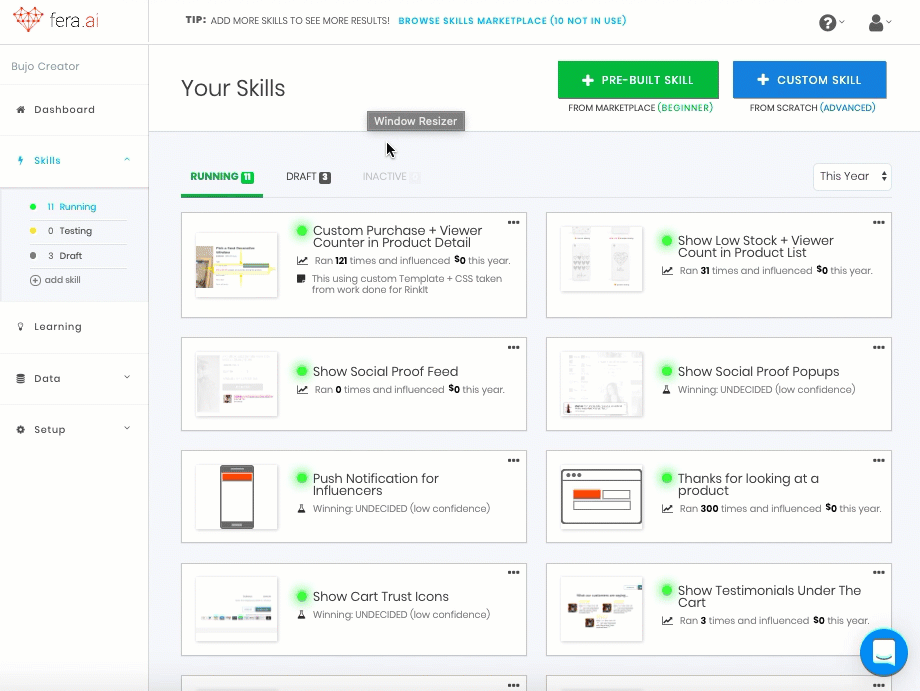 *NEW* Get it By Timer
New feature similar to what you've seen on Amazon
Customizable messages and specific parameters to decide when the timer will be shown
Can see delivery speeds for different countries and regions, and a same-day shipping cutoff time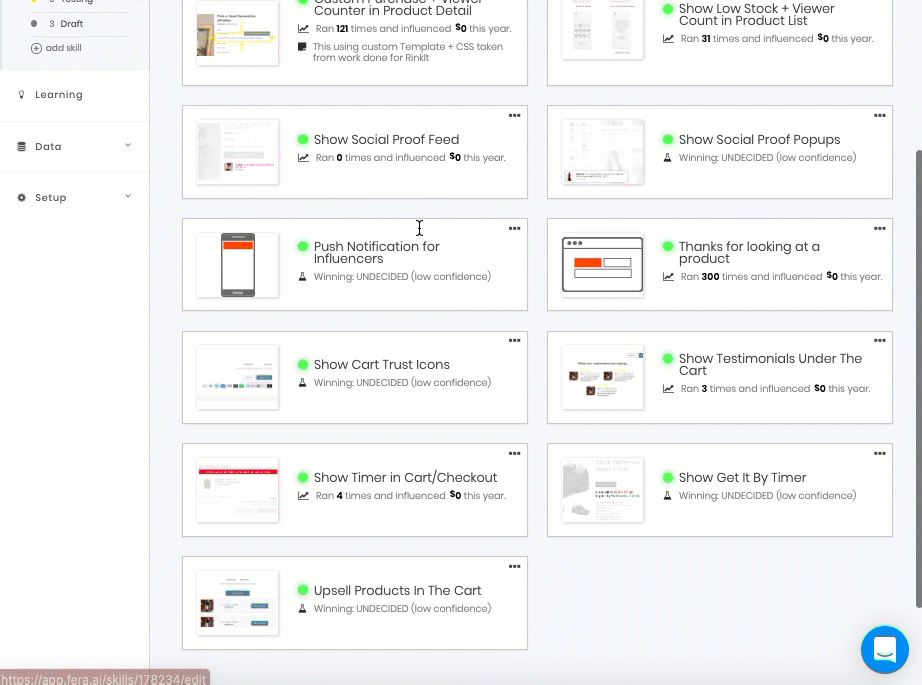 *NEW* Dashboard

You may have noticed the sidebar and Dashboard are a bit different too. They have a couple of new headings and features included as you can see below:

*NEW* Storefront Panel

The storefront panel is a neat little Admin feature we created. When you're making changes to your store it will follow you around as a little yellow bar on the left side of your screen (like the image below). This skill is NOT visible to your customers-only to you. When you hover your mouse onto the panel it'll open and look like this yellow square. You can toggle the "testing" on and off, it shows how many Fera Skills are running on the page and also gives you a quick access button to get back to your Dashboard to make edits or see what's happening within your store.

What Happens if I Had Campaigns Running Before the Changes?

Don't worry! Even if you had Campaigns running before we migrated to Skills (~January 10th, 2018) nothing will have happened to them, regardless of if they were live or not. They'll just have split into the new Skills Social Proof Feeds or Product Detail Counters. You can still edit and manage them, as well as create Campaigns for the Product List Counter and Cart Timers. We hope you enjoy using Fera & all of our great new features! If you have some ideas or have a specific feature you'd like to see-check out our Future Request Board/Roadmap or send an email to our support team to suggest an idea!