What is a counter of people who recently bought a product?
A counter of people who recently bought a product is something you can add to your eCommerce store to show visitors how many customers recently bought a product or products. This can be done on your product detail pages or even in your collections page(s).
Why use a counter to show people who recently bought a product?
This widget is useful as it adds
social proof
and urgency. If a customer sees an item has only a few left in stock and several people have purchased it then they will snap it up before it's gone. If customers see something is popular and selling fast they won't want to miss out and they'll buy it now rather than waiting or thinking about it.
How to add a counter of people who recently bought a product
When you are on your dashboard you'll want to click on the '+'. This will open a box that shows you all of the possible widgets you can add to your eCommerce site. Find the widget called "Low Stock + Viewer Counter in Product Detail'.
How to edit and customize the widget
Now comes the fun part-customizing your counter of people who recently bought a product to look and act the way you want it to!
The widget is divided into 4 tabs including location, content, design, and conditions.
Tab #1: Location
This tab lets you decide where to show the content in your Shopify pages. You can choose the page or pages for the order counter to show on. The default is to show on all store sections, but you can show them only on certain parts of your store if you'd like.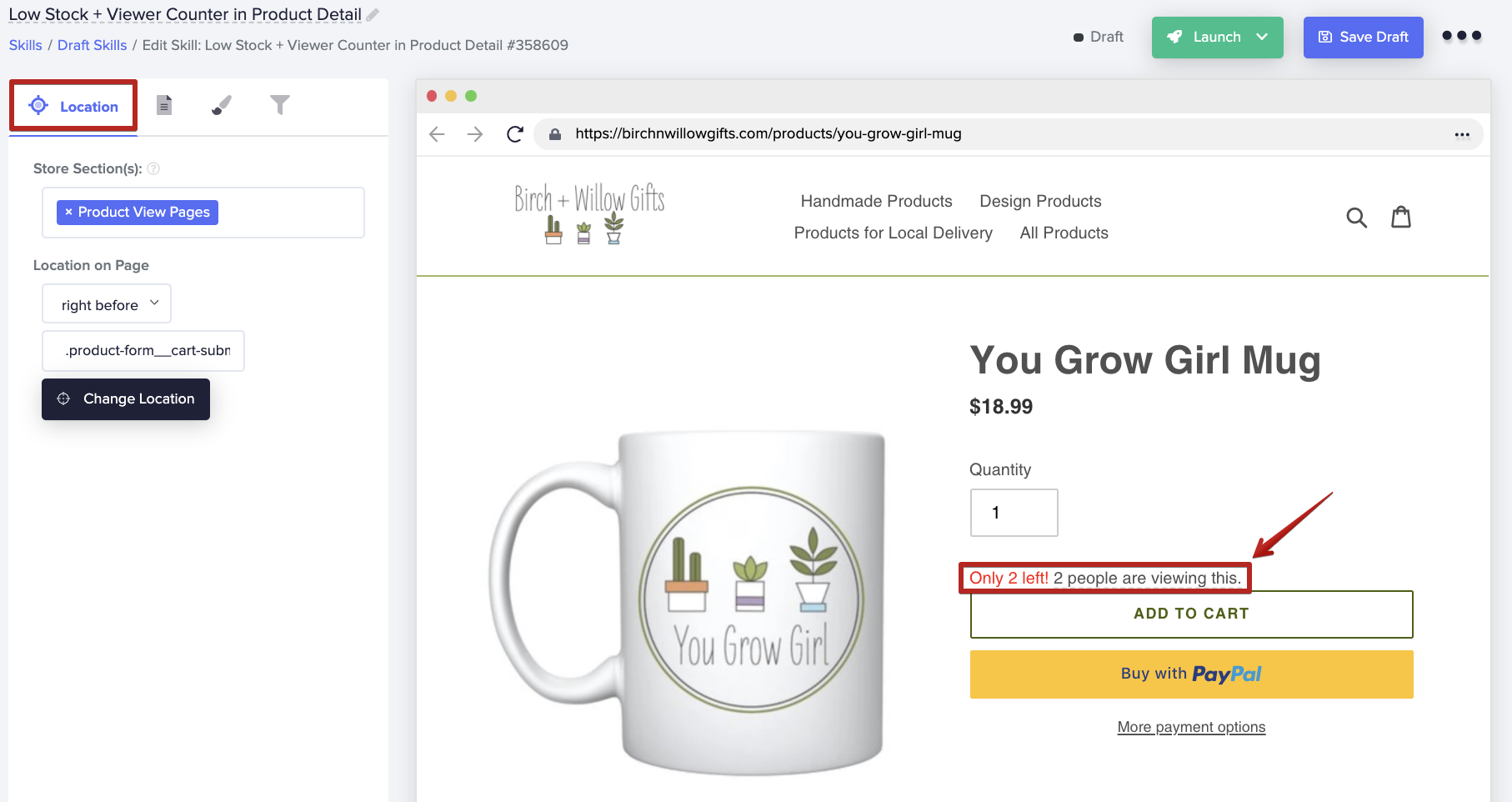 The 'Location on Page' selector allows you to choose where the order counter will show, but by default it shows on all store sections.
You can select the URL to appear. Hover your mouse on your site and click to choose an element. Once a location is selected your widget will show up in the preview window on the right.
Tab #2: Content
This tab lets you choose what content to show to your customers. It allows you to enable/disable the inventory counter, the viewer counter, the add to cart counter and the order count. The order counting tracks actual items purchased and also has the minimum order count and the ability to set a lookback period. If the minimum is set then the message only shows when there have been that number of recent purchases within the lookback period that is set. So if it is minimum 1 order count and 2 days lookback period the widget displays the number of purchases (1 or more) that happened in the past 2 days.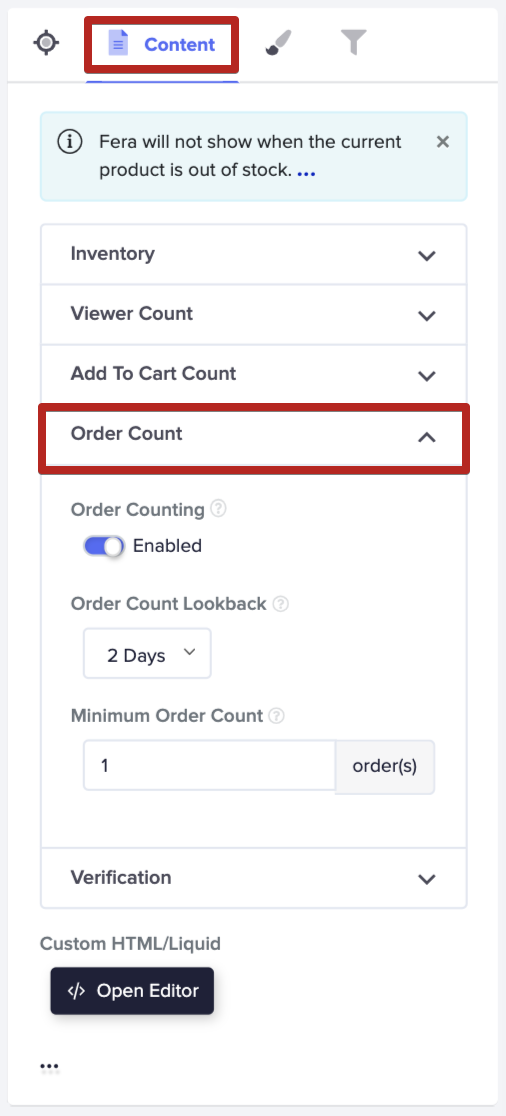 The add to cart counting option is similar to order counting. You can set the minimum order count and also the lookback period here. This will show anytime customers add items to their cart, regardless of if they end up buying or not. Inventory let's you enable a "only x left" message that turns on when the stock level of a product falls below the level you specified. You can also set the default stock message here, the automatic one is "Limited Stock! 🔥".
Tab #3: Design
The 'Design' tab allows you to edit the appearance of the widget. You can choose pre-designed themes or pick your own colours, font size and so on here. For those store owners with CSS background, or those who have developers they can add their own custom CSS or change the templates to work more specifically for their needs.
Tab #4: Conditions
This tab lets you decide when to show your counter of people who recently bought a product. You can set specific triggers and conditions on when to show it. You can have it trigger as soon as a page loads, and limit to only once per hour per shopper if you'd like. Or maybe you only want to show the widget during the week-you can do that here too. You can also set a schedule to run the viewer widget so that it starts or ends on a specific date and you don't have to worry about it. Simply enable the schedule and set your dates and times for the widget to start and finish.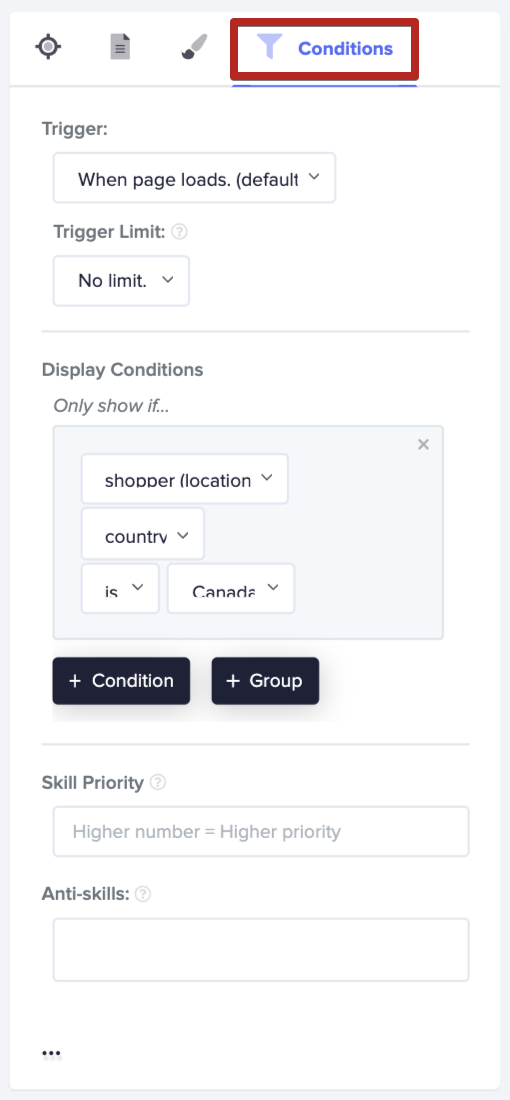 A/B testing
This section lets you decide if you want to A/B test this new widget. It'll allow you to enable or disable testing and also determine the percentage split of who to show the content to. The default is a 50/50 split, meaning 50% of the time customers see the testimonials, and the other 50% do not see the testimonials. This data can be used to compare to each other and determine whether the widget is helping you out.


By default, this widget is turned off. You can enable it yourself and also find out more about A/B Testing through this article.