What are social proof popups in Shopify?
A
social proof popup in Shopify
is a popup notification that lets visiting customers know what customers on their site have bought certain products or services or added them to their cart.
How to add a social proof popup in Shopify
You can use the Fera.ai app to add social proof popups to your Shopify site. When you are on your Fera.ai dashboard you'll want to click on the '+' button in the Show tab. This will open a box that shows you all of the possible widgets you can add to your eCommerce site. Search for the widget by typing 'social proof', or scroll until you find the one called "Social Proof Popups".
How to edit and customize the popups
Now comes the fun part-customizing your popups to look and act the way you want them to! The widget is divided into 5 tabs including
location, content, design, behavior, and conditions.
Location
This tab lets you decide where to show the content in your Shopify pages. You can choose the page or pages for the popups to show on. The default is to show on all store sections, but to have them appear on the product pages simply click in the box and select 'Product View Pages'. You can select the position of the popup here as well. The options are: bottom left, top left, top right and bottom right.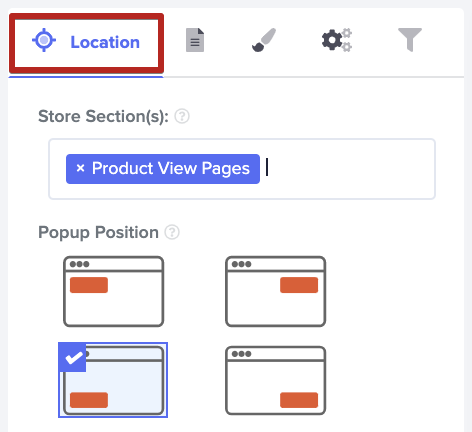 Content
This tab lets you decide what to show in your social proof popups in Shopify. You're able to choose whether to only show orders or add to carts or both. Simply use the slider to enable or disable them. You can set the 'lookback' period here as well. This is how long ago it'll count orders and add to carts for. So if you set 4 weeks it'll count all orders or add to carts that occurred in the last 4 weeks. You're also able to turn on/off the countdown which shows how many seconds the popup displays for. You can decide to show the customer name when possible, and also whether to show the product image, a profile picture of the shopper (if possible) or no image. You can see how the notification appears based on any changes you make while editing in the preview window.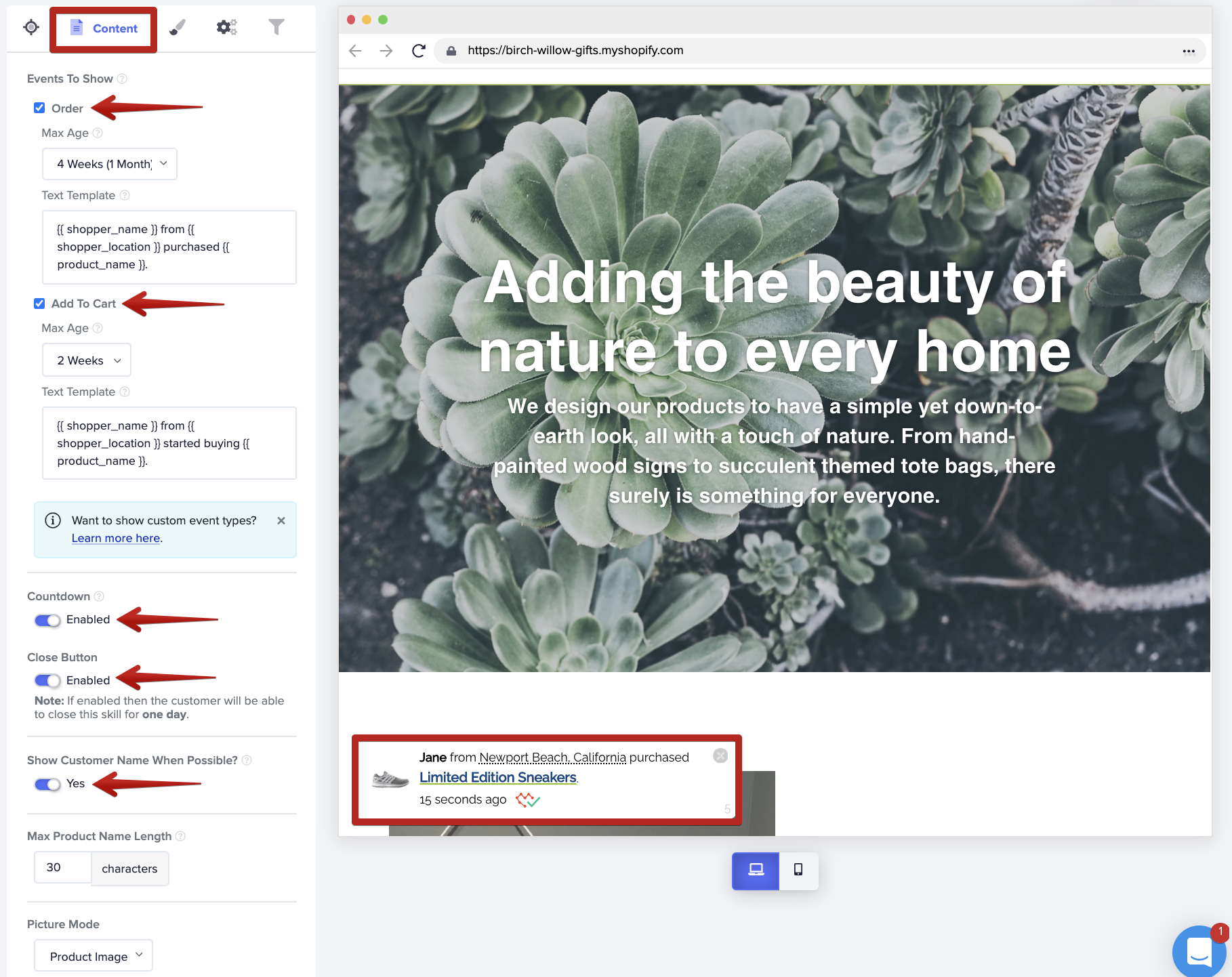 Design
The 'Design' tab lets you edit the text colour, the alignment and the style and weight of the texts. Here you can choose from pre-designed themes or design one from scratch. Your designer (or yourself) can use the 'Custom CSS (Advanced)' editor if you're familiar with CSS to further stylize your testimonials.
Behavior
The 'Behavior' tab allows you to choose the max number of popups to show per page load. You can also choose to not show the same notifications for a certain time (like 5 minutes) so customers aren't seeing the same 10 over and over if they're on your site for some time. Enable the 'product context' to show social proof popups related to the current product that is being viewed if possible. If this is enabled you can show or not show social proof if there is no product in context.You can also set the exit and entrance animations and whether there are delays between the popups, or if the delay between popups is randomized or not. You can set the number of seconds to show each popup in this tab as well.

Conditions
This tab lets you decide when to show your Shopify popups. You can set specific triggers and conditions on when to show these popups. You can have them trigger as soon as a page loads, and limit to only once per hour per shopper if you'd like. Or maybe you only want to show the popups on Saturdays-you can do that here too using 'Date/Time Conditions'. You can set certain 'Shopping Cart Conditions' as well, which means the popups only show based on the conditions you have set. The options are: total, item count, total weight, products, item name, and variants/option IDs. This means I can choose to show social proof popups only if customers have a certain number of products in their cart for example. You can also set a schedule if you only want the popup to show from today until a week from now. Simply enable the schedule and set your dates and times for the testimonials to start and finish.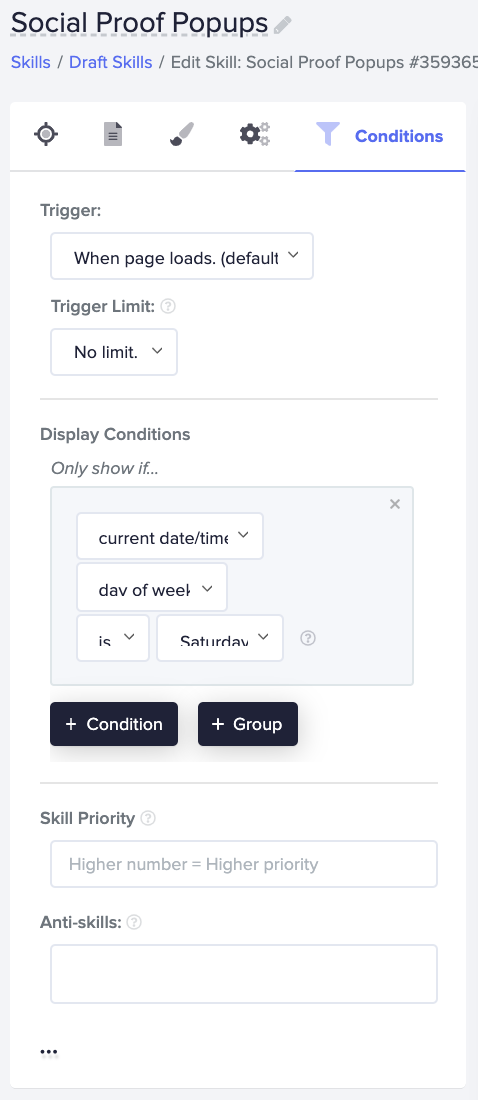 This tab also lets you decide who to show your Shopify social proof popups to. You can determine this by the shopper's location or by their journey on your site. So, for example, if I only have Canadian shoppers maybe I want the testimonials to only display if a visitor is out of Canada. Then anyone from outside of Canada wouldn't see the testimonial notifications (based on IP address). You can also choose to only show the popups if a shopper has previously viewed a product on your store. That means someone visiting only your homepage wouldn't see the social proof popups in Shopify.
A/B testing
This tab lets you decide if you want to A/B test your Shopify social proof popups. It'll allow you to enable or disable testing and also determine the percentage split of who to show the content to. The default is a 50/50 split, meaning 50% of the time customers see the popups, and the other 50% do not see the popups. This data can be used to compare to each other and determine whether the widget is helping you out.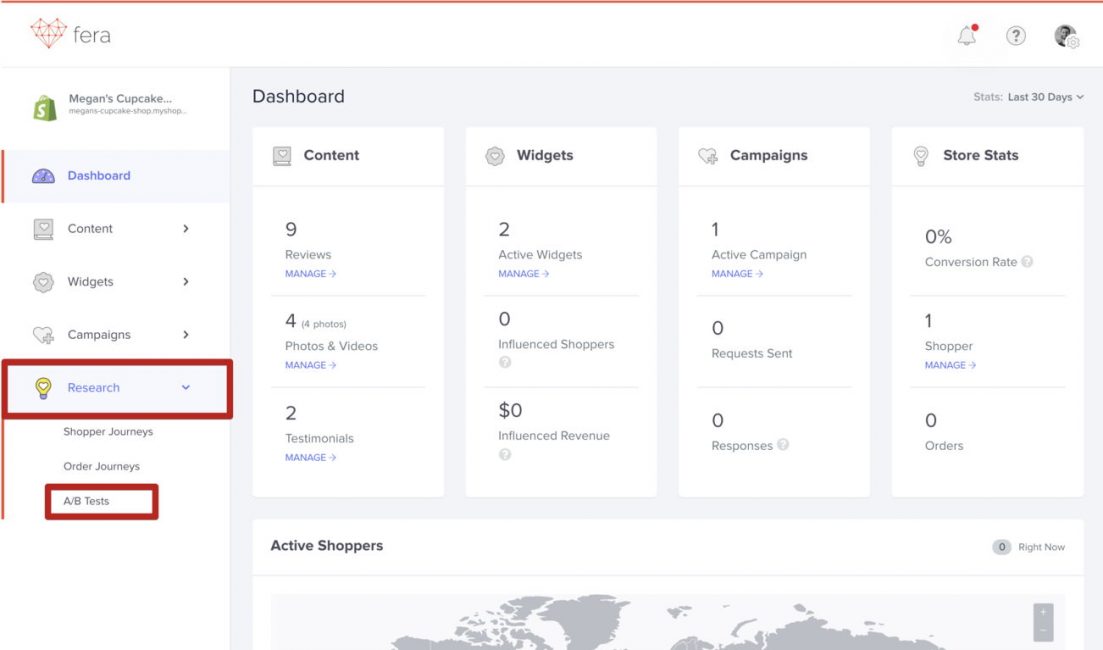 By default, this widget is turned off. You can enable it yourself and also find out more about A/B Testing through this article.