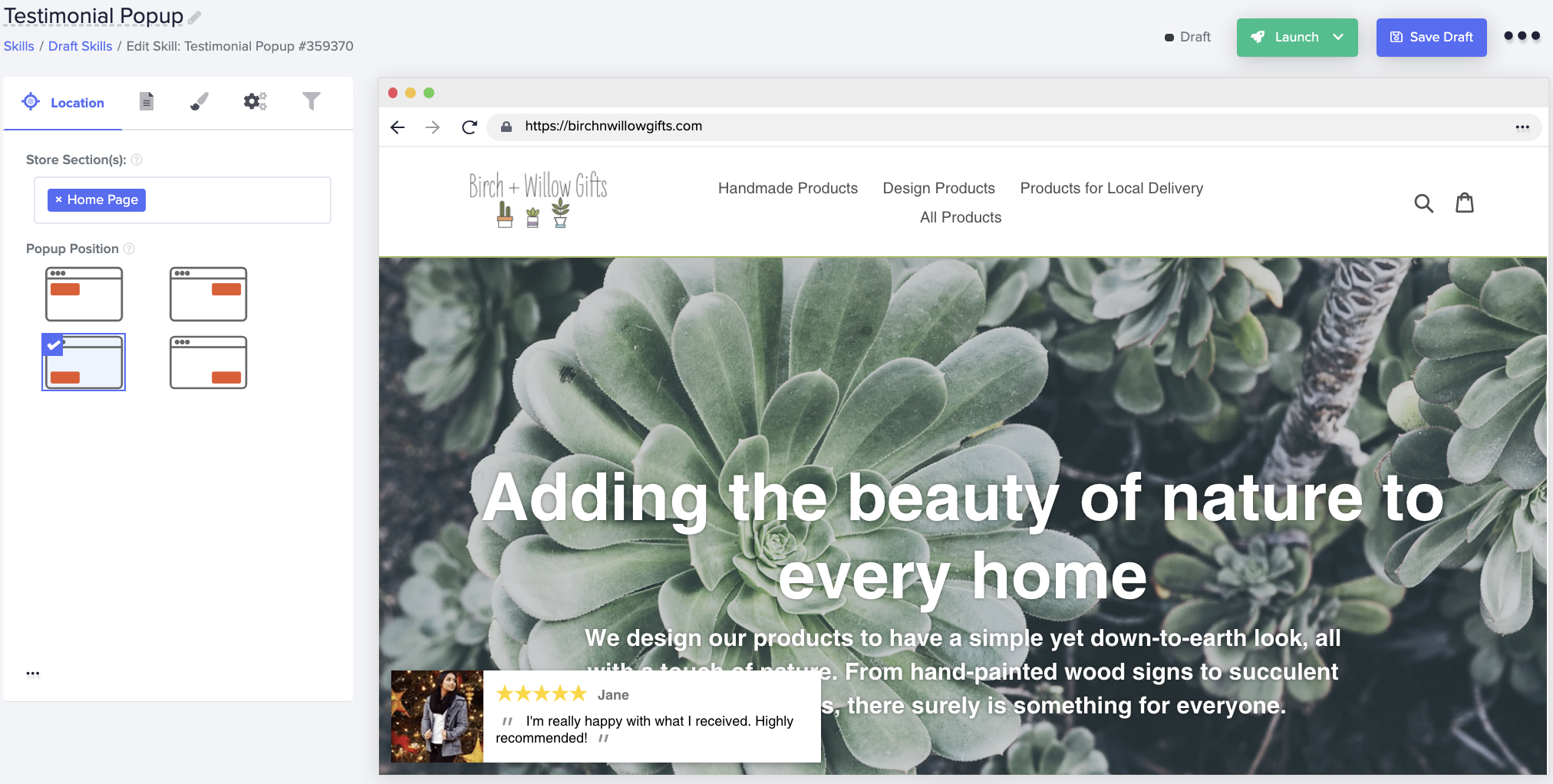 What are popup notifications?
Popup notifications are something you can add to your Shopify eCommerce site to show customers information. This can be recent events on your store like purchases or add to carts, or you can show popups of recent reviews on your site.
How to add a popup notification
When you are on your dashboard you'll want to click on the '+ Add Widget' button. This will open a box that shows you all of the possible widgets you can add to your eCommerce site. Search for, or scroll, until you find the one called "Testimonial Popups".
How to edit and customize the testimonial popups
Now comes the fun part-customizing your testimonials! The widget is divided into 5 tabs including
location, content, design, behavior, and conditions.
Location
This tab lets you decide where to show the content in your Shopify testimonial popups. You can choose the page or pages for the testimonials to popup on. This is great if you only want to show testimonials for specific products or only on a certain set of pages. You can also choose if the popup appears at the top left or right, or the bottom left or right.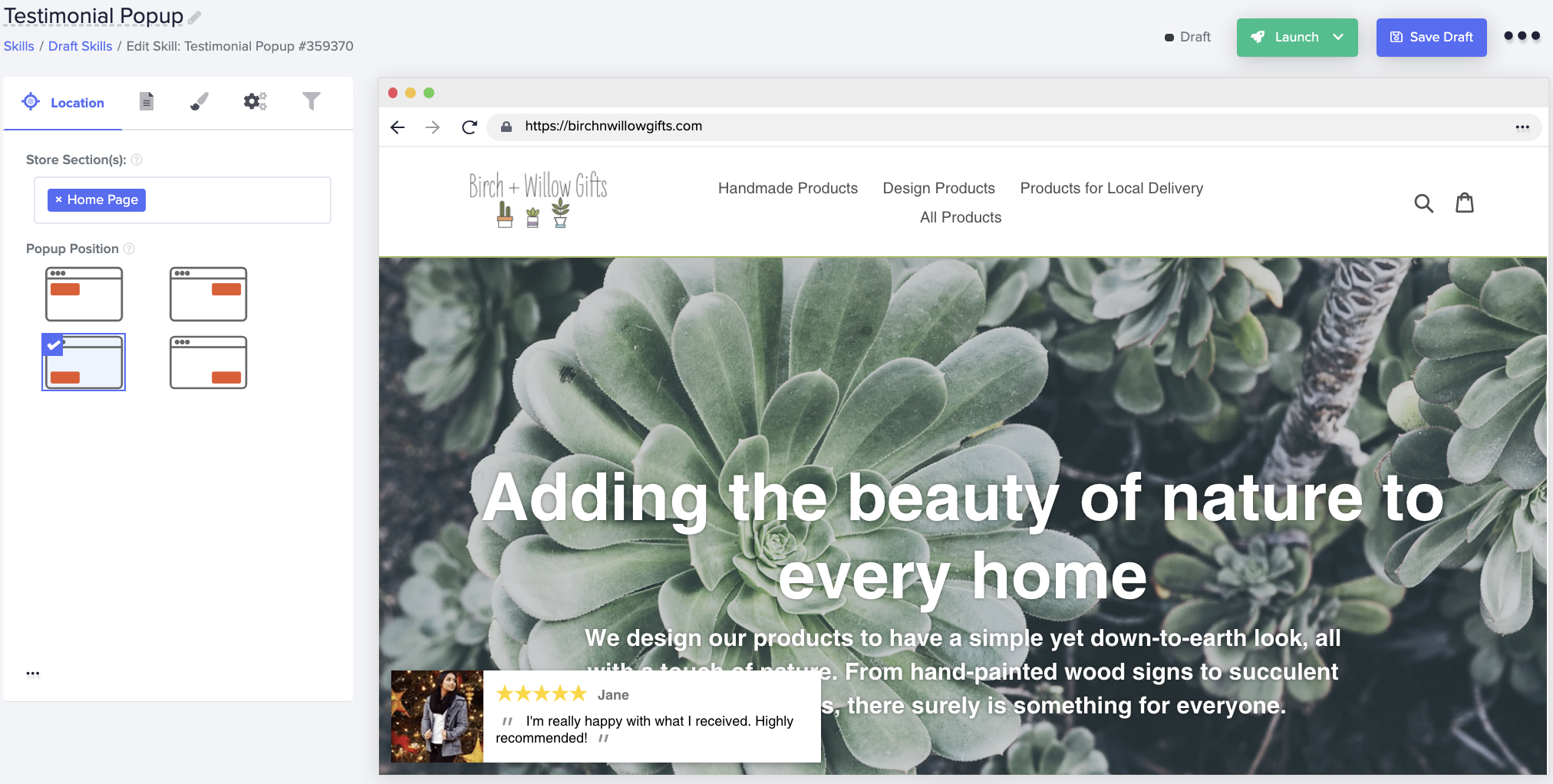 Content
This tab lets you decide what to show in your Shopify testimonial popups. You're able to add data like the name and image of a customer, as well as their location, their rating, and any comments they made. Using this you can manually enter all the information you need.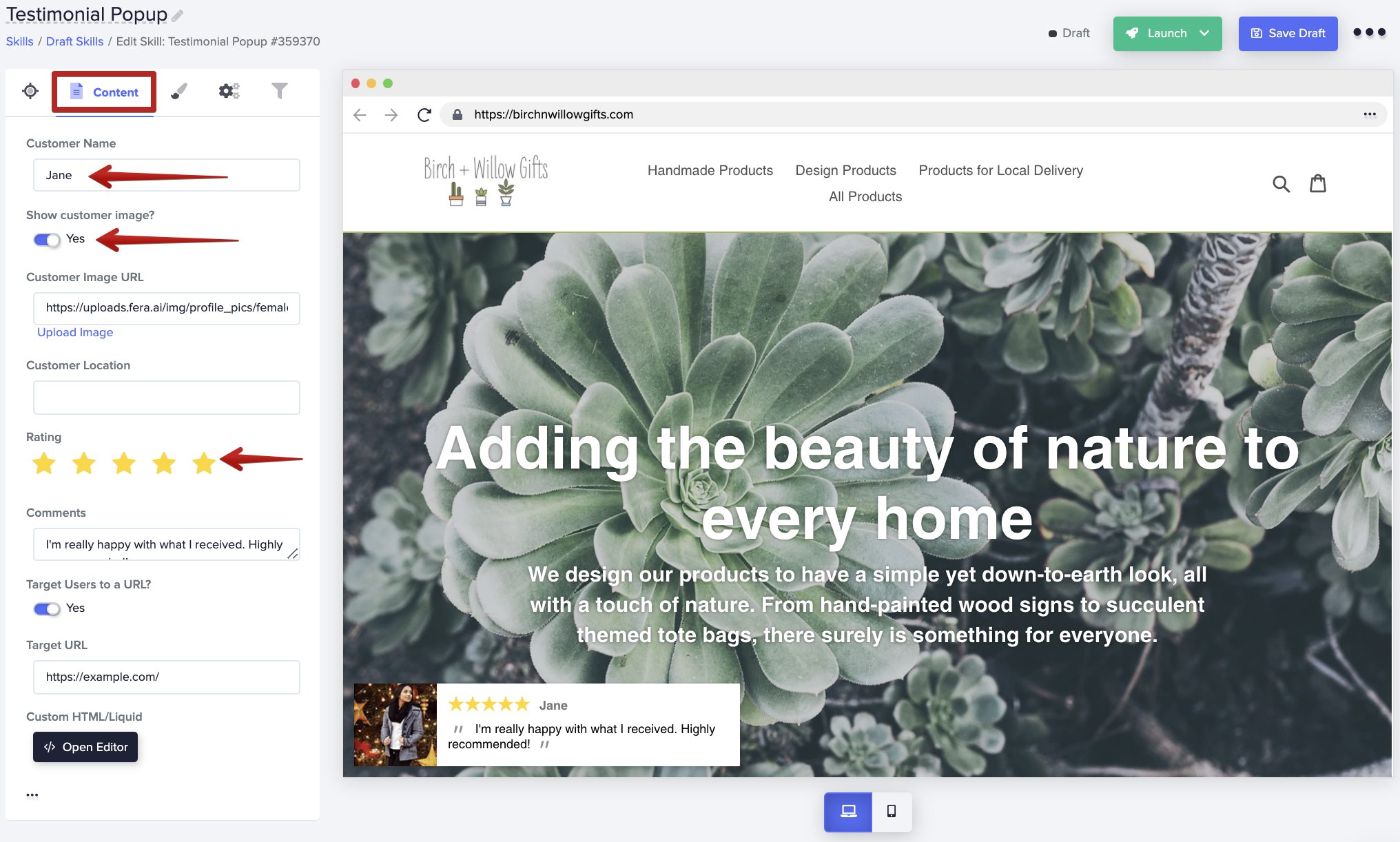 Design
The 'Design' tab also allows you to play around with custom CSS if you're familiar with it. If not, don't worry! Simply use the 'Pre-designed themes' or chose from 'Design Options' where you can edit the text size, colours, space around the notification and so on.
Behavior
The "Behavior" tab lets you decide for how many second(s) to show the testimonial popup for, as well as how you'd like the popup to be animated as it appears, and how it's animated when it disappears. The 'Javascript' editor allows you (or your developer) to delve deeper into the widgets. You can edit code and change how things load/run on your site. We usually recommend leaving these alone if you aren't a developer or coder.
Conditions
This tab lets you decide when to show your Shopify testimonial popups. You can set specific triggers and conditions on when to show these popups. You can have the popups trigger as soon as a page loads, and limit to only once per hour per shopper if you'd like. Or maybe you only want to show testimonials on Saturdays-you can do that here too. You can also set a schedule if you only want the testimonial to show from today until a week from now. Simply enable the schedule and set your dates and times for the testimonials to start and finish.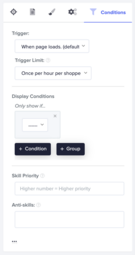 This tab also lets you decide who to show your Shopify testimonial popups to. You can determine this by the shopper's location or by their journey on your site. So, for example, if I only have Canadian shoppers maybe I want the testimonials to only display if a visitor is out of Canada. Then anyone from outside of Canada wouldn't see the testimonial popups (based on IP address). You can also choose to only show the testimonial popups if a shopper has previously viewed a product on your store. That means someone visiting only your homepage wouldn't see the testimonials.
A/B testing
This section lets you decide if you want to A/B test your Shopify testimonial popups. It'll allow you to enable or disable testing and also determine the percentage split of who to show the content to. The default is a 50/50 split, meaning 50% of the time customers see the testimonials, and the other 50% do not see the testimonials. This data can be used to compare to each other and determine whether the widget is helping you out.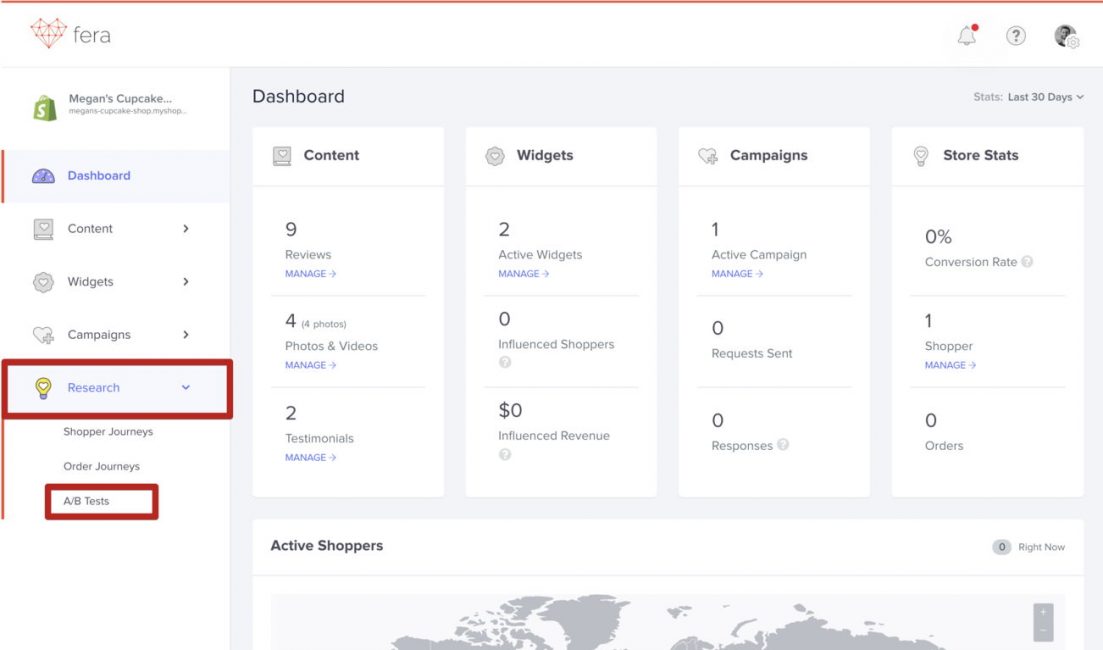 By default, this widget is turned off. You can enable it yourself and also find out more about A/B Testing through this article.