When it comes to running an efficient online store, you need the best social proof apps. Right now you may be looking for an alternative to FOMO Social Proof (launched in 2014 under the name 'Notify') to display your testimonials and reviews and add countdown timers and other urgency functionality. So what are the alternatives to Fomo?
The best Fomo alternative is Fera Social Proof (launched in July 2017 under the name 'Banana Stand'). Fera Social proof offers robust functionality and competitive pricing in comparison to the Fomo Social Proof App. Not only that, but the reviews for Fera Social Proof are much better than for FOMO considering they've been around 3 extra years.
Take a look at this handy chart to see why you should be switching from Fomo to Fera to handle all your social proof, and what major differences exist between the two apps. The biggest difference we think you'll notice is bang-for-your-buck. The major review complaints about FOMO are around their price and feeling like it doesn't do enough. For Fera, a lot of the issues seem resolved based on the developer's comments in reply to negative reviews. The issues seem to be around incorrect payments that were resolved or slow issues due to a potential server crash or Shopify having issues on their end.
Fomo vs Fera

See why 10,000+ Store Owners Installed Fera Instead of Fomo!

Shopify Reviews
4.9 stars (2623 reviews)
4.8 stars (197 reviews)
Benefits
Easy Installation
Integrations
Simple Dashboard
Dedicated Support Team
Custom Rules Timers
Multiple Languages
Pricing and Plans
Trial Offer
30 Days
14 Days
Starter Plan
$ 9/month
$ 19.99/month
Small Plan
$ 29/month
$ 39.99/month
Medium Plan
$ 99/month
$ 79.99/month
Large Plan
Custom
$ 199.99/month
Unlimited Visitors?
Fomo Social Proof
Pros:
14-day free trial on Shopify
No branding or co-branding so the popups don't look cheap
No fake data allowed here
Easy to integrate other apps with Fomo, 88+ integrations like:

MailChimp
Stripe
Google Maps
YotPo
Wordpress

Easy to measure your ROI on the dashboard, or through A/B tests
Easy to set up and get going
Translate to 25 different languages
Super customizable notifications and filter options
The lowest-priced plan is $19.99/month, however, they do grandfather existing customers on plans that no longer exist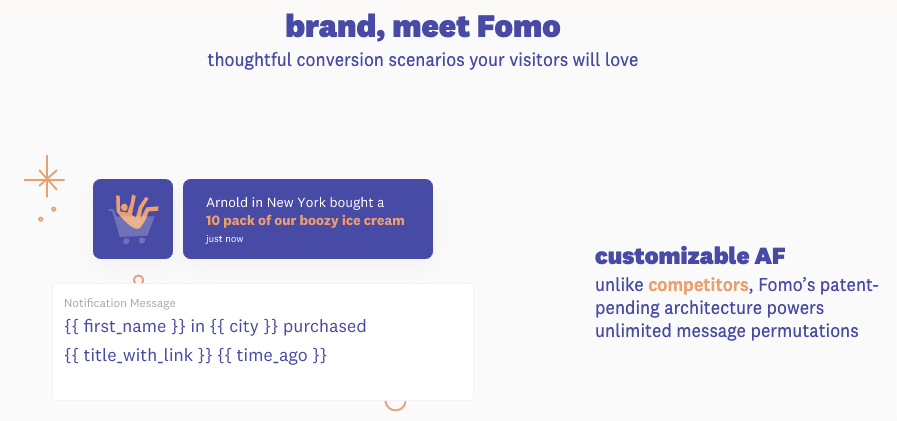 Shopify App Store Rating: 4.8 stars with 197 reviews
Download Fomo Social Proof
for Shopify
Fera Social Proof
Pros:
A 30-day free trial is helpful for new businesses
Create content that's unique to users based on their activity on your site
10+ languages supported out of the box
You get so many widgets to help display social proof like:

low stock viewer counter,
social proof feed,
testimonial popup
recently sold counter

Use A/B testing to see if widgets are actually increasing conversions and helping your sales
Track shopper journeys to see what customers are doing
Fera tracks your data for you to suggest which widgets to try out
Downloading and setting up is easy
Pre-built widgets for easy set-up
No branding on widgets!
Great customer support and are easy to reach if problems arise
A great blog and useful help articles to edit widgets on your own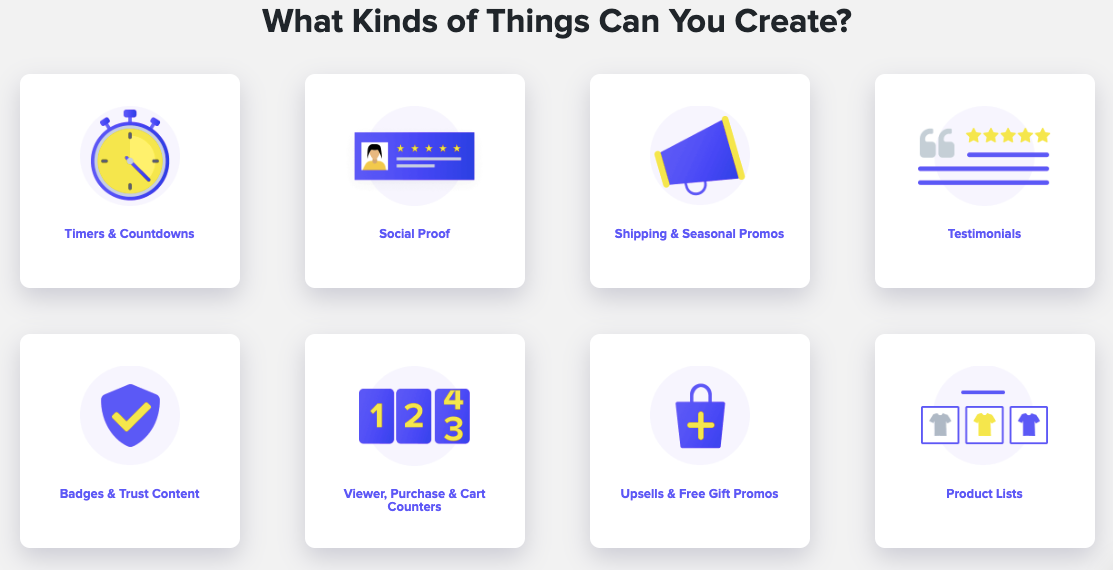 Shopify App Store Rating:
4.9 stars with 2623 reviews
Download Fera Social Proof for Shopify