Instant Gratification from Ship By Timers
For those of you thinking that Amazon is going to take over the world...you're probably right. But now you can use their features (like the get it by timers) to create urgency for your own website. The rise in e-commerce means a lot more people are doing their shopping online rather than in brick-and-mortar locations. The difference is that in a store, you can pick something out, buy it and walk out with it immediately. Online it's not quite as easy. You have the more complex structure of shipping, delivering, and then receiving. This can stress a lot of buyers, especially in a growing generation of people who are quite used to the instant gratification of a digital world.
How Does Amazon Generate Urgency with Ship by Timers?
Amazon utilizes a "Ship By Timer". They ask you if you want the item soon, to which most people answer yes, because honestly who wants to wait to receive something they bought?

The notification will give you an estimate of the shipping time left in a countdown. That's where they create urgency. If you wait too long to order you'll have to wait longer until that item will arrive.
Fera is Fighting Back...with Get it By Timers!
Now you can have the same notifications as Amazon, and create your own sense of urgency with your own products with the Get it By Timers! The Get it By Timer Widget lets you add urgency to your product pages by letting customers know how soon they can receive a product if they order now (or within a set time frame). This customizable option lets you set your own message, with your own colours (red really sets the tone for urgency) and borders and other styles to fit your store's theme and your brand.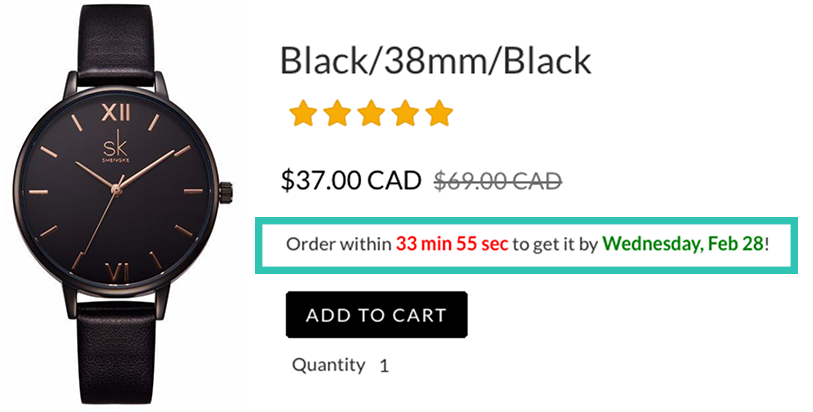 Edit the Get it By Timer and control your own delivery speeds and shipping time in the settings. The Delivery Speeds Table lets you customize specific ranges for countries/regions that you can ship to. Customer locations are detected by their IP addresses and then Fera shows them the order by to have it shipped by countdown based on their country/region. You can set the Get it By Timer to show a timer only if it's greater than a certain amount. You want to set this relatively low because using something like "Buy within 60 hours" doesn't exactly create a sense of urgency.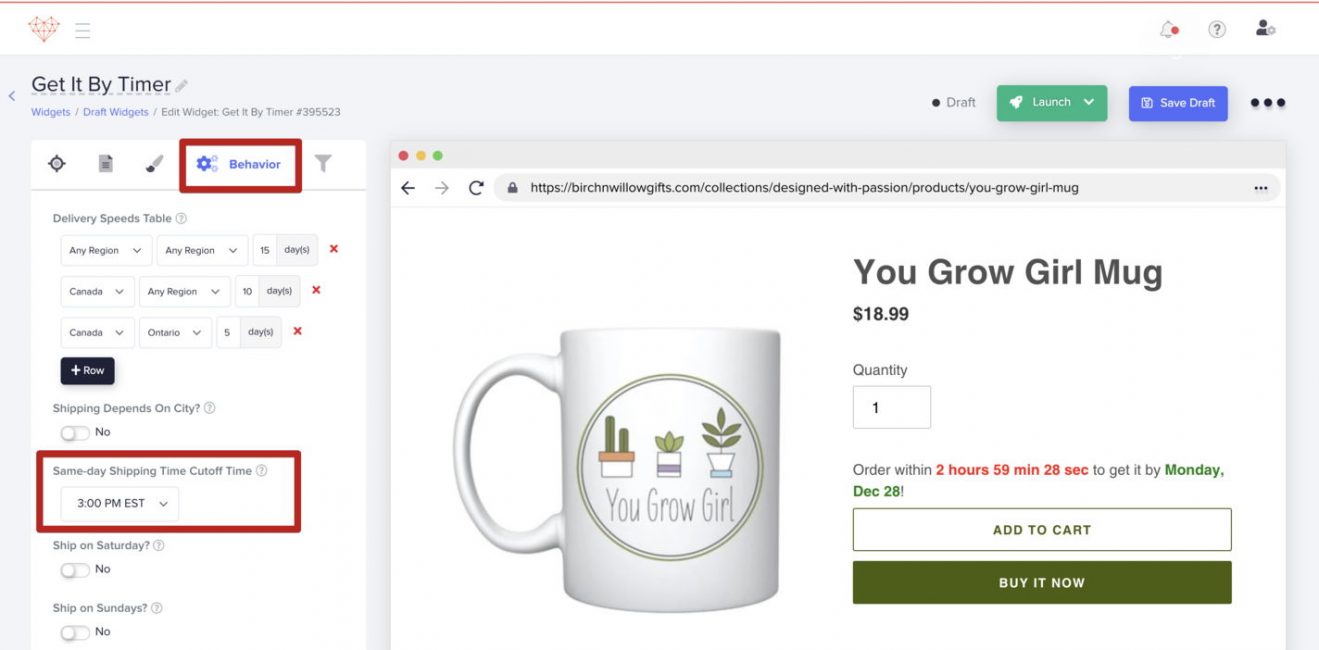 There is also a cut-off timer which lets you set a cut-off time (i.e. 3 PM) for same-day shipping. So customers would know if they order before 3 PM they can receive it then as well, otherwise, the Get it By Timer will add an additional day of shipping to the total number of shipping days.
How Can I Benefit from Using Ship by Timers
You can add the Get it By Timer to your e-commerce store by using Fera. This Widget lets you add urgency to your product pages by creating a time limit in which they're able to order. The countdown lets customers know how much time is left in order to get the product ASAP, otherwise, they have to wait. A countdown to delivery cut-off time makes your product pages more persuasive and convinces those on-the-fence buyers to get it now, instead of abandoning their carts. Even just the ability to ship & deliver items quickly can be an effective driver of sales. If customers are shopping for gifts or getting something leading up to a holiday having a get it by timer lets them know their gifts will arrive on time & they don't need to worry about disappointing anyone!
Don't miss out on using the Get it By Timer Widget-it'll boost your conversions with next to no effort!