In the lead up to Black Friday Cyber Monday, you should be focusing on improving your website so that your paid traffic converts better. One way to improve your conversion rate is to try building trust and urgency online.
In this video, Jameela from Fera.ai and Daren from
Klickly
talk about all the ways that you can implement trust-building activities and urgency on your online store.
How to build trust
One of the first things shoppers are looking for is if your store is trustworthy! Basically, they want to know this: if they give you their money, will they get the product they expect? If the answer is anything other than 'yes', you have work to do on your store.
Trust Signals
There are a couple of trust signals that shoppers typically look for
Site design
About us page
Reviews and testimonials
Product photos
Contact us page
Here are things that you can work on to build trust online.
Make sure your website is modern
User Experience
you want to make sure that your website is easy to navigate and modern design helps with the user experience. You don't want to frustrate your users with text that looks like it should be a link.
Design
If your website looks old-school or pre-2010, it is time for an update. A lot of shoppers think that if you haven't taken the time to update your website, you may be out of business, or just lazy! You don't want people thinking that you didn't put time and effort into your business, so a modern design is essential.
On Brand
That being said, make sure that your website isn't trendy for trend's sake. Building trust with your design also means that your website is on brand and resonates with your customer.
Have a good "About Us" page
Tell Your Story
Your customers want to connect with you, and your about us page is perfect for that. Especially if you are a new brand, your customers want to know who is behind the brand and what the company stands for.
Use Photos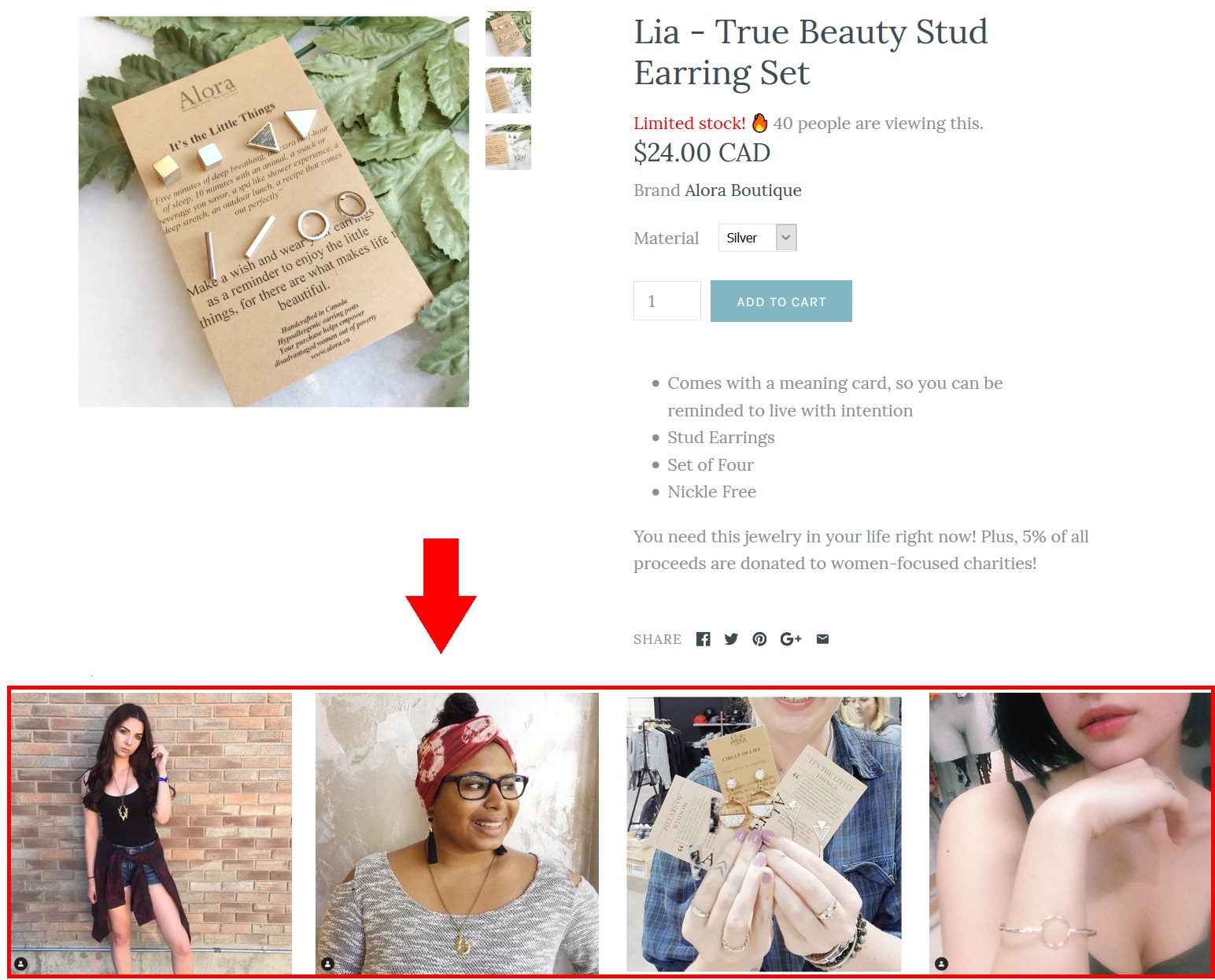 In the video, we talk about how Alora, Jameela's online jewelry store, has founder photos and fun facts about the people who started the company. This is on-brand for Alora AND helps customers connect with the founders and their mission.
Utilize reviews, ratings, and testimonials
One of the things people are looking for online are reviews and ratings from real people. Shoppers want to know if they are going to get what they think they are going to get when they place an order. The way they find out if they will have a good experience is by reading about the experiences of part shoppers. That is where reviews come in.
Gather Reviews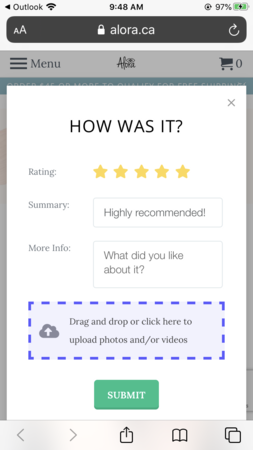 If you haven't started yet, you should be reaching out to past customers to ask for reviews (for specific products) or testimonials (for the experience they have had with your brand in general).
P.S. You can manually request reviews from past customers with Fera.ai's review request system OR set up on-going review request campaigns too.
Strategically place your reviews
You should be adding your reviews to your product page where you can to earn the trust of your shoppers. If you don't have reviews for specific products, you can add reviews for similar products or testimonials for your whole store. Why would you post reviews for similar products, you ask? Well, there is such a thing as negative social proof. If you have too many products with no reviews, it looks like people aren't buying your products or even worse bought it but didn't like it and that doesn't make you look trustworthy!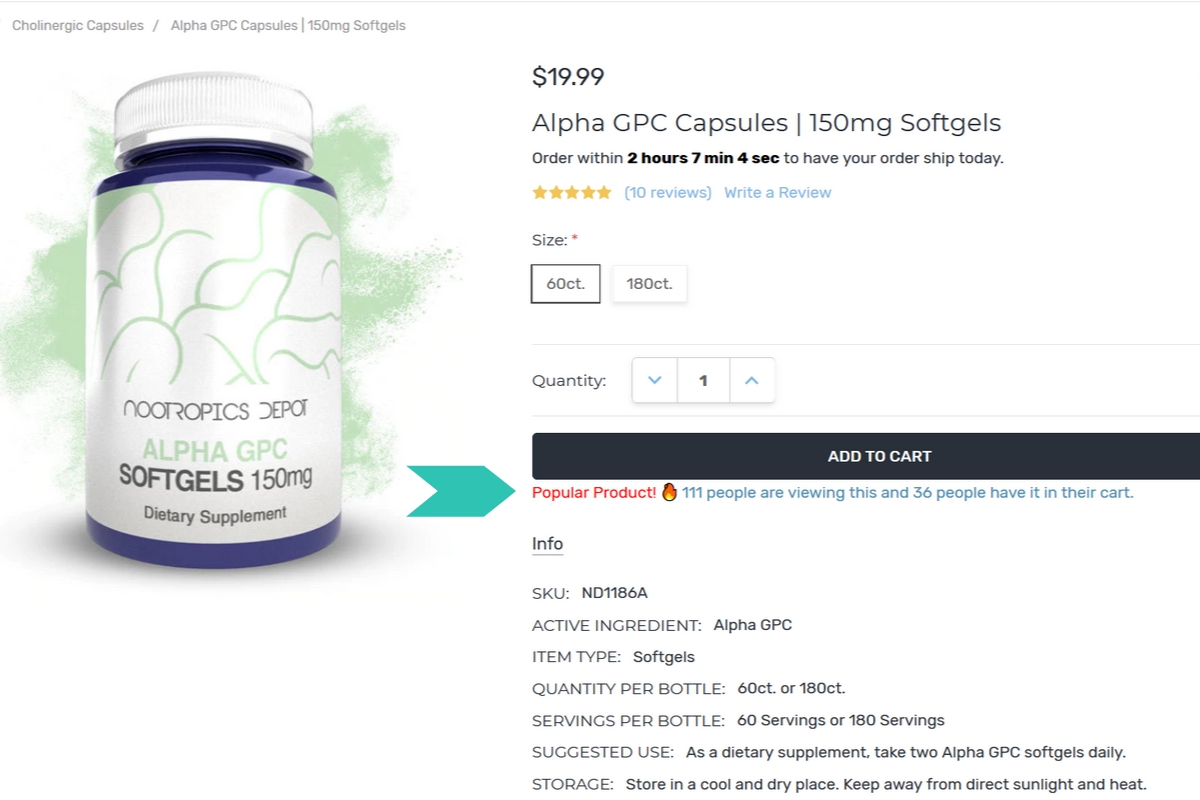 The other thing you should be doing is showcasing average ratings on products. One good place to put this is on the collection page or right under the product heading on the product page.
Use customer photos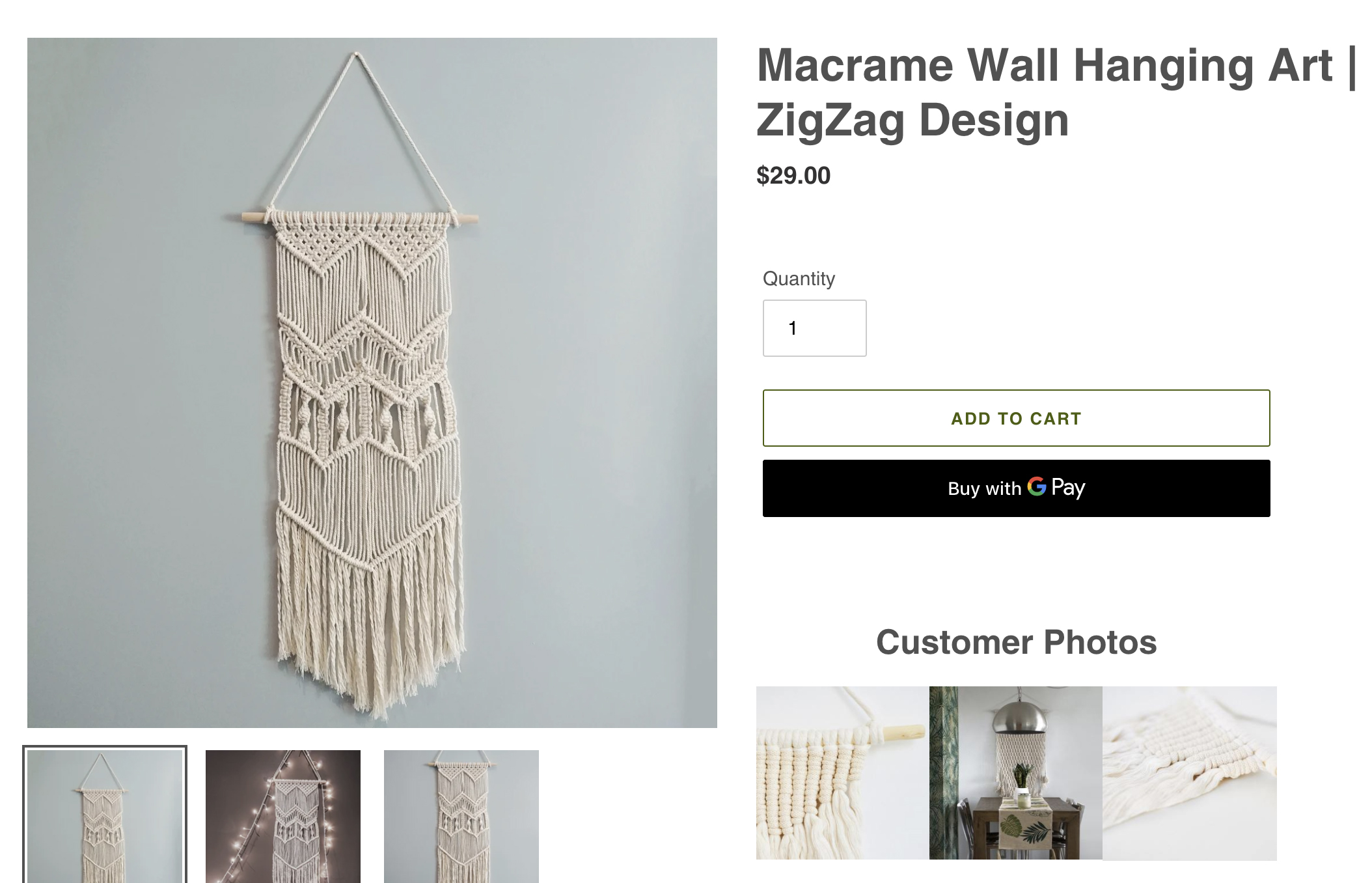 Shoppers LOVE to see what a product looks like in real life. One of the best ways to build trust with shoppers is to show off photos of happy customers.
Find photos on Instagram
If you have a special hashtag or have had customers or influencers tag you in the past, then use those photos online where you can. Having a customer photo wall is a great way to show off what your product looks like in real life and how many past happy customers you have.
Request customer photo reviews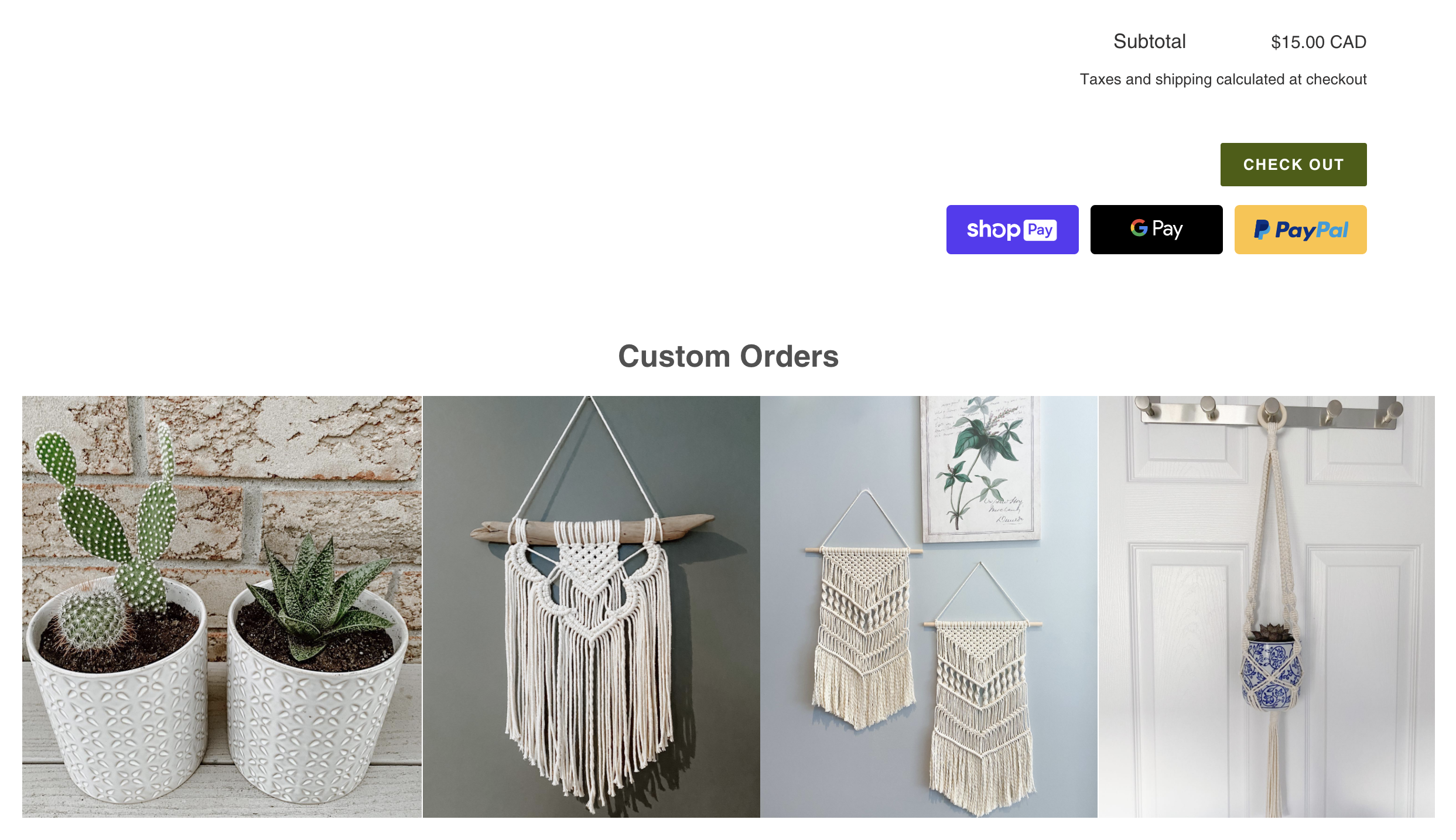 Again, if you don't have customer reviews and photos, ask for them. These are powerful trust signals that every online store should be using.
You can try Fera.ai to request photos from past customers and offer them incentives like cashback, loyalty points (w/ smile.io) and discounts!
Contact us page
Give customers a way to contact you and understand where you are located. Just because you are online, doesn't mean people aren't interested in seeing that you are a real business with a real address. It makes you seem more trustworthy when you have a physical location listed or a phone number. Most people won't contact you, but just the fact that you have this information means it seems like you are a legitimate business. Google also requires you to have certain contact information on your online store if you want to advertise with them. Other types of way customers may want to contact you include
email
Text/SMS
Social media
What types of urgency are effective
Urgency, when used in small doses, can be highly effective when you want to boost your conversion rate! Here are a few things you can implement that Daren and Jameela covered in the video:
Promotional timers
Cart timers
Limited stock warnings
Get it by timers
Promotional timers
Promotional timers are great for BFCM. They create urgency around getting a promotion before it runs out!
Placing Promotional Timers
One of the best places to add a promotional timer is at the top of your website. Or on the page of a specific product.
Cart Timers
Cart timers are also a great way to add urgency to your store. Telling people that they only have a certain amount of time to check out before their cart expires, if a great way to get people to checkout. Just make sure that you are considering your audience when you add cart timers. If you are selling makeup pallets that are actually selling fast, then this is a good tool to use. If you are selling a product that your customer knows is always in stock, don't bother using a timer. You can use logic like 'Only show timer when product X is in the cart' when using a cart timer. Fera.ai is great for that!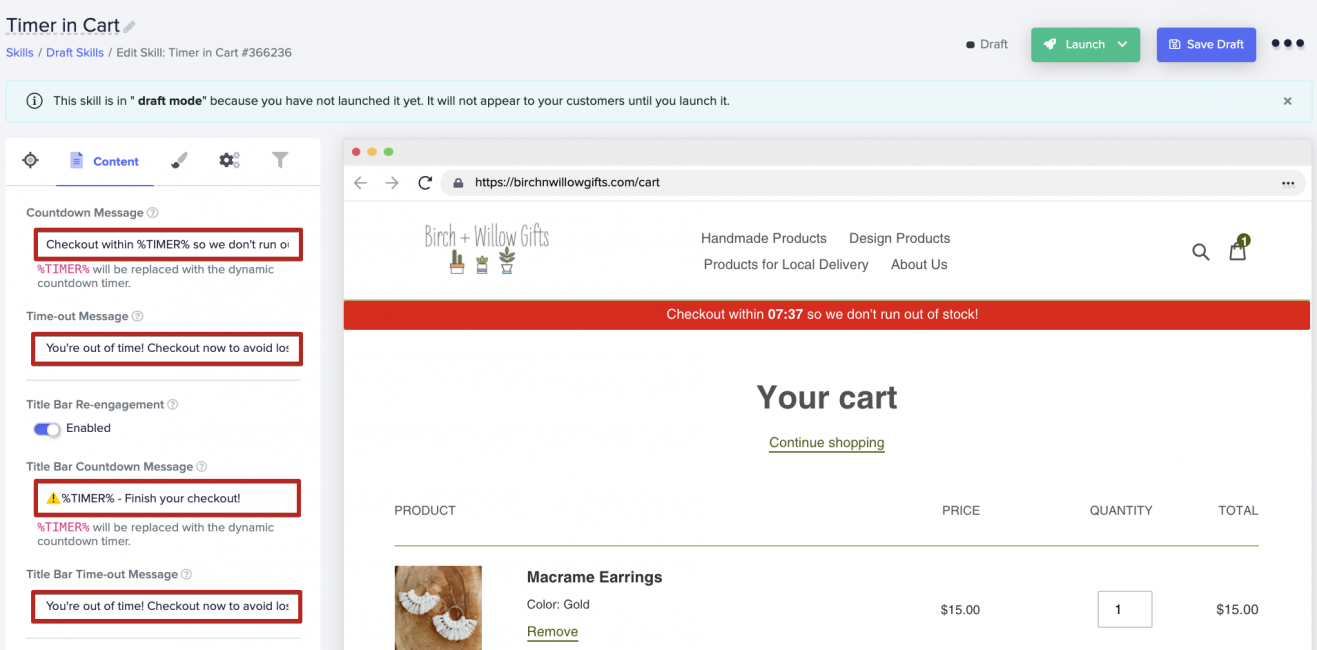 Limited Stock Warnings
These are great year-round but especially important for BFCM. When you implement limited stock warnings, it shows customers that there are only a certain amount of the product left and if they want it, they should get it while quantities last. Be sure to set a look-back period that is reasonable for your store! For example, if you are new, you may want to set a look-back period of 2 months, but if you are a busy store, 2 days or two weeks may be sufficient. You don't want your product to say 300,000 people have been looking at this product and there are 5 left. It seems fake!

Get It By Timers
Amazon really set the standard for using the
get it by timer
!. People want to know when they will get their item especially around the holidays, so add a get it by timer to your product page to help customers understand that if they want a product by Monday they have to check out in the next hour! Make sure that you aren't displaying any super long shipping times as your 'get it by' date this is disincentivizing people to checkout!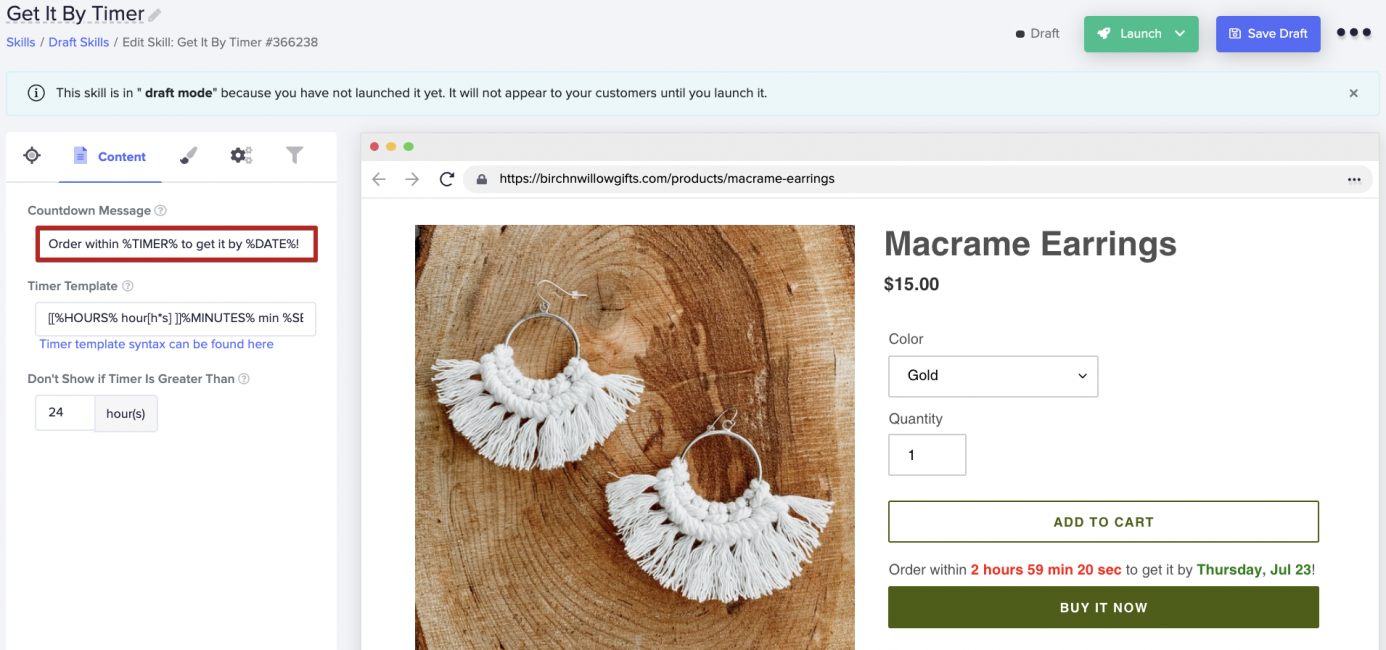 Creating compelling offers
Finally, if you are using promotional offers to create urgency, make sure that they are compelling offers! Don't be offering 5% off when everyone else is offering 20% off on their store. Also, if you are doing a BOGO or similar offer, be sure to add a product that is useful for your customer.
Summary for building trust and urgency
1. Build trust
Make sure your website is modern
Building trust in the first couple seconds is essential
Have a good "About" page
Connect with your customer
Utilize reviews, ratings, and testimonials
Set up a review request campaign
Display actual customer photos
Take advantage of Instagram
Have an easy way for your customers to contact you
Email, phone, social, chatbots, etc
2. Build Urgency
Implement promotional timers
Try countdown timers create urgency and boost conversions
Know your audience is when placing the cart timer
Test 'get it by' timers
Be transparent about shipping times
3. Create compelling offers
Make sure offers are good  enough for someone to action
Create discounts that make customers convert
Rally around a cause that people want to take action for
A checklist to help you build trust and urgency
IN THE NEXT 24 HOURS YOU CAN...
Plan your offers now — Be sure to calculate your margins (if you haven't already) and predict how that will impact demand.
Start gathering your customer events and information now — get set up for success for peak times.
Understand your customer lifetime value and repeatable purchase percentage — give a way a bit more because you understand LTV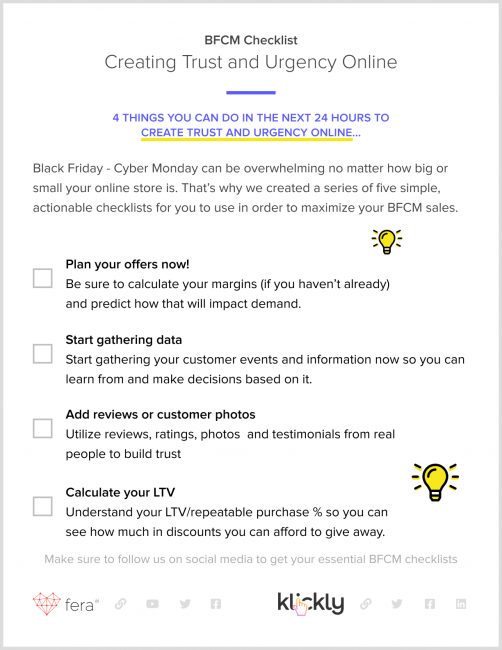 Other articles in this series
How to Plan Your BFCM Ad Spend
Retaining your BFCM Shoppers
Returns, Shipping, Inventory & Suppliers