Black Friday, Cyber Monday doesn't have to be overwhelming. As long as you have the right information, you can make this BFCM your best yet!
BFCM Tips for Your eCommerce Store: Ad Spend
Klickly and Fera.ai have teamed up to bring you a series of actionable and easy to follow videos and checklists that will help you maximize your sales.! Check out this video to see how you can effectively plan your BFCM ad spend.!
Here are some highlights of what we talked about in the video.
Ad Spend Trends from Yester-Year
Darren and Jameela talked about the trends that were prominent last year including
Brands discovering their focus point
Direct to Consumer continuing to rise
Brands building look-alike audiences early
Non-retailers advertising when retailers weren't
Ad spend increasing over the holidays
For some additional reading on last year's trends,
check out this article by eMarketer
.
The best ad platforms for each industry/target market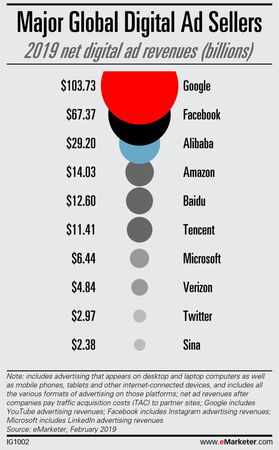 Sometimes eCommerce stores feel like that need to be on all the ad platforms, but this simply isn't true. You have to choose the channel that works best for your industry and target market. Darren and Jameela covered the essential things you need to know about each ad platform and which will work best for your brand during BFCM.
Note: Always know your goal when deciding what ad platform to explore
Facebook & Instagram
Instagram has a younger demographic and is great for promoting lifestyle, branding, and imagery
Facebook's targeting is unrivaled allowing you to focus more on the product and stretching your dollar
Make sure to choose the types of Facebook ads that are right for you.
Google Shopping
Great for merchants who need presence but don't have deep pockets
Google Shopping recently announced products can be listed on the Shopping tab for free — great for organic reach!
Great for products that don't necessarily have brand loyalty or branded search
Klickly
Perfect for direct to consumer (DTC) merchants looking to generate more traffic and sales
Run by a data-driven, machine-learning algorithm leveraging the open web (25 million premium sites and destinations)
Requires no upfront spend and merchants select own commission
Focus your commission on different parts of the buyers' journey
How to lower your Black Friday Cyber Monday CPA
Darren and Jameela also covered some tips that you can use to lower the cost per acquisition for BFCM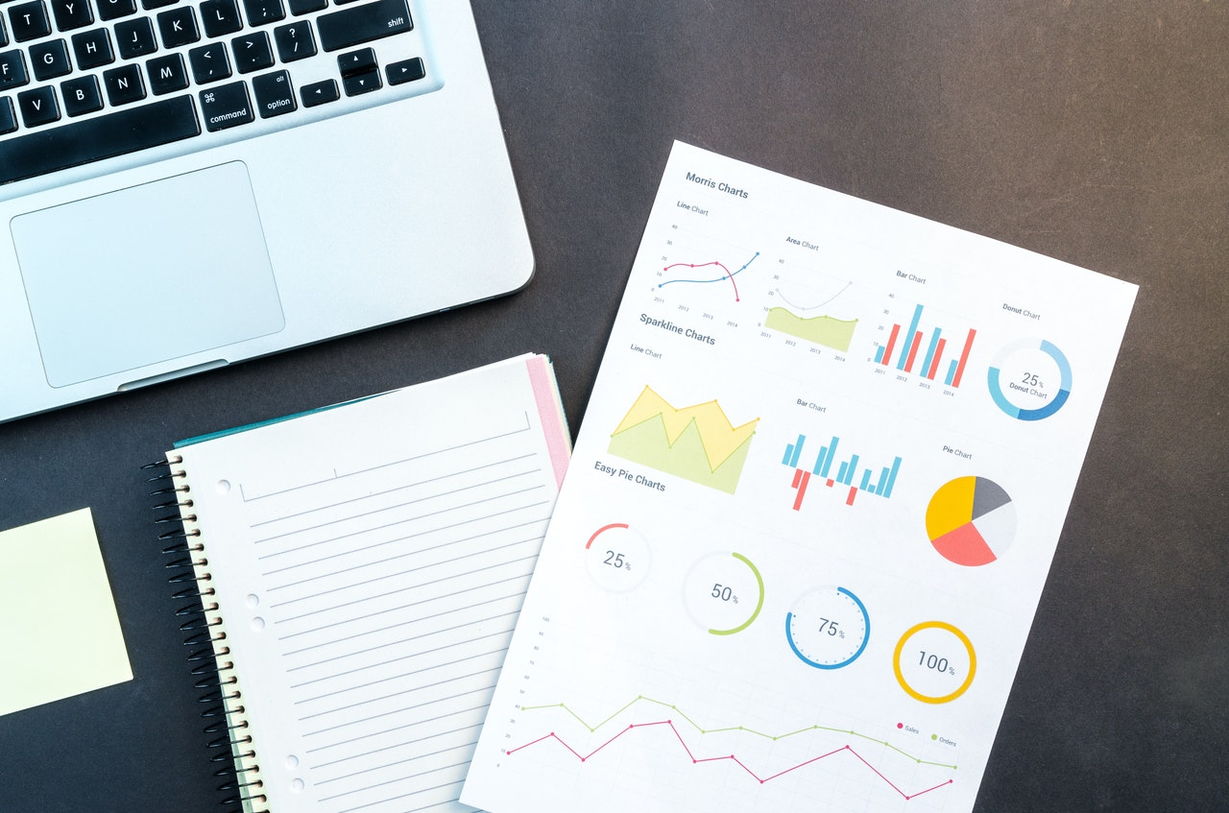 1. Use look-alike audiences
Utilize your email list on Facebook, Google, etc
Focus on the outliers and create more lookalikes based on those outliers
Expand to new channels to begin refining your look-alikes
2. Utilize killer creative
Make sure your creative is not stale (don't reuse the same creative from last year and just add 2020 on it!)
A/B test and make sure the creative leaves a positive reaction
3. Focus on performance marketing
Look into Klickly to take advantage of a strategy that doesn't have a high upfront spend
Maximize your cash flow by only paying when you make sales
Get a platform that aligns with your goals
A checklist to prepare your Black Friday Cyber Monday ad spend
IN THE NEXT 24 HOURS YOU CAN...
Narrow down your core message — Is your message cohesive across your various marketing channels?
Finetune your creative — Look at the successful aspects of previous aspects and replicate them.
Explore other channels early — Plug into free marketplaces providing additional exposure.
Utilize look-alike audiences — Create high-value customer lists and make lookalike audiences from them.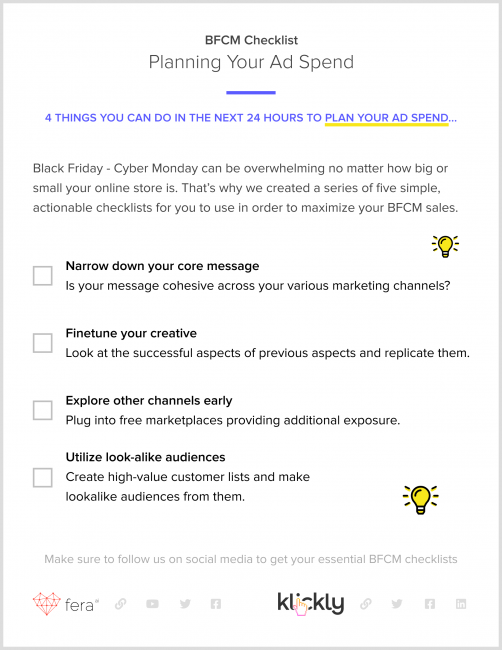 Other articles in this series
How to Build Trust and Create Urgency
Retaining your BFCM Shoppers
Returns, Shipping, Inventory & Suppliers