When your customers have the option to choose between your company and your competition's for a particular product or service reviews can be the deciding factor!
Customer reviews make all the difference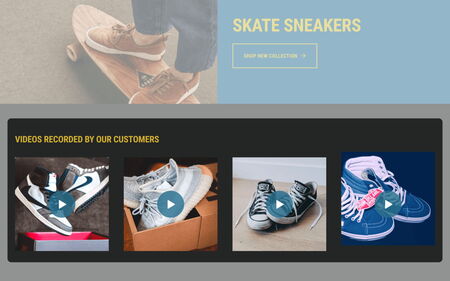 Stats show that reviews provided by other customers can make a huge difference in the overall purchase decision.
If you don't really believe this, just think about the last time you picked a restaurant or a clothing brand.
Odds are you probably searched for them on the internet to see their customer reviews, and at least a small part of your choice was based on what other users had to say about each option you were considering.
80% of people trust customer reviews as much as personal suggestions from friends or family members.
That's because you perceive the reviews as votes of confidence from other customers who purchased the same product or service.
Adding customer reviews on your Wix website
Moving forward, this means that including reviews can have a significant impact on your website's sales conversions and customer judgment.
If you are on the look for a painless solution that will assist you in adding customer reviews on your Wix website, then you have definitely come to the best place.
With the best review app for Wix, there are no coding skills required, or messy and painful maintenance.
You can add product reviews to your Wix website
Add the Fera Product Review app for Wix to your website

Click 'Apps" on in the menu on the left hand side

Click 'Fera Product Reviews'-- > This will take you to the Fera dashboard

Select 'Widgets'

Choose '+ Add Widget'

Select 'Product Reviews' (Fera will automatically choose the best place for the widget!)

Click 'Launch'
[Video] How to Add Product Reviews to Your Wix eCommerce Website (in 7 Easy Steps)
Add product reviews to your Wix website in 7 easy steps
How to add customer testimonials to my Wix website
You can do the same with testimonials if you don't have any product reviews yet!
Adding customer testimonials to your website will be just about the same as adding reviews.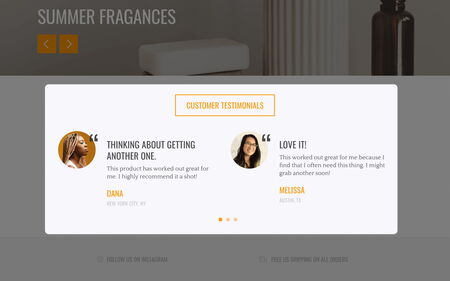 The whole process is done in a couple of easy steps:
Add a "Customer Testimonials" widget to your site

Write down all the necessary information about the customer's testimonial (or import from Google Reviews, Facebook or TrustPilot)

Customize the placement and style of the widget

Click 'Launch' to make it visible to your shoppers
Now that you know how to add reviews and testimonials to your Wix ecommerce website, let's talk about why you need to have them!
In this article, we will explain in detail the benefits of customer reviews as well as an in-depth look at the whole process of adding them to your Wix website.
Read on!
What are the main benefits of adding customer reviews?
Adds social proof to your website
When you get a new customer that is visiting your site and doesn't know about your business or the product and services you offer, they'll need some kind of assurance that your products or services are worth checking out.
Social proof shows that you are trustworthy
Showing proof to future buyers that you're a trustworthy brand is a lot more powerful than just telling them.
Adding a customer review widget on your Wix store will present all of the reviews that your previous customers left and the average rating of those reviews!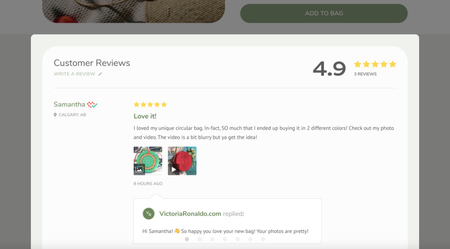 Boost sales
As we've already mentioned, buyers are more prone to purchase something that has a couple of reviews rather than getting something that has no reviews at all.
For instance, if a potential buyer is searching for a particular product or service and then
a) comes across your company that has a highly positive response from previous customers and
b) a competitor with less or no reviews at all
they will surely trust your product or service more.
The stats on reviews don't lie
93% of the buyers have stated that online reviews influence their buying decisions, and
90% of those buyers actively read them before investing in anything online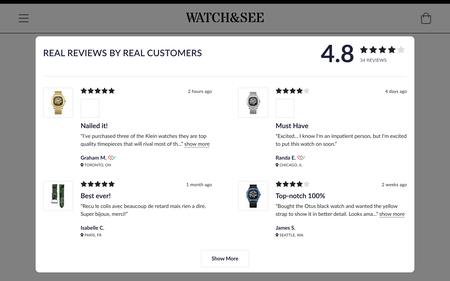 Reviews encourage more reviews
Furthermore, customer reviews can generate even more reviews.
When the buyers see that there are a ton of reviews about the product or service, they are more likely to share their own experience as well.
So, by reading these facts, you can see how vital these customer reviews can be in boosting the conversions and revenue for your business through the website.
Customers are doing marketing for you
If you're in the eCommerce world and want to achieve success without having to pay for any promotion, then positive online reviews can significantly help you.
They can even offer your business more benefits than a regular marketing campaign.
In a nutshell, reviews act as micro–marketing campaigns that will continue working in your favor long after they have been posted.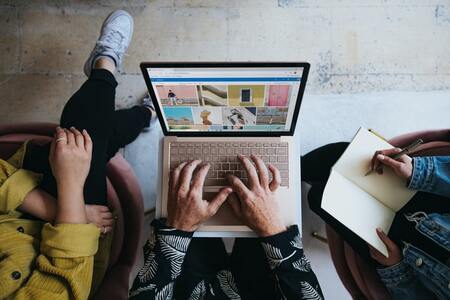 Offer you room for improvement
Reviews, either positive or negative, are always helpful for your business growth.
You can use the positive customer reviews as motivation to keep going on your journey, and the bad or negative reviews as a powerful lesson.
Negative reviews show you where to improve
Suppose you address the negative customer reviews earlier and work towards improving the problems, you'll find the solution and resolve it quickly and efficiently before any other customer experiences the same problem.
In addition, as an online store owner, you can respond to reviews and form an impression that your business respects and cares for the customers.
This way, you will be building trust and credibility for your brand's name.
Reviews improve search rankings
Customer reviews are the most popular way to enhance eCommerce search rankings in local search engines.
Google loves showing off reviews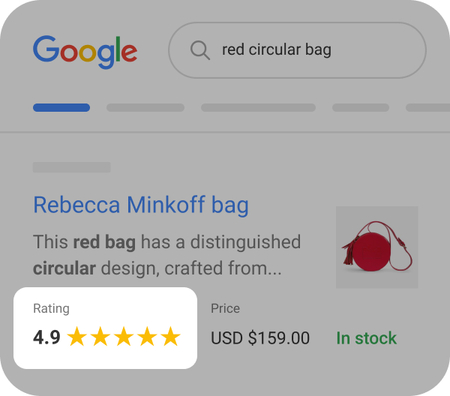 The most popular search engine, Google, will automatically receive the updated content, and this will help your business rank well. If buyers are happy with the product or service you offer, this will reflect in the form of reviews.
And Google will reward you for customer happiness with better rankings.
That's because Google likes what customers love!
How To Get Star Ratings To Show Up In Google Search Results
Learn how to get rating stars to show up on Google.
Enhances customer loyalty
Did you know letting your buyers write a review can not only validate their voice but also build a long-lasting relationship?
All the customers that will take the time to write their opinion about the product or service they've purchased will probably be faithful to your brand and would essentially come back to you over and over again.
Brand awareness building
Not only will having reviews on your Wix website help buyers in their purchasing decision, but they can also increase digital exposure and brand awareness.
When the buyers come across some of the customer reviews on your website, it will motivate them to promote your company on some of their social media networks.
This can significantly support your long-term as well as short-term goals.
Develop a close relationship with customers
With the help of customer reviews, you will stay connected with the customers and know their opinion.
Reviews create transparency
These reviews will offer transparency between the buyers and the company, which can lead to a stronger brand image. Also, this will assist in improving your relationships with your customers and even potential buyers.
Adding Reviews to Wix
If you aren't quite aware of the whole process of adding reviews to your Wix website, then don't worry because we created this quick step-by-step guide just for you.
It doesn't require any degree of professionalism. You can do this by yourself, even if you're a complete newbie.
So, let's go through the whole process together!
1. Open the Wix Editor
First, you will need to log in to your Wix account and navigate to your Fera review app.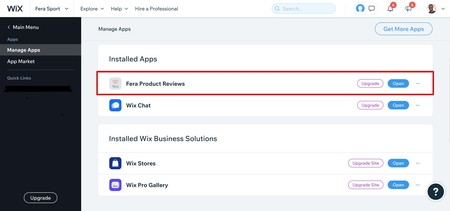 2. Head over to the Fera dashboard
Once you enter the Fera dashboard, you can select or create the specific review widget you want. Once you're in, you will see a 'Widgets' section in the left hand menu.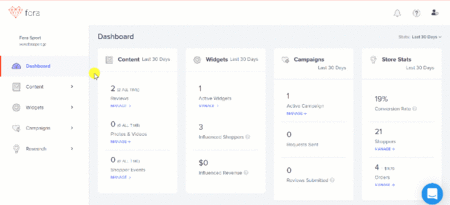 To add a widget look for the little "+" circle that says "+ widget". With Fera, you can choose between the following review widgets
All reviews 

Product reviews

Testimonial Carousel

Average rating badge in collection page

Average rating badge in footer
3. Select the ideal location for your store
With Fera, there are endless possibilities for where you can display your reviews!
Fera will automatically choose the best location for your reviews, but you can use the point and click option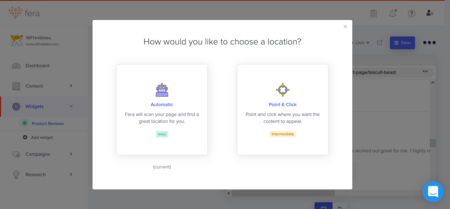 Most eCommerce stores usually place their customer reviews below the product description itself.
This is an excellent placement because the potential buyer will see all the reviews right before they make the final purchasing decision.
4. Customize your customer review widgets
Once you choose your widget and decide on its location, you should match the look and feel of it to match the particular style of your Wix eCommerce store. You can perform this by clicking on the options within the widget at the top.
For instance, you will be capable of modifying the widget
Text

Background color

Star color

Image shape

Padding etc.
Choose to display photos and videos
Usually, you can pick between options for displaying for your customer's reviews.
The first one is just a regular straight-text review and the other one also includes a photo and videos.
We suggest that you stick with the picture version because this way it looks more legitimate.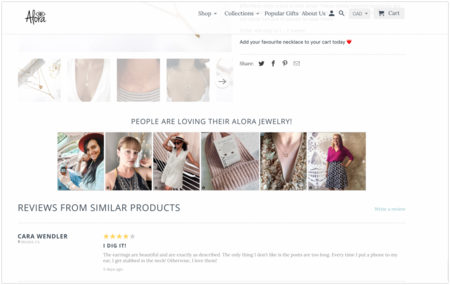 5. Manage your customer reviews
Congratulations, you're halfway done!
If you don't have any customer reviews for your Wix store, you should start asking for product reviews from your past customers.
You can ask for reviews through email from your customers with Fera when you create an ongoing campaign.
To improve your response rate, you can add incentives, like
Discounts

Loyalty points (with Smile.io)

Cashback
When the reviews start to roll in you can approve and decline reviews as needed.
Conclusion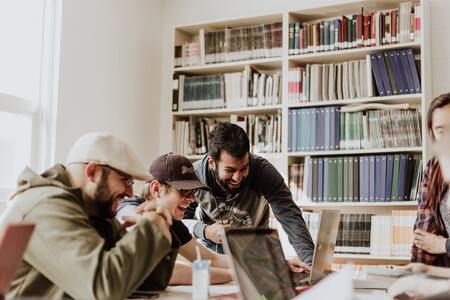 We've come to the end of this comprehensive guide!
Customer reviews are undoubtedly here to stay, and the longer you wait to collect them and display them, the more you lose. It is also one of the best and the most straightforward ways to add social proof to your Wix website.
As we stated, they have the power to gain customer trust and encourage people to interact with your company. If you have any questions or experience any problems with the step-by-step guide, you can immediately contact our customer support.
They are always willing to assist their loyal users and find a solution as fast as possible.